Finland's top lightweight Anton Kuivanen (18-6) will start off the new MMA season with a tough fight at Cage 23. Today the promotion announced that the Cage lightweight champion is now signed to battle American Eric "It's a Wrap" Reynolds (17-6) on the 21st of September at the Energia Arena in Vantaa, Finland.
Since getting cut from the UFC, Kuivanen has fought once. In May at Cage 22 the Finn put on a dominant performance against TUF vet Jason Pierce and punished the American for three rounds en route to unanimous decision win. Kuivanen has made it clear that his goal is to get back to the Big League and wants nothing but tough opponents while getting there.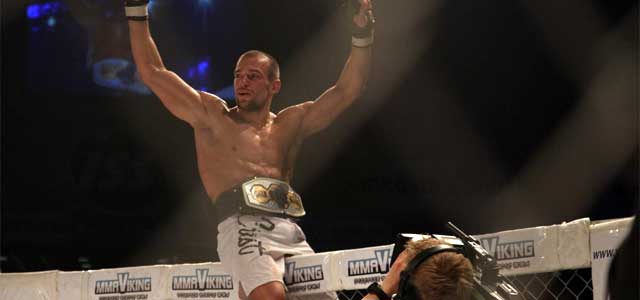 Eric Reynolds is an experienced fighter who has been fighting pro since 2007. Most of his fights have taken place in Florida based promotions such as WFC and XFC but Reynolds also fought three times for Bellator FC. Reynolds is known for fighting with an aggressive and sometimes even reckless style. Out of his 23 pro fights only three has gone full rounds.
Reynolds won his Bellator debut with a headkick KO over Thomas Schulte but was then thrown to the deep end with Eddie Alvarez and Jorge Masvidal being the next two opponents. Game Reynolds made it to third round with both top lightweights but was eventually finished by RNCs in both fights. Reynolds holds notable wins over Greg Loughran and Jonatas Novaes. In December of 2012 at XFC 21 Reynolds fought against Nick Newell, who fights with basically one and a half arms due to a birth defect, and lost by rear naked choke in the first round. The bout at Cage 23 will be Reynolds' first fight on European soil.
The lightweight title fight between Kuivanen and Reynolds is now one of four title fights on the stacked Cage 23 card. Featherweight kingpin Tom "Stoneface" Niinimäki gets a tough challenge from UFC veteran Walel Watson. Light heavyweight champ Marcus "Caveman" Vänttinen puts his belt on the line against Danish grappler Joachim Christensen. Kai Puolakka of Finland and Domingos Mestre of Sweden will battle for the vacant welterweight belt.
Stay tuned for more news from Anton Kuivanen and the Cage.