The Zone FC officials have been busy finding late replacements for a variety of injuries. The last announcement today locked up an opponent for local Gothenburg fighter Victor Cheng for the The Zone FC Middleweight title bout on November 10th. Read about the latest bouts and the final fight card here.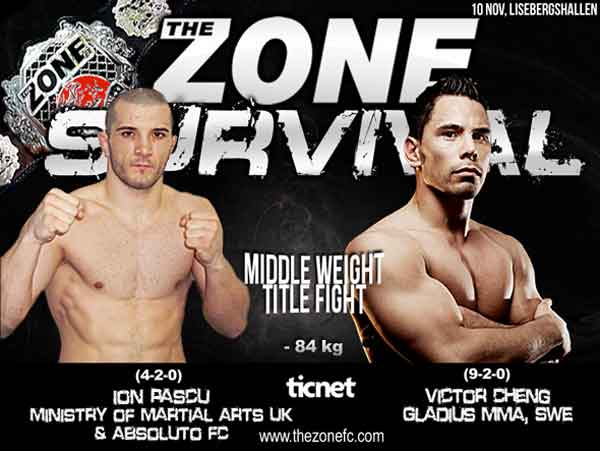 Announcements
When Lucio Linhares got injured and was forced to withdraw from the middle weight title fight at The Zone FC against Victor Cheng, a search for a replacement fighter started. Ion Pascu from Ministry of Martial Arts UK & Absoluto FC in UK took the fight on 10 days notice. Ion Pascu is originally from Romania but fights out of Essex, UK. Ion Pascu holds a pro record of 4-2 in MMA. He has a long background in stand up martial arts. He has the title Sanshou Pro European Champion 2011 (France), he is a multiple Rumanian Kempo Champion and a multiple Romania Freestyle Wrestling Champion. He has 19 fights and 18 victories and 1 loss all together in K-1, Thaiboxing and Sanshou.
Emil Hartsner gets a new opponent due to injury. Gianluca Scottoli from Shoot team Modena, Italy with a pro record of 5-1 will fight Emil Hartsner from Frontier MMA (2-0).
Marcus Andersson (2-0) from Örebro MMA gets a new opponent in Dimitri Anghelou (4-2) from France.
Fight Card
The Zone FC 11 – 'Survival'
2012-11-10 Sweden
Vladislav Scheblikin, The Knight of Plunge, Russia
Erik Carlsson, Frölunda Kampsport Center, Sweden
-77 kg
Gianluca Scottoli, Shoot Team Modena, Italy
Emil Hartsner, Frontier MMA, Sweden
-61, 8 kg
Emil Ahlqvist, Örebro MMA Center, Sweden
Rami Aziz, Frölunda Kampsport Center, Sweden
-66 kg
Dimitri Anghelou, Sausset Fight Team, France
Marcus Andersson, Örebro MMA Center, Sweden
-84 kg
Reda Sidhoum, Hybrid Fight Team, France
Per Franklin, Gladius MMA, Sweden
-77,1 kg
Yazid Chouchane, SFT/BJJ Sorgues, France
Jonathan Svensson, Vallentuna Boxing Camp, Sweden
-70 kg
Helin Paara, Team Scared & Paranoid, Estonia
Elina Nilsson, Fighter Muay Thai, Sweden
-67 kg
Aruna Vilius, Knight of Plunge, Lithuania
Magnus Strandner, GBG MMA, Sweden
-93 kg
Jean Francois Lenogue, Team Lenogue, France
Martin Wojcik, Pancrase Gym, International
-84 kg
Middle Weight Title
Ion Pascu, Ministry of Martial Arts UK & Absoluto FC, UK
Victor Cheng, Gladius MMA, Sweden
-84 kg
Heavy Weight Title
Dmitry Poberezhets, Combat Dobro, Ukraine
Eddy Bengtsson, Gladius MMA, Sweden
-120,2 kg
Tickets are still available :
http://www.ticnet.se/event/the-zone-fc-11-survival-biljetter/218347
You Might Like These:
Bet with Our Sponsor Unibet - Local & International MMA Odds + New Account Bonus!