In this welterweight fight between two up-n-comers looks like a classic striker versus grappler match-up. Tap out or knock out seems like the most probable ending for this bout.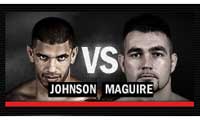 DaMarques "Darkness" Johnson (15-9), USA
Basic info: Johnson is a former soldier who served eight years in the special forces of the US National Guard. The Elite Performance fighter started with training jiu-jitsu and competing in grappling tournaments before drifting over to MMA with some help from MMA legend Jeremy Horn. 29 year old Johnson, who fights out of Sandy, Utah, is a sizeable welterweight at 185 cm with a reach of 190 cm.
Career: Johnson's pro career started back in 2005. During 2005 and 2008 he fought mostly in the local promotions of Utah racking up a solid 12-6 record. In 2009 Johnson was selected by the UFC to The Ultimate Fighter's ninth season. In TUF Johnson beat three opponents on his way to the final where he lost to James Wilks by rear naked choke late in the first round. Since that loss he has gone 4-2 in the UFC with the biggest win being over Brad Blackburn by TKO (Johnson got KO of the Night)
Strengths and Weaknesses:  Johnson put in a lot of work on his boxing lately and it has produced results too. Besides he likes throw powerful low kicks and round house kicks to the body. On the ground he has a dangerous guard game and a slick triangle choke of his back. Johnson's biggest weakness is his mediocre defensive wrestling.
Keys to Victory: Stay light on the feet and use the reach advantage by pumping the jab. Throw short combinations when Maguire tries to close the distance. Hold the kicks early in the fight as the opponent will look to take the fight to the ground. Punish Maguire for takedown attempts with knee and elbow strikes.
DaMarques Johnson Highlight
John "the One" Maguire (17-3), UK
Basic info:  31 year old Maguire is an interesting fighter and character for couple of reason. First of all he comes from the UK's traveller (gupsy) culture that was portrayed to mainstream audience in the hit movie Snatch. Maguire fights out of Cambridge, England where he still lives in his own caravan with the family. Secondly, unlike most European UFC fighters, the Tsunami gym fighter is a pure grappler which is odd if you consider his upbringing in the boxing heavy culture of travellers. Maguire, who is 175 cm tall and has a reach of 180 cm, still works as a heating engineer.
Career: Maguire has fought all of his twenty pro MMA bouts in England which can be considered as some kind of feat itself. Even his UFC debut took place in Birmingham. Before joining the ranks of the UFC, Maguire fought in the UK based promotions like Cage Rage and UCMMA. His biggest wins from pre-UFC era are over UK veterans Peter Irving and Dean Amasinger. In his UFC debut Maguire outgrappled TUF alum Justin Edwards and was awarded with a clear cut unanimous decision.
Strengths and Weaknesses: Maguire is a specialist as a fighter. He relies almost solely on his wrestling and submission grappling. He sticks to his opponents like glue and relentlessly works for takedowns. On the ground his go-to-move is the kimura arm lock. On the feet Maguire is at his best in the clinch where he likes to throw knees to the body and dirty box. Maguire has a solid chin and he doesn't mind eating a few shots while trying to get the fight to the ground. Maguire's weaknesses are his offensive striking and also that for a welterweight grappler he isn't very big or physically dominant in the cage.
Keys to Victory: Try to get the fight to the ground at all cost. Set up the takedowns with striking combinations. Push Johnson against the fence and work for takedowns from there.
John Maguire vs Peter Irving
Maguire is a slight favorite. For the latest odds, please use our betting partner Nordic Bet:
DaMarques Johnson 1.92 (-109)
John Maguire 1.8 (-125)