With many issues with the live stream for the professional fights of this past Saturday's Fightergalla 25, you can now see the pro card here.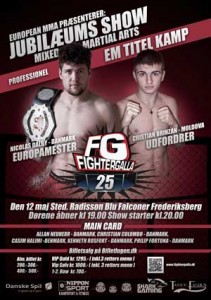 The fights shown in the video:
-77 kg: Mohammad Abdallah vs. Emil Weber Meek
Winner: Mohammed Abdallah (TKO R1)
84 kg: Aron J. Bland vs. Philip Fortuna
Winner: Philip Fortuna (Rear Naked Choke R1)
-70 kg: Hyram Rodriguez vs. Kenneth Rosfort-Nees
Winner: Kenneth Rosfort-Nees (Decision)
-115 kg: Rok Kokotec vs. Christian Colombo
Winner: Christian Colombo (TKO R1)
Pro MMA Welterweight Championship Fight
-77 kg: Christian Brinzan vs. Nicolas Dalby
Winner: Nicolas Dalby (Sidechoke R2)
Fight Video
You Might Like These:
Bet with Our Sponsor Unibet - Local & International MMA Odds + New Account Bonus!