Ilir Latifi Versus Jeff Monson for Superior Challenge Light Heavyweight Belt
Ilir Latifi now has an opponent for the October 6th bout in his hometown, which is set for the  Malmö Arena.  Officials made the announcement today about the Superior Challenge 8 card.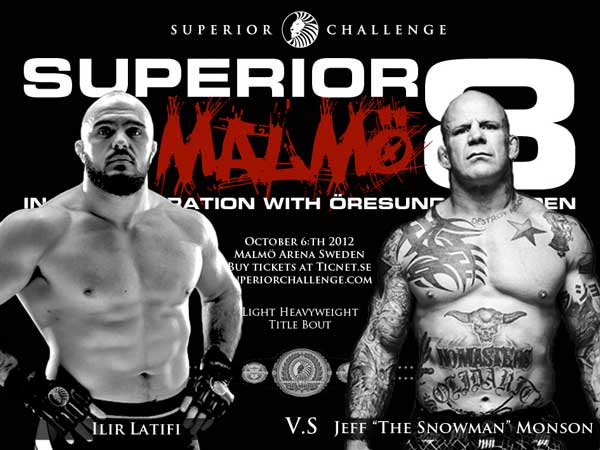 Babak Aghavali, CEO Superior Group International Comments:
Monsters Vs. Monster, Hulk Vs. Hercules, Clash of the Titans. Let's hope that the cage is strong enough for the 240 kg of furious muscle colliding in Malmö Arena October 6th.We still have not seen Ilirs full potential and on a good day, no one can stand in the way of him. Jeff is Ilirs toughest opponent to date, and no one to underestimate. Just six months ago, he competed against Fedor Emilianenko without being knocked out. It is a testament to how tough this man really is.This is an incredibly exciting match that everyone in the organization really looking forward to. This match will beat decibel record levels and raise the roof at Malmö Arena.
Below is the press release, translated form Swedish:
Home favorite Ilir Latifi, 6-2-0-1, faces his biggest challenge when he will take on Jeff Monson, 45-13-0, the Superior Challenge's light heavyweight title. Ilir is one of the main MMA athletes and has created a name for himself with his awesome physique and spectator-friendly fighting style. The Pancrase fighter is basically wrestlers which can be seen quite well in his matches when he lifts up and "slams" guys like rag dolls again and again. On October 6, he will be faced with the toughest opponent of his career at home.
Jeff Monson got his nickname "The Snowman" during ADCC 2009th He is one of the world's most accomplished MMA fighters and is considered one of the sport's premier grapplers. Despite its aggressive, muscular appearance, he is a well-trained graduates and psychologist by profession. He is also politically very active and advocate passionately for their version of anarchy. Monson has met the sport's very top elite during his 14 years as a pro, and competed in the largest organizations. Normally, he competes in the heavyweight and is ranked at 36th place in world ranking.
Some of his credentials include: two-time ADCC gold medalist, two-time FILA No Gi Gold Medalist, IBJJF svartbältes No Gi Gold Medalist, black belt in Brazilian Jiu-Jitsu, Sports Fight Heavyweight Champion, PSI (International Sport Karate Association) Heavyweight Champion, 2-1-0 in record in professional boxing, Sprawl 'N Brawl Heavyweight Champion, XFC Heavyweight Champion, Strenghth & Honor Heavyweight Champion, Sengoku veteran, Pride FC veteran, DREAM FC veteran, Strikeforce veteran, UFC veteran.
The America can boast wins over Roy "Big Country" Nelson, Sergei Kharitonov, Alexey Oleinik, Tony Lopez, Marcio Cruz, Travis Fulton, Ricco Rodriguez, Mark Kerr, Anthony Perosh, and Kazuyuki Fujita. Besides these, he has also met with Chuck Liddell, Forest Griffin, Tim Sylvia, Pedro Rizzo, Josh Barnett, and most recently the MMA's under long-term undefeated heavyweight champion Fedor Emilianenko. American Top Team fighter was running out against Fedor and lost by unanimous decision for about six months ago. It is no mean feat and a testament to The Snowman"s incredibly durable chin.
Ilir is the young, hungry fighter who will do everything to show off before the home crowd, and Jeff is the distinguished who will not have the title wrestled away easily. This is one of the biggest matches ever on the Nordic market and will attract international attention to the Swedish MMA.
MMA Viking Interview with Latifi After Recent Victory at GLORY: