Ilir Latifi has announced on his blog (www.fightplay.tv/kategori/ilir-latifi) that he will face the legendary Jeremy Horn.  Latifi is coming off a recent submission victory over Vladimir Gerasimchik from the Ukraine.  The light heavyweight will be looking to improve his 5-2-1 record, over Jeremy Horn who is on a two fight winning streak after losing a closely contested middleweight bout versus Thales Leites at Superior Challenge 7 in Stockholm.  "Gumby" now has an amazing record of 89 wins, 21 losses, and 5 draws.
Ilir writes (translated from Swedish):
"As you may have gathered, I am in intensive training before my next match which will be held 26th May at the Globe. My opponent is very experienced JEREMY HORN from the United States. Jeremy is a killer that I followed since he began his career in the UFC.   I am focusing on my game planning, timing and conditioning.  Jeremy is good in all positions so it's important that I am well prepared."
Glory World Series Officials recently sent out the following press release:
GLORY WORLD SERIES 2012 – First 16 – 70KG – $300.000 – Qualification
GLORY WORLD SERIES kicks into next gear with GLORY First 16 in the 70kg class on May 26th in the Ericsson Globe Stockholm, Sweden
On May 26, 2012 GLORY WORLD SERIES will see its First 16 – 70kg Championship in Stockholm, Sweden. The fans at the Ericsson Globe will witness the best line up in the 70kg class ever seen in Sweden and the world. GLORY has signed top fighters including Giorgio Petrosyan (Italy), Albert Kraus (Netherlands), Yoshihiro Sato (Japan), Fabio Pinca (France), Dzhabar Askarov (Russia) and more to come. The Fighters will aim to make it into the GLORY Final 70kg Championship which has a Winners purse of US$ 300,000.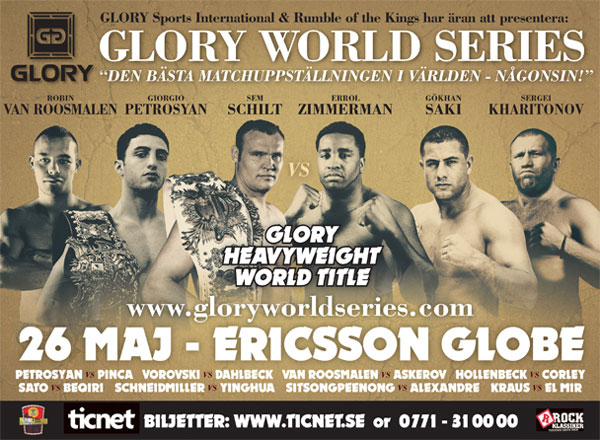 The Superfight on the evening is Semmy Schilt vs Errol Zimmerman. GLORY is planning four events before the end of the year. After Sweden its the FINAL of the 70kg Championship at the end of August and then two more dates for the Heavyweight Championship which will see a total of US$ 400,000 at stake!  Fighters already signed for the heavyweight Class are Peter Aerts(Netherlands), Brice Guidon (France), Jerome Le Banner (France), Semmy Schilt (Holland), Gokhan Saki (Turkey), Errol Zimmerman (Curacao), Sergey Kharitonov (Russia) and more.
About us:
GLORY is the trademark of Glory Sports International (GSI). Our tournament series is GLORY World Series. Its management team includes industry veterans Cor Hemmers, Bert Van Der Ryd and Martijn De Jong. GSI is lead by President Marcus Luer. GLORY Sports is head by President Bas Boon.
Ticket sales GLORY WORLD SERIES (Stockholm):
Available from 16 April 2012. TICNET.SE or  +46-771-31-00-00
Line-up for GLORY WORLD SERIES Tournament fights:
First 16 – 70KG - 26th May 2012 Stockholm:
1.) Giorgio Petrosyan (Italy) vs Fabio Pinca (France)
2.) Max Vorovski (Estonia) vs Sanny Dahlbeck (Sweden)
3.) Robin van Roosmalen (Netherlands) vs Dzhabar Askerov (Russia)
4.) Ky Hollenback (USA) vs Michael Corley (USA)
5.) Yoshiro Sato (Japan) vs Shemsi Beqiri (Switserland)
6.) Dennis Schneidmiller (Germany) vs Qi Chenglong (China)
7.) Kem Sitsongpeenong (Thailand) vs Cosmo Alexandre (Brasil)
8.) Albert Kraus (Netherlands) vs Mohamed El Mir (Denmark)
Line-up GLORY WORLD SERIES Super Fights - 26th May 2012 Stockholm:
Kickboxing:
1.) Nieky Holzken vs Alex Harris (Sweden)
2.) Semmy Schilt (Netherlands) vs Errol Zimmerman (Curacao)
You Might Like These:
Bet with Our Sponsor Unibet - Local & International MMA Odds + New Account Bonus!