GLORY World Series MMA Play-By-Play and Results
MMA Viking is on site at Annexet in Stockhholm, Sweden for an action packed card of kickboxing and MMA.   Daniel Schälander and Ryan O'Leary will be reporting and taking photos for tonights big event.
The bout here on May 26th is coming off the buzz of the UFC in Sweden on April 14th.  Although this event was intended to take place at Globen Arenas, some ticketing issues were rumored to cause tickets to be unable to be purchased.  Shortly before the event, it was decided that a move to the smaller location next door would be a better fit.  Although there wasn't an official attendance announced, the place is full and several thousand folks are here.
Fight Card
MMA: Dritan Barjamay vs. Jason Jones
The Albanian (10-2) Dritan Barjamay is introduced first, against Jason Jones. Jones represents Golden Glory fighter and Dutch champion and looks ready for his light heavyweight bout as he stairs at his opponent on in the faceoff. Barjamay tries to use his jab, but JOnes quickly ties up the fighter with a nice trip to the ground and takes mount. He looks for punches, and rolls on top finding his way to an armbar to finish quickly in round 1. "Just like that" says Jones about his game plan, when saying the fight went just as planned.
Jason Jones wins with 1st Round Submission.
MMA: Tony Lopez vs. Ilir Latifi
Ilir Latifi gets a huge pop from the Swedish audience. A little P-Diddy and Diana Ross coming into the ring. "I'm coming" is playing while Latifi and his full crew come for battle. Most notably Pancrase Omar Buiche is leading the crew. Latifi hops over the ring looking to extend his winning streak to two.
If I was a little hipper, I'd know this song. Some Compton rap type of vibe, and Lopez is hopping his way around as he comes down the red carpet. I think it's that guy that used to "pimp rides".
OK, we are set. Tony Lopez's height advantage is going to make a huge difference in this one.
Round 1
Latifi looks calm, as he cirlcles Lopez. Silence, as the two circle, but Latifi goes for a huge double leg takedown, picking up his opponent and slamming him to his back. Latifi is in grappling mode, and hasn't looked for punches, he still has control and back of his opponent. Lopez looks relaxed.
We are in a ring tonight folks. Four ropes, so lots of support around the ring.
Lopez is up back on his feet. The two are southpaws, and perhaps that's slowing things as the two try and size each other up. Latifi is wearing black and white Superior Challenge shorts. THe Swedish grappler again takes his opponent to the ground with a double-leg. Slow round…. it's so silent you can hear Mauro Ranallo's play by play.
Standup with just under a minute left in the round. Latifi checks a kick and circles away. Another take-down for Latifi and things get wild as Latifi tries to land some big punches. The two scramble as round one ends.
Round 1 for Latifi.
Round 2
Latifi again scores a take-down, which will be there all night. This is a classic wrestler versus striker bout. Ilir now begins to land from on top for some ground and pound. As the two stand-up, Ilir lands some knees. Now the two are clinching, looking for knees and punches.
Again the two circle, and a big one two combination for Ilir 3 minutes in. Lopez puts his hands down, and taunts his opponent. Ilir is patient, and doesn't play into the Americans game. Lopez is going a little Nick/Nate Diaz style. Latifi lands a big left hand as his opponent circles away. Lopez has the Swede backed-up in the corner, but doesn't pull the trigger. Big right uppercut from Latifi, and a right.
The two seem to be tiring, as Latifi stuggles for a take-down at the end of Round 2.
Round 2 for Latifi.
Round 3
Again Latifi's wrestling is making the difference, as he finishes take-downs at will. The two exchange positions as Latifi and Lopez grapple on the ground. It's now a boxing match as the two briefly slug it out. Latifi circles to his left, then comes over with the righ hand. There are two minutes left, and it would take a miracle for this to end in victory for the American.
Latifi sits in guard, and Lopez's coach is yelling out how to escape from teh bottom. Lopez does make it back up to the feet, and the two exchange punches. Both fighters are tires, with 20 seconds left.
Third round for Latifi.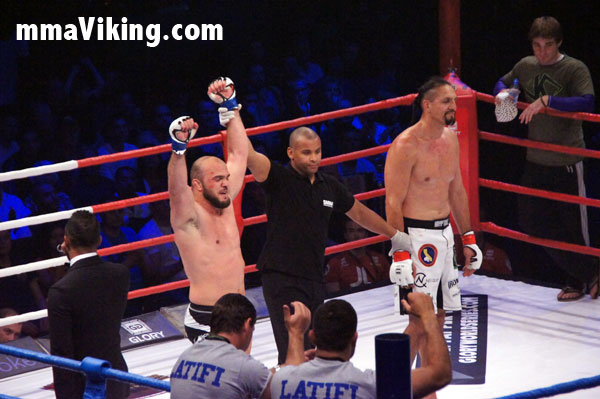 Unanimous decision for Latifi. The Swede is happy with his performance.
70kg Final 16:
Yoshihiro Sato vs. Shemsi Beqiri
2-1 Win Decision for Shemsi Beqiri
Tim Thomas vs. Dennis Schneidmiller
3-0 Win Decision for Tim Thomas
Dzhabar Askerov vs. Robin van Roosmalen
Wow. Fight of the night so far. Just a phone-box slug fest. Nobody put out on the ground, but damaging punches throughout.
2-0 Win Decision for Robin van Roosmalen
David Kyria vs. Kem Sitsongpeenong
3-0 Win Decision for David Kyria
Ky Hollenbeck vs. Michael Corley
1 round TKO for Ky Hollenbeck
Sanny Dahlbeck vs. Warren Stevelmans
With a big section of the audience with Sweden's Sanny Dahlbeck shirts, it looked like it was going to be an early huge celebration as Dahlbeck was dominating the bout early.  However the bout became a back and forth battle.  The Swede dominated early, but seemed to slow as the late replacement was able to implement his game-plan and damage the Swede, but it wasn't enough.
3-0 win decision for Sanny Dahlbeck.
Albert Kraus vs. Mohammed El-Mir
3-0 win decision for Albert Kraus
Giorgio Petrosyan vs. Fabio Pinca
3-0 win decision for Giorgio Petrosyan
Super Fight:
Alex Harris vs. Nieky Holzken
Round 1
Alex Harris out of Sweden looks to be getting the best of early action with knees the the body followed up by stiff punches. Holzken comes back strong for a close first round.
Round 2
The two step right back into range and begin punching away. Holzken seems more agressive in the second round, and looks for low kicks and high kicks. The pace is picking up. Big uppercut by Holzken then he continues to punish with kicks. Big punch to the body and the Swede goes down. The local fighter is up, but in trouble as Holzken continues to go high and low, again finding a liver shot that sends the Swede down. Again the Swede is dropped for the third time… layed out on the ground.
"I'm feeling like de ju vu" says "the natural" who recalls winning at Globen 6 years ago.
2:45 2nd round TKO Nieky Holzken Wins
Heavyweight Super Fight:
Gokhan Saki vs. Carter Williams
Gokhan Saki comes into the ring dancing way in, and when they meet in the ring… there is no love loss.  They are here to fight.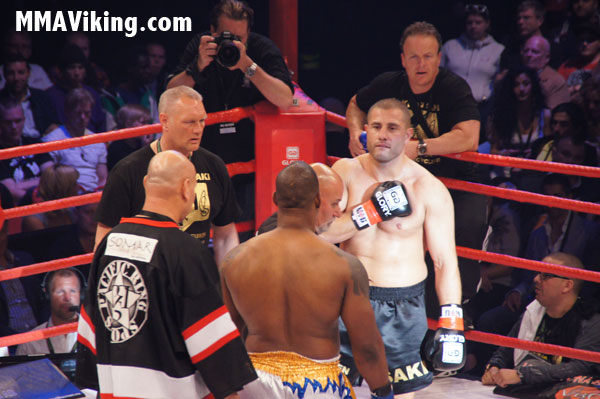 Round 1
"Saki, Saki, Saki" the crowd chants.  The two exchange kicks early.  The speed of these heavyweights are impressive.  A kick to the cup early from Saki, that looks like a legitimate nut shot.  Williams is not happy, but who would be.  Saki lands a big round-house left, and drops williams to end the bout.  Wow…. big left hook and Willians drops like a bag of chips.  It's over.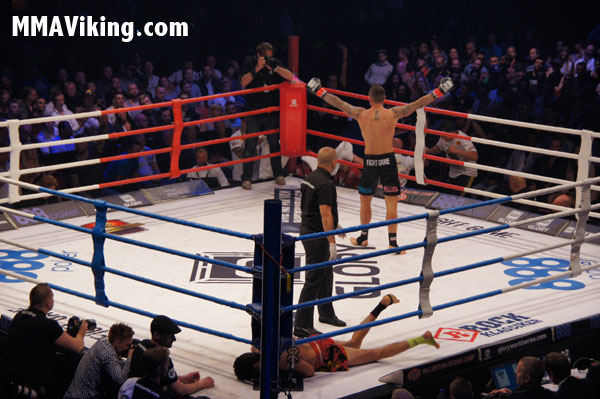 "I do my thing"  "It was too short."  "I want to thank GLORY".  are a few quotes from the celebrating fighter.
TKO for Gokhan Saki
Glory World Heavyweight Title:
Semmy Schilt vs. Errol Zimmerman
Errol Zimmerman enters the ring, with a posse of 20 people behind him.  Semmy Schilt takes his time entering, and when he arrives he's got a white gi on, wrapped in a black belt.
Round 1
Left kick by Schilt to start things off.   Zimmerman is lunging at Schilt to try and get inside to his head.  Zimmerman takes a kick and goes down, but it is ruled a slip.  Zimmerman again looking for superman punches to reach his much bigger opponent.  Zimmerman seems to be hurt after  an exchange, but smiles.
There is tension in the air, and seems like someone is going to drop as the two swing away.  Good round for Schilt.  What a fight.  Lovin' me some non-mma action.
Round 2
Front kick to Zimmerman seems to take the wind out of sails.  Schilt is using his reach to jab his way to a big blow.  Zimmerman lands a good hook and presses the action… and another left hook to the face.  Now a big uppercut to turn the tide for Semmy,  and the two go for it swinging away.  Zimmerman lands on the mat again, but none of them will count.  Zimmerman seems hurt and desperate, but it could be a ply… actually, he seems to be in a ot of pain and takes another left kick and knee.
Another round for Schilt on this unofficial scorecard.
Round 3
Zimmerman is head hunting going for a KO, as the two battle to start of round 3.  The ring is slippery, and Zimmerman ends up on the canvas again.  Semmy again damages at range, and gets 8 count.  The referee urges the fighters to fight, and they do. Three straight left jabs from Semmy, then Zimmerman says "Come On", and unfortunately he gets punched in the face several times as he gets to the ground again.
Semmy wins, as the Zimmerman's corner throws in the towel.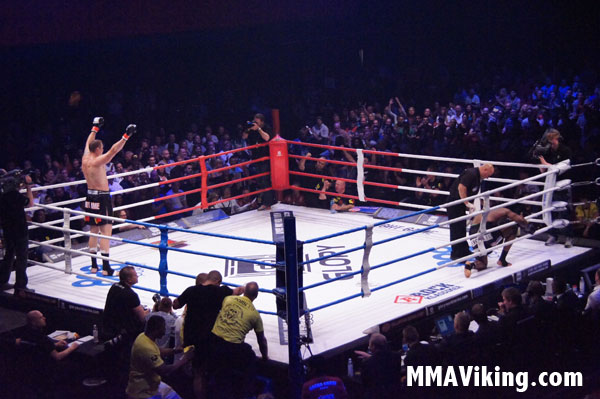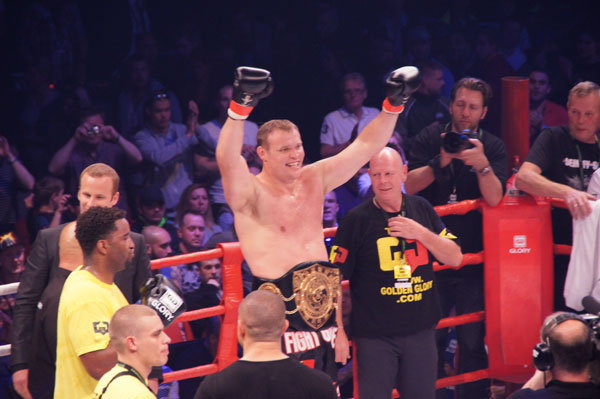 Pictures and interviews coming shortly.  Please check back!
Tags:
GLORY, Ilir Latifi