Marcus Vänttinen Loses Split Decision at Bellator 66
Marcus Vänttinen loses a close fight in his Bellator debut.  The Finn lost a split decision to the American, winning one score card by 30-27, but losing the other two 29-28.  John "Big" Hawk was given the victory at Cleveland's I-X Center on the Friday night card, headlined Eddie Alvarez vs. Shinya Aoki lightweight headliner.
American John "Big" Hawk improves his record to 7-4 overall and 2-1 in Bellator, while Marcus "Caveman" Vänttinen drops to 21-4 and 0-1 in Bellator.
Play-By-Play
Round 1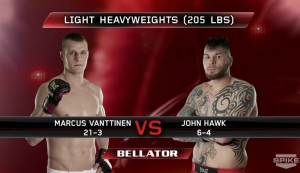 The two come out swinging to start the bout, but no significant punches land.  Vänttinen looking to land the big right hand, and paws with the left jab to keep the distance.  Hawk looking to counter, as Vänttinen seems to be quicker on his feet and circling his opponent.
The American wrestler mixes in a kick, as the two square-off in traditional stances.   Hawk is starting to move forward, after Vänttinen began stalking early.  The fight goes to the cage with two minutes left, while the two mix it up in the clinch.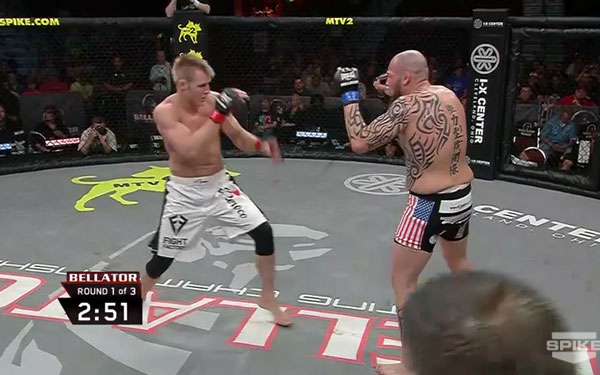 Hawk is a little shorter than the Finn, but is looking to stand-up tall and strike.  Both are looking to land bombs with a couple minutes left.  The American has landed some good punches, later in the round, but Vänttinen keeps moving forward.
Vänttinen lands a knee in the clinch at the end of the round.  Fast-paced round one, and a close one to score.  Commentator gives the first round to Vänttinen. (10-9 Vänttinen on Unofficial Scorecard)
Round 2
The light heavyweight bout again starts out quickly, and Vänttinen lands a good right hand.  One minute in, and  Vänttinen finds his way to a double-leg against the fence and brings it to the ground for a finish.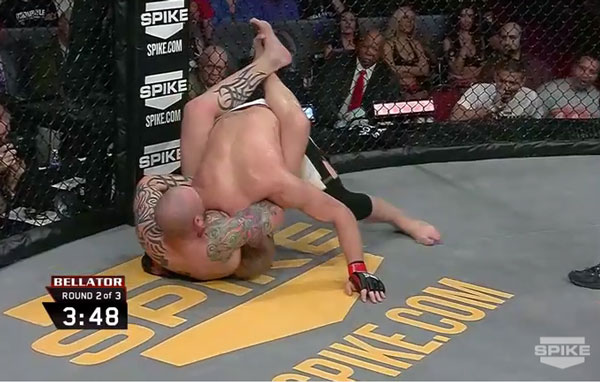 Vänttinen looks to be in trouble, as the former Division I wreslter locks on a tight guilletine.  It looks very, very tight, but Vänttinen stays composed and is eventually able to get his way out.  While on top, the Finn looks for damage on top, but eventually is reversed and finds himself on his back.
Hawk continues to look for openings on top, but Vänttinen shows some of his submission skills as he looks for an armbar.  Vänttinen looks for a takedown at the end of the round as the two make it back to the feet, but it is stuffed, and Hawk is on top to finish the round.
Commentator gives the second round to Hawk.  (19-19 Even on Unofficial Scorecard)
Round 3
The fighters both seem a little tired, and perhaps Vänttinen is fresher of the two.  Both exchange damaging blows early in the round.  Both are throwing heavy leather, but Hawk seems to be tiring quickly.
Vänttinen looking to land a big knee, but the Finn finds himself lunging for takedowns and getting into the comfort zone of the American wreslter who is trying to catch his breath.  Vänttinen is striking first, but not finding much success.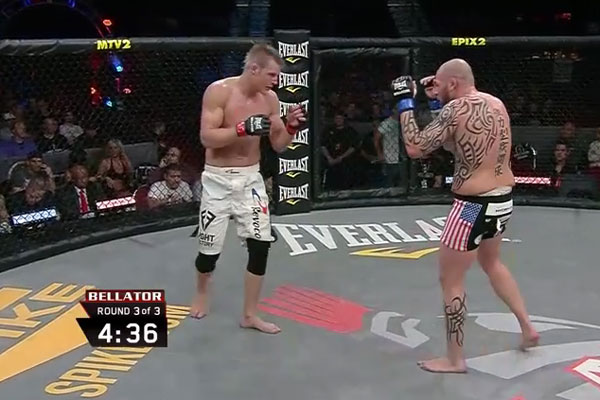 Close fight, both are standing looking for inspiration to end the round on a big note.  Hawk lands a good blow, and Vänttinen tries some kicks.  Vänttinen moves forward to meet the tiring opponent, but no clear advantage for either opponent.  The bell rings, and the fighters embrace.
Commentator gives the third round to Hawk.  (29-28 Hawk on Unofficial Scorecard)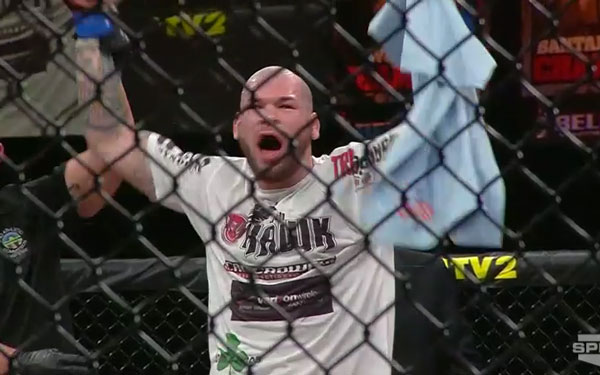 The scorecards are read, 30-27 for Vänttinen, then 29-28 for Hawk on the final two scorecards.
Look for Marcus Vänttinen to make a strong comeback at Bellator's light heavyweight tournament as it starts on the 22nd of June at the Bellator 71 event where Vänttinen is matched up with Brazilian Phelipe Lins (5-0).
Tags:
Bellator, Marcus Vänttinen