The Superior Challenge 8 card on the 6th of October in Malmö is beginning to solidify. Officials today announced the matchup between Malik "The Natural Born Killer" Arash Mawlayi Takes on David "One More" Round. Read the press release below.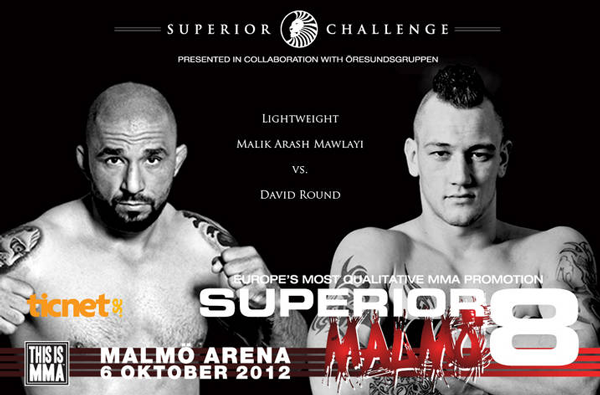 Press Release
The hometown favourite fighter faces his toughest opponent to date, the Englishman Round at Superior Challenge 8, on October 6thin Malmö.
Round (6-7-0) is a Kick Boxer with a black belt in the discipline, which naturally influences his MMA fighting style. Welshman has won five of his wins by TKO by punches, and he has managed to finish all his six wins in the first round. The 26 year old has an entertaining and aggressive fighting style, which suits the Malmö fighter perfectly.
Mawlayi (3-3-1) is a complete all-round fighter, both good at stand-up and on the ground. He is originally a grappler, but after several years of training with Ole Laursen, and after a number of Muay Thai buouts in Thailand, he now also masters the stand-up game. Malik is a fearless and tough fighter who likes to put on a show. He dares to be an entertaining fighter for the audience and he always delivers 100 % during his bouts.
Babak Aghavali, CEO Superior Group International:
– Personally, I'm a big fan of Malik and his fighting style, he is tough fighter who always aims for finishing his opponents. He is matched against David "One More" Round on October 6th, which is an explosive stand-up fighter with dangerous punches. This is certainly a very interesting match-up and one of the bouts that I really look forward to.