Saturday's Superior Challenge 8 Features Latifi Versus Oliveira, Plus Bielkheden Versus Davis
Superior Challenge stages its 8th event this Saturday, this time in Malmö for the first time in the promotions history. The pioneer of big-hype Scandinavian MMA cards rebounds in style with UFC vets and up-and-coming prospects after a layoff of one and a half years. Superior Challenge is calling the first MMA event held in Malmö Arena the "biggest martial arts event ever in southern Sweden".
"This fight card is fantastic and includes many local heroes from Malmö, and a title bout, and three major international bouts. Match-wise it's probably our best fight card to date, and it is topped with some very interesting international athletes such as Jorge Oliveira, James McSweeney and Marcus Davis who will put our Swedish heroes to test. Among our top Swedish names, we have David Bielkheden, Matti Mäkelä and Ilir Latifi" says Babak Aghavali, CEO Superior Group International.
One of the main faces of the organization, Reza "Mad Dog" Madadi, has moved on to the UFC, so the card is putting top-level Sweden fighters in Ilir Latifi and David Bielkheden in the spotlight against international talent.
Latifi Versus Oliveira
Latifi, who resides in Malmö, originally was originally set to fight Jeff Monson. However, Monson fell off the card due to some complications with his M-1 agreement, and DJ Linderman pulled out after that to pursue another fight contract. Now, the opponent in front of the Pancrase fighter will be Brazilian Jorge Oliveira. The three-time Pan American BJJ champion Oliveira, will be a new and interesting challenge for the Swedish wrestler that after striking usually takes the bout to the floor.
It will be interesting if the match goes to the mat, seeing the grappler versus wrestler tangle on the ground. Latifi likes to ground and pound, using his power on the ground, while Oliveira will look to take advantage of his BJJ advantage. "Van Damme" is geting his shot at this new light heavyweight title, and most recently was victorious over former UFC veteran James Irvin by submission. He also has wins over UFC veterans Mike Van Arsdale and Shonie Carter, but has been out of the cage since 2010.

Latifi Talks to MMAViking.com Shortly After Last Win; Looks to Superior Headliner Next
Latifi put on solid performance over Tony Lopez, dominating the American in a one-sided three round decision at Glory World Series in Stockholm this May. Latifi has 6 wins and 2 losses, and looks to climb up the rankings again with his third win in 2012.
Get more pictures like this from SHERDOG.COM
Bielkheden Versus Davis
David "The Brazilian Swede" Bielkheden was set to matchup against judo master and UFC veteran Karo Parisyan, but instead gets another Octagon vet in Marcus Davis (20-9-0). The American UFC fighter has fought 15 bouts in the organization against some of the world's top fighters and can flourish with wins over Paul Kelly, Chris Lytle, Jess Liaudin, Paul Taylor, Pete Spratt, Shonie Carter and others.

Get more pictures like this from SHERDOG.COM

The southpaw fighter may be competing in his last event, as his career is almost over. However the heavy hitter is very dangerous, and this could be fight of the night against the Swede.

Bielkheden Shows He Still Has It, with a Gutty Performance Versus Pendred
Bielkheden is coming off of a fight of the night at Cage Warriors 47 against Cathal Pendred. The Swede is set on getting back to the UFC, and has recently headed back to Brazil for his final training. The Brazilian Top Team / Hilti fighter will have his trainer and coach Murilo Bustamante in his corner.
Heavy Action & Prospects
Aghavali is also enthused at the uniqueness of the card, which is literally "Sweden's heaviest MMA event ever". There are "three light heavyweight bouts and two heavyweight bouts with athletes who weigh around 120 kg each. The total match weight and the maximum allowed weight of the 26 athletes at the weigh-in will be about 2464.4 kg, and the day after, on the event day they will weigh even more."
Two familiar faces to keep an eye on are Matti Mäkelä and Farshad Farsiani. Both are experienced Superior Challenge fighters, with Mäkelä facing the surging UFC veteran James McSweeney, and Farsiani facing Sweden's Åke Bergvall.
The king of smack talk is David "One More" Round, who is sure of his victory against the always exciting Malmo favorite Malik Mawlayi.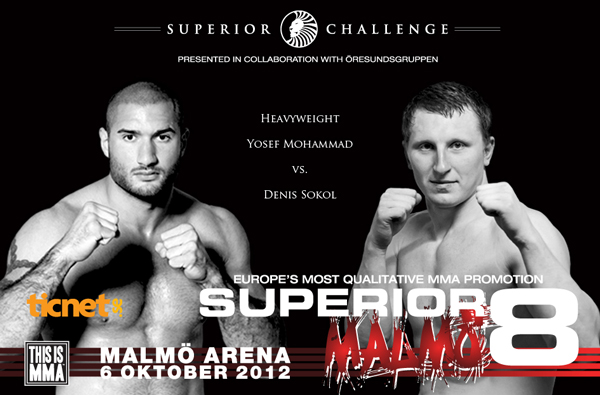 One fighter to keep an eye on is Yosef Ali Mohammad will be facing Denis Sokol. Mohammad is a 24-year-old Malmo resident. The athletic heavyweight is a Shooto European Champion, Swedish ADCC Champion, and Scandinavian Open BJJ gold medalist. He is trained by MMA pioneer Arben Latifi. "Yosef is an incredibly talented fighter who has everything it takes to reach the top in a short time. I guarantee we will get to see much more of him after the Malmo gala." says Aghavali. He faces Sokol, who hails from Lithuania.
Martin Akhtar, from MALMö Muay Thai, will head into the MMA arena for his second bout. The Swede has had a successful career as a Thai boxer and kick-boxer, will look to follow-up his impressive debut at The Zone FC earlier in the year with another victory over black belt Leandro Gontijo. Another classic striker versus grappler.
Lastly, the card features the conclusion of Kimura Talent, a competition put on in coordination with Kimura.se and Superior Challenge. Simon Sköld will battle Michel Ersoy will meet, after both of their opponent fell off the card shortly before the event. "I must say that this match is incredibly much more interesting than both of the previous two. Here we have two true warriors who are known to give all of their matches in a quest for closure of the competition. This match definitely has potential to be the fight of the night." says Superior President Aghavali.
Full Fight Card
Ilir Latifi, PANCRASE GYM SWEDEN, SWEDEN 6-2-0-1 Versus
Jorge "Van Damme" Oliveira, BLACK HOUSE, BRAZIL, 5-2-1-1 (-93 KG)
David Bielkheden, HILTI / TEAM BIELKHEDEN, SWEDEN, 17-11-0 Versus
Marcus "The Irish Hand Grenade" Davis, TEAM SITYODTONG / TEAM IRISH, USA, 20-9-0 (-77,1 KG)
Matti Mäkelä, PANCRASE GYM SWEDEN, SWEDEN, 10-11-0 Versus
James "The Hammer" McSweeney, SLEDGEHAMMER MMA, ENGLAND, 10-9-0 (-93 KG)
Malik "The Natural Born Killer" Arash Mawlayi, MALMö MUAY THAI, SWEDEN, 3-3-1 Versus
David "One More" Round, G4 MMA / ONE FIGHT SYSTEM, ENGLAND, 6-7-0 (-70,3 KG)
Martin "Poker Face" Wojcik, PANCRASE GYM SWEDEN, SWEDEN, 6-7-1 Versus
Patrick "Dexter" Vallée, HAUTE TENSION, FRANCE, 8-4-1-2 (-83,9 KG)
Martin Akhtar, MALMö MUAY THAI, SWEDEN, 1-0-0 Versus
Leandro Gontijo, MMA BARCELONA TEAM, SPAIN, 3-4-0 (- 61,2 KG)
Farshad Farsiani, HILTI UPPSALA, SWEDEN, 1-3-0
Versus Åke Bergvall, VBC, SWEDEN, 3-5-0 (-77 KG)
Yosef Ali Mohammad, TEAM AVAM, SWEDEN, 0-0-0 Versus
Denis Sokol, THE KNIGHT OF PLUNGE, LITHUANIA, 1-0-0 (-120,2 KG)
Visar Kelmendi, FORCA FIGHTING, SWEDEN, 0-0-0
Versus Oleg Tinins, SANJ-DA, LATVIA, 1-3-0 (-120,2 KG)
Sadri Kelmendi, FORCA FIGHTING, SWEDEN, 0-0-0 Versus
Julius Zurauskis, THE KNIGHT OF PLUNGE, IRELAND, 0-1-0 (-93 KG)
David Glasnovic, AVAM, SWEDEN, 0-0-0 Versus
Sharyar Sazesh, HILTI, SWEDEN, 1-1-0 (-83,9 KG)
Bilal Musa, SWEDEN, 0-1-0 Versus
Edris Rafigh, HILTI, SWEDEN, 0-0-0 (-58 KG)
Simon Sköld, NACKA DOJO, SWEDEN, 1-3-0 Versus
Michel Ersoy, FORCA FIGHTING, SWEDEN, 0-1-0 (-65,8 KG)
Mattias Rosenlind, MALMö MUAY THAI, SWEDEN, 0-1-0 Versus
Martin Halvorsen, FORCA FIGHTING, SWEDEN 0-0-0 (-70,3 KG)
Tickets:
Buy Ticnet.se: http://www.ticnet.se/search.php?tm_link=tm_header_search&language=sv-se&keyword=superior+challenge