UFC in Sweden Breakdown: Damacio Page vs Brad Pickett
An exciting bout between two aggressive and heavy-handed bantamweights who do not come to fight for points. If this fight goes full rounds it should be a real barn burner and a strong candidate for the Fight of the Night. However we expect this fight to end in brutal fashion.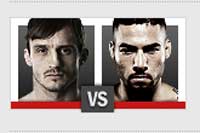 Damacio "The Angel of Death" Page (12-6), USA
Basic info: 29 year old Page fights out of the famed Jackson-Winkeljohn MMA gym in Albuquerque, New Mexico. He is 168 cm tall and has a reach of 170 cm. Page, who also has his own promotion called Southwest Cage Fighting, is known for his heavily tattooed body that is covered with religious images.

Career: Page has been fighting professionally since 2005. He won his first five fights before hitting a rough streak of three consecutive losses with one of those coming in the hands of Japanese legend Genki Sudo at the K-1 Dynamite in 2006. Page managed to quickly bounce back and rack up four wins before he got singed by the former WEC promotion. In the WEC's bantamweight division Page went 3-2 and scored his mostly notable wins to date when he beat Scott Jorgensen by decision at WEC 32 and knocked out Brazilian jiu-jitsu master Marcos Galvao in just 18 seconds at WEC 39.
Page made his UFC debut against Brian Bowles in the UFC Live Sanchez vs Kampmann event in March of 2011. Fun fact from the fight is that Bowles tapped out Page with the same submission at the exact same time as in their first fight in 2008: guillotine choke at 3.30 of the first round.

Strengths and weaknesses: Page always fights with aggression, pushes forward and looks for the finish. For a bantamweight he has heavy hands on the feet and a good overall skill set. Five out of his six career losses have come by submission so submission defence can be counted as his weakness. Page has solid grappling skills but at times he gets too excited in the cage and ends up in a bad position.

Keys to Victory: Keep the fight on the feet and make it a brawl. Break Pickett's technical boxing game by clinching often and mixing dirty boxing with knees. While in the clinch watch out for Pickett's favourite submission the guillotine choke.
Damacio Page knocks out Marcos Galvao
Brad "One Punch" Pickett (20-6), UK
Basic info: Pickett is a 33 year old Londoner who represents American Top Team and currently fights out of Coconut Creek, Florida. He is exactly the same size as his opponent Damacio Page: 168 cm tall with a 170 cm reach. The former fashion industry worker started training MMA when he got bored with boxing. For his entrances Pickett likes to dress up as an old school English working class man with Cockney (East London) tunes of Chaz n Dave playing in the background.

Career: Pickett started his professional MMA career as a featherweight in 2004 and quickly climbed to the top of the weight class in the UK. His biggest wins from this period are over UK veterans David Lee, Robbie Olivier and Paul Reed. In 2009 Pickett signed with the WEC and won three out of his four fights in the promotion. In WEC he scored notable wins over top ranked Demetrious Johnson and Ivan Menjivar while losing to Scott Jorgensen by points. The Englishman made his UFC debut on home soil at the UFC 138 in Birmingham, England. Brazilian contender Renan Barao dropped Pickett with a flurry of strikes late in the first round and finished the job with a rear naked choke.

Strengths and weaknesses: Pickett's technically sound boxing is his best weapon on the feet. Especially his body shots to the liver have caused pain to many of his opponents. Training with the wrestlers and jiu-jitsu experts of American Top Team in Florida has greatly improved Pickett's wrestling and ground skills. He is very hard to take down these days and even harder to keep on the floor. Pickett has an excellent guillotine choke which makes it harder for his opponents to shoot on him. Pickett doesn't have any big holes in his game anymore.

Keys to Victory: Stick and move on the feet. Punish the head and body with crisp boxing combinations. Watch out for the heavy haymakers from Page. If the opportunity comes take the fight to floor and look for chokes when Page tries to get back to the feet.
Brad Pickett Highlight
Beting Odds – Brad Picket the Big Favorite
Damacio Page 2.45 (+145)
Brad Pickett 1.5 (-200)
For latest odds, please use our betting partner Nordic Bet:


Tags:
UFC in Sweden