UFC Live Results and Play-by-Play : Gunnar Nelson and Akira Corassani
MMA Viking is on scene in Nottingham, England and reporting live from Saturday's UFC on FUEL TV 5 event. The event takes place at Capital FM Arena in Nottingham, England and features Nordic fighters Gunnar Nelson and Akira Corassani. Fights start at 6:45 local time in the UK, 19:45 Stockholm and 20:45 Helsinki.
Results
The crowd is buzzing in the small city, and looks to be an almost full arena, which is used for hockey games. Only Britney Palmer for the ring girls have made the trip, and Joe Rogan and Mike Goldberg get another weekend off for the Fuel broadcast.
ROBERT PERALTA VS. JASON YOUNG
KO by Peralta quick! Big right hand, and a couple punches on the floor and it is over. Crowd goes silent as local fighter is out.
Gunnar Nelson Play-by-Play & Results
DAMARQUES JOHNSON VS. GUNNAR NELSON
Nelson walks out ot the cage first. As always, Nelson looks relaxed. Big cheers from the crowd for the Iceland fighter, and the US fighter is booed heavily. Herb Dean is the referee.

Round 1
Gunnar is in his karate stance and throws a kick to start off the bout. Johnson seems to be stalking his opponent. Gunnar pushes against the cage, and takes down Johnson. Nelson works for top position, and is in half guard.
Johnson tries for a kimura, but Nelson repositions himself. Nelson punches the American in the face and takes side control.
Nelson takes full mount two minutes into the bout. Johnson tries to buck off Nelson, but Nelson takes his back and locks in the rear naked choke. A full punches in the face, and now Nelson has a full body lock.
"Gunnar, Gunnar, Gunnar" the crowd chants with 1:42 left in the bout. The Choke looks tight, and Johnson taps. Nelson wins and raises his hands. He almost smiled, and shakes Johnson's hand aftter the victory.
Nelson shakes Joe Silva's hands, and it is a wrap. Nelson wins by submission, and Nelson wins in round 1.
"Very happy to be here" says Nelson in the post fight interview.
Watch Post-Fight Interview of Gunnar Nelson talking to MMAViking.com
BRAD TAVARES VS. TOM WATSON
Tavares Wins Split Decision
Akira Corassani Play-by-Play & Results
AKIRA CORASSANI VS. ANDY OGLE
Round 1
One minute in, and the fight stays standing. Akira stays calm after coming into the fight to Mimi Hendrix, Purple Haze. The Swede looks cautious on the feet, but tries his classic overhand right hands.
Both fighters keep their distance, but a left hand lands on Corassani, and the hurt Corassani decides it is best to sit down, and Ogle attacks.
The fight gets up to the feet, after Corassani stays composed. Akria with a big right hand, and Ogle is rocked. This after a bit round house. Akira has the UK fighter hurt and looking for an ending. A stiff right hand, and Corassani is controlling the fight. Another right with just over a minute left in round one.
Ogle is protecting his face, as it is swollen, and Corassani hunts down his opponent.
Fast paced first round, and now Ogle lands with an uppercut.
Good first round for the Swede. 10-9.
Round 2
Akira lands a good right 30 seconds into the round.
The pace has slowed and another spinning round house from the Swede that lands. Ogle looks for the take-down, but is nullified.
The two are swinging, with looping punches.
A leg kick from Ogle three minutes in, and both fighters seem to be fresh. Big exchanges, and seems someone will land a big punch. A takedown, and Corassani is on his back. Ogle looking for a choke on top, cut Corassani defends well.
Looks like the second round may end with Ogle looking for a submission, which isn't very tight. Ogle tries to flurry on the Swede as he sits against the cage, the bell rings, then Akira lands a huge punch after the bell.
Close round 10-10
Round 3
The two stand on their feet in Round 3. Ogle goes for a shot with 1 minute into the fight, then Akira goes for a kick to the face. Ogle again looking for a take-down gets it.
Two minutes left, and Ogle is still on top with Akira holding his lefts. The UK fighter is landing elbows, and the most damage from the top. One minute left, and no progress is being made. Corassani's face looks red from the elbows, as Ogle controls this bout.
Ogle wins that round 10-9, and raises his hand. Corassani is upset, and frustrated with the way that round ended.
MMA Viking Scorecard : 29-29 Draw
Official Scorecard :
29-28 – Corassani
30-27 – Ogle
29-28 – Corassani
Split decision win for Corassani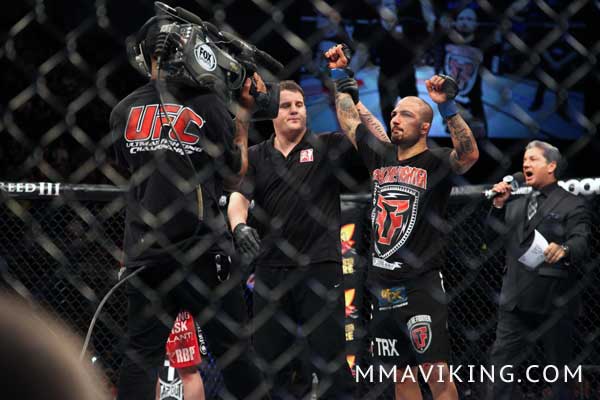 Watch Post-Fight Interview with Akira Corassani Talking to MMAViking.com
KYLE KINGSBURY VS. JIMI MANUWA
Manuwa wins by stoppage between rounds 2 and 3 in an absolute war.
DUANE LUDWIG VS. CHE MILLS
Ludwig injures his knee at end of round 1. Mills wins.
JOHN HATHAWAY VS. JOHN MAGUIRE

Hathaway by decision.
PAUL SASS VS. MATT WIMAN

Wiman by sub in first.
YVES JABOUIN VS. BRAD PICKETT

Wow. Brad "One Punch" does it big with a first round KO.
DAN HARDY VS. AMIR SADOLLAH

Hardy wins a unanimous decision.
STIPE MIOCIC VS. STEFAN STRUVE

Struve stops Miocic with punches in the second round. Great slug fest, but Struve ended with big punches rocking Miocic.
Stay tuned for more pictures and videos.