When Keng Jukkimus XIII (UFC wannabe, Keyboard warrior, Reptile collector, Finnish Street Fighter, MMA Xpert) Tweeted to Lorenzo Fertitta about the potential of the UFC coming to Finland and when, the response from Fertitta was directed at a UFC in Stockholm.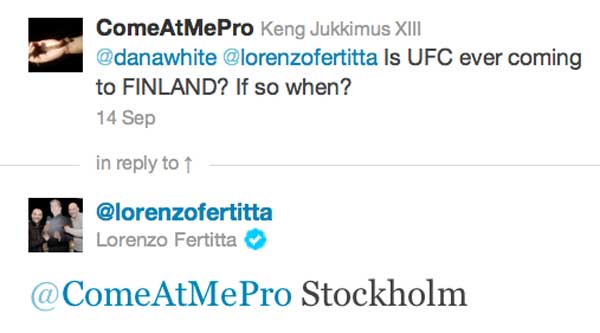 For a history of the UFC's intent to come to Sweden, read about UFC 138, which was the originally planned event on November 5, 2011. With UFC events booked for the rest of the year, the earliest an UFC could arrive in Stockholm would be early in 2012.
Last April, CEO Lorenzo Fertitta also responded "next year" to a tweet from an inquiring MMA fan. This put an end to the previous rumor of the November 5 date in Stockholm or Malmö.