MMAViking.com partner Unibet has plenty of opportunities for betting value on the massive UFC 166 card. Although there are no Nordic fighters on this card, it is still outsanding and with a special offer through our betting partner, you can get a huge sign-up bonus by clicking on the Unibet banner above or below.

Get more pictures like this from SHERDOG.COM
The main event between Vitor Belfort and Dan Henderson may be the fight to bet on. With Hendo at a 2.85 underdog, you are just one h-bomb away from a KO of Belfort to win big. The American already has a win over the Brazilian, and at 205 lbs, the weight cut isn't as hard for the traveling wrestler.
If you are looking for a European to step up, look no further than Igor Pokrajac. The Croatian is fighting Rafael Cavalcante and is a 3.10 underdog. While Pokrajac's training camps have been limited, it seems he has the right mix of MMA training partners and improved boxing to upset the local Brazilian fighter.
Check out the weigh-in video to see who could have the edge in tonight's bet. Remember to open an account with our partner Unibet!
Unibet Odds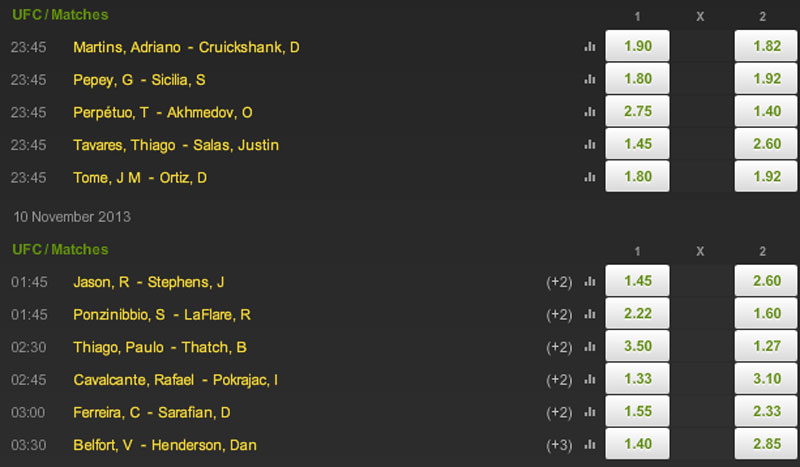 Click Banner for New Account + Start Bonus!
Weigh-in Video
Fight Card
Location: Goiania, Goias, Brazil
Venue: Goiania Arena
MAIN CARD
Vitor Belfort vs. Dan Henderson
Cezar Ferreira vs. Daniel Sarafian
Rafael Cavalcante vs. Igor Pokrajac
Brandon Thatch vs. Paulo Thiago
Ryan LaFlare vs. Santiago Ponzinibbio
Rony Jason vs. Jeremy Stephens
PRELIMINARY CARD
Godofredo Pepey vs. Sam Sicilia
Omari Akhmedov vs. Thiago Perpetuo
Justin Salas vs. Thiago Tavares
Daron Cruickshank vs. Adriano
Martins Jose Maria vs. Dustin Ortiz
Click Banner for New Account + Start Bonus!