WIN 2 UFC in Nottingham Tickets & Travel from NordicBet
NordicBet is giving away a package to see the UFC in Nottingham on September 29.  
The package includes two seats to the event headlined by Stipe Miocic vs Stefan Struve, plus travel package (up to €1000).  All other costs need to be taken by the winner.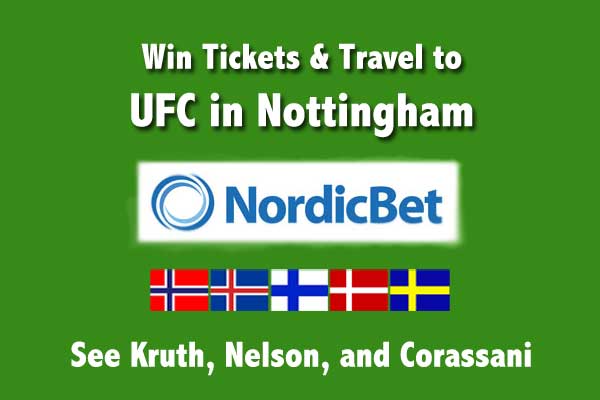 How To Enter
To enter, bet at least €30 on UFC 150 with NordicBet.  Then post your best prediction of the winner of each of the 10 fights on this page below, or any of our Facebook post promotions at www.facebook.com/mmaViking.
Who ever picks the most winners correctly will win. If multiple people picks the same amount correctly, the tie-breaker goes to the person that posted their picks first. You must be living in a Nordic country to win.
UFC 150 – Pick a Winner for Every Fight
1. Champ Benson Henderson vs. Frankie Edgar
2. Donald Cerrone vs. Melvin Guillard
3. Jake Shields vs. Ed Herman
4. Yushin Okami vs. Buddy Roberts
5. Justin Lawrence vs. Max Holloway
6. Dennis Bermudez vs. Tom Hayden
7. Jared Hamman vs. Michael Kuiper
8. Ken Stone vs. Erik Perez
9. Nik Lentz vs. Eiji Mitsuoka
10. Dustin Pague vs. Chico Camus
Click here to open a NordicBet account or use your current account to win a trip to Nottingham.
WINNER
Thanks for all the entries!
Kristian Søfteland Gudim of Norway picked the most fights correctly (10 of 10!), and will win a MMA Viking t-shirt and some goodies from NordicBet. Emil Weber Meek also from Norway picked 8 of 10 fights correctly, and since he placed bets on the UFC 150 fights also, he wins tickets and travel to UFC in Nottingham! Congratulations and thanks to everyone for participating!
We will see you in Nottingham!