Swede Emil Hartsner will be returning to the cage at Denmark's European MMA 7. The promotion announced the signing of the The Ultimate Fighter participant and plans for "Swedish Swag" to be on their next card on November 7th in Århus, Denmark. "I'm super super excited, and want to show everyone a new and improved Hartsner" says the bantamweight to MMAViking.com.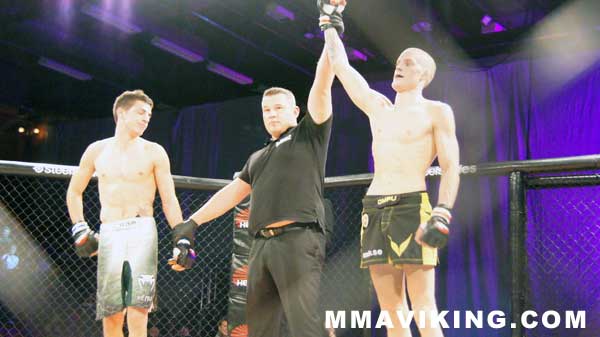 The Frontier MMA fighter has 4 wins and 0 losses. His last official bout was at Heroes FC in March, where he dominated Martin Akhtar in a three round decision in Sweden.
Since that time, he lost a close decision to get into the TUF house. Since the results are not reported on live to the public, the bout is considered an "exhibition" bout, and did not count as a loss on his record. Hartsner has been training full time in California at gyms including Alliance Training Center in San Diego and Team Systems in Los Angeles.
"After my loss at TUF me and my coaches changed a little bit in my training and now I'm hungry!! Can't wait until November 7." says Hartsner.
Be sure to catch Hartsner on the first MMAViking.com podcast.
European MMA is emerging as one of the top promotion in the Nordics, and looks to keep a mix of Nordic fighters battling as they recently did at EUMMA 6. No opponent for Hartsner has been announced, but stay tuned for more information.