Iceland's Arni "Ice Viking" Isaksson steps into the cage on Saturday, October 20 with Wayne Murrie for the Interim Welterweight Title at Cage Contender XV. The bout takes place in Belfast, Ireland.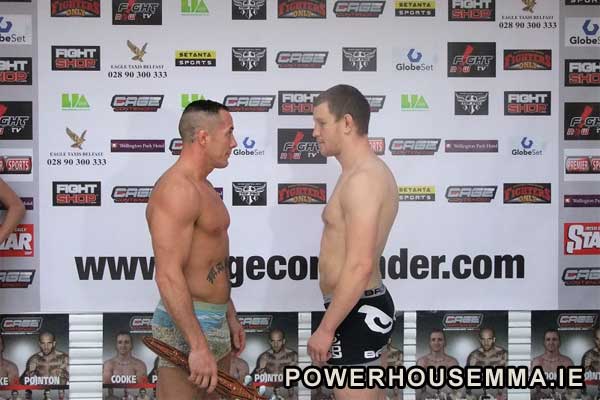 "He is good and strong, but I will let the lion come out of my heart and test body and soul against another lion." says Isaksson about his opponent Murrie in an interview with Cage Contenders. "I like to fight for them (Cage Contenders) because it is organized and good competition. I love to fight in Ireland because they understand the art we are doing and are not whining all the time."
Fight Preview
Content partners powerhousemma.ie previews the title fight and also has a pre-fight interview with the Icelander :
Wayne 'Mayhem' Murrie (15-4) vs Arni 'The Ice Viking' Isaksson (11-4) – Interim Cage Contender WW Title
Murrie is a fantastic all round fighter who has that special KO ability all fighters would love to have (see below for video of a 12 sec KO). Currently on a 3-fight win streak, which included a victory over Ross Pointon, all three stoppages and will be looking to continue that trend this Saturday night. Lost a very close split decision fight against current UFC standout John Maguire a couple of years ago. Murrie is also a training partner of Neil Wain, UFC vet and Cage Contender HW Champion.
Murrie KO Highlight
Ice Viking Highlight Video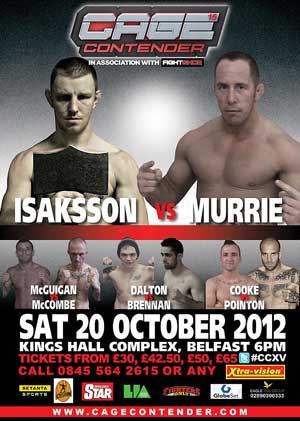 Isaksson is well-known to the Irish MMA fans due to his association with SBG. Very good submission fighter and training partner to the amazing Gunnar Nelson. Isaksson holds notable victories over Denis Siver, Greg Loughran and Ronan McKay.
Isaksson has not fought since September 2011, so will ring rust be an issue here? Bound to be a great fight as both fighters have experience and the ability to finish the fight. This will be a chess match and one false move and it is check mate!
Content partners powerhousemma.ie will be reporting live from Ireland, so visit for immediate updates on the bout.