The results for UFC Fight Island are in and one of the most memorable performances was put on by Khamzat Chimaev, who has beaten UFC debutant Rhys McKee (10-3-1) via TKO in round 1 and took home the $50.000 "Performance of The Night" bonus. Khamzat, has also performed a spectacular UFC debut against John Phillips (22-10, 1NC) some 10 days before that, for which he also scored a $50.000 "Performance of The Night" bonus. The bout ended with Chimaev submitting Phillips in round 2 via D'arce choke. This makes Chimaev the holder of the least amount of days between back-to-back win outlanding both of his opponents 192-2. Two of the strikes came from Phillips, and none came from McKee.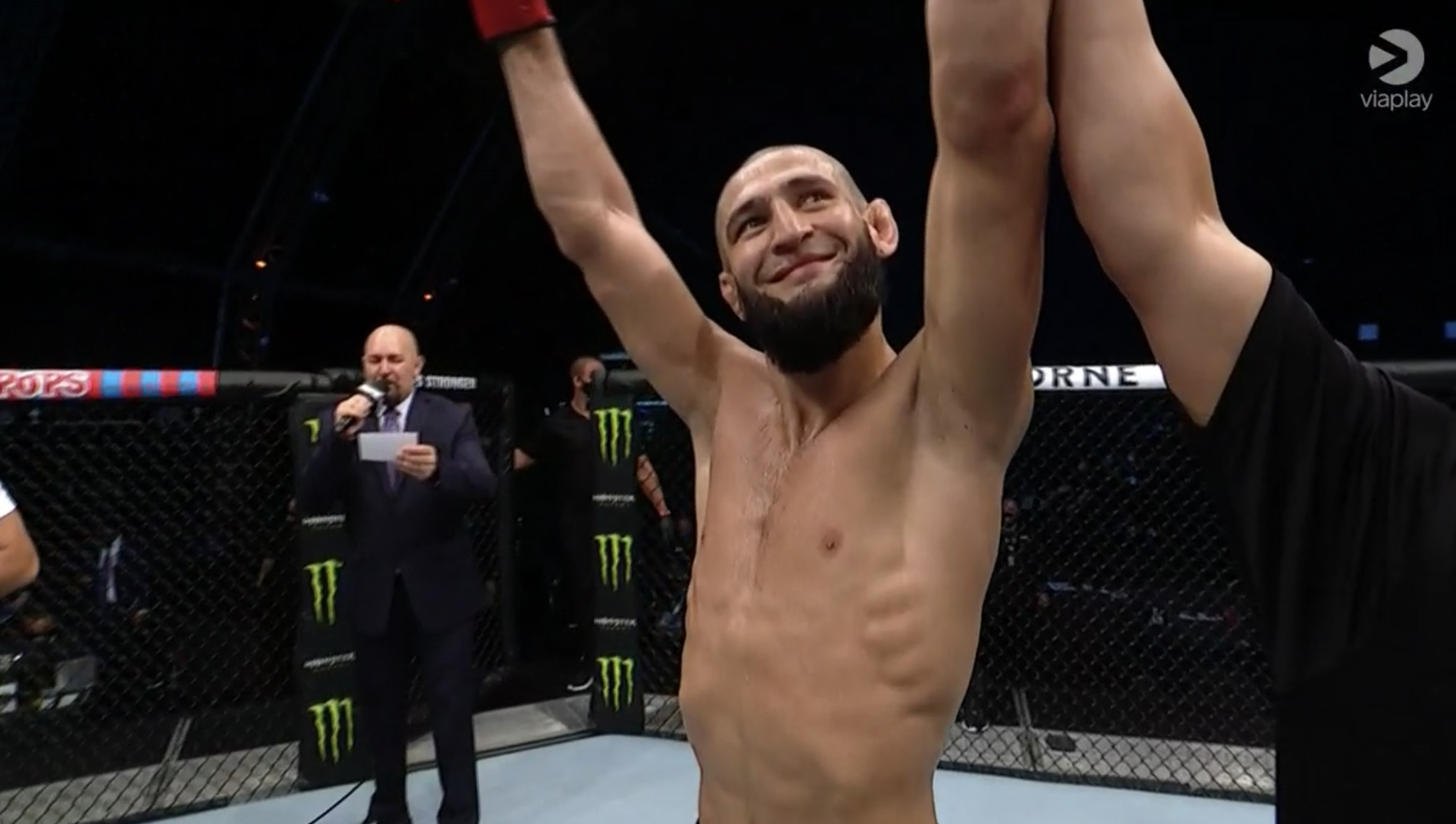 Following the outstanding win, Chimaev has made many callouts in the UFC's Welterweight division. Khamzat called out Demian Maia (28-10) to "see who has better grappling" via twitter right after his fight against McKee and also reached out to Michael Chiesa (17-4) later the same day. Chiesa, currently ranked as a #8 Welterweight, refused the offer. The 26-year old Swedish resident has also expressed dislike towards Mike Perry (14-6) and Conor McGregor (22-4), saying 'I'd kill them if they hit my father' in an interview to RT Sport, which was posted one day before his fight with McKee. After the fight on UFC Fight Island 3, however, Chimaev took the discord with McGregor to another level, when he posted a picture on Instagram with him choking out John Phillips, tagging McGregor, which was clearly targeted towards McGregor's losses via submissions. Later the same day, Chimaev sought out McGregor on Twitter, too.
https://www.instagram.com/p/CDFb0lLJLGJ/
Despite Chimaev's own desire to fight as soon as possible, and Dana White's plans to book him a fight on the 15th of August at UFC Apex, the outer factors might influence the outcome of all of this. Khamzat Chimaev sees the weight cut and the visa as the main obstacles for his third UFC fight in such a small period of time. Speaking in an interview to Adam Zubairaev, Chimaev stressed : "No, I do not think that they will make it, because I need to get a visa first. Are they gonna make it that fast? Do not think so. Also my coaches and my brother definitely will not let me go through two weight cuts in a row like that. Dana White already congratulated me and said that they will start working on a visa, so that I could fly there, to America, to the UFC PI, where I can learn some English and stuff. I did not understand everything he said to me, my manager Ali Abdelaziz called me back when I was in the hotel and explained everything,"
https://www.instagram.com/p/CDJhxjMJMcS/
From now on, all there is left to do is to wait for Khamzat's next fight announcement. If the UFC manages to book a fight for him on the 15th of August, it will be Khamzat's 3rd fight in the UFC within a span of just one month. If he wins the fight, though, it will solidify him as a solid threat to the Welterweight and the Middleweight divisions, having three fights won in a month.