Pannie Kianzad (10-4) was the first Nordic fighter on The Ultimate Fighter reality show to make it to the finale fight.  The Swede training out of Copenhagen had a 2 win and 2 loss on her official record, with an additional 2 wins on the reality show, it was a big year for the 27 year old earning her the 2018 Nordic Female Fighter of the Year, and award she previously won in 2013.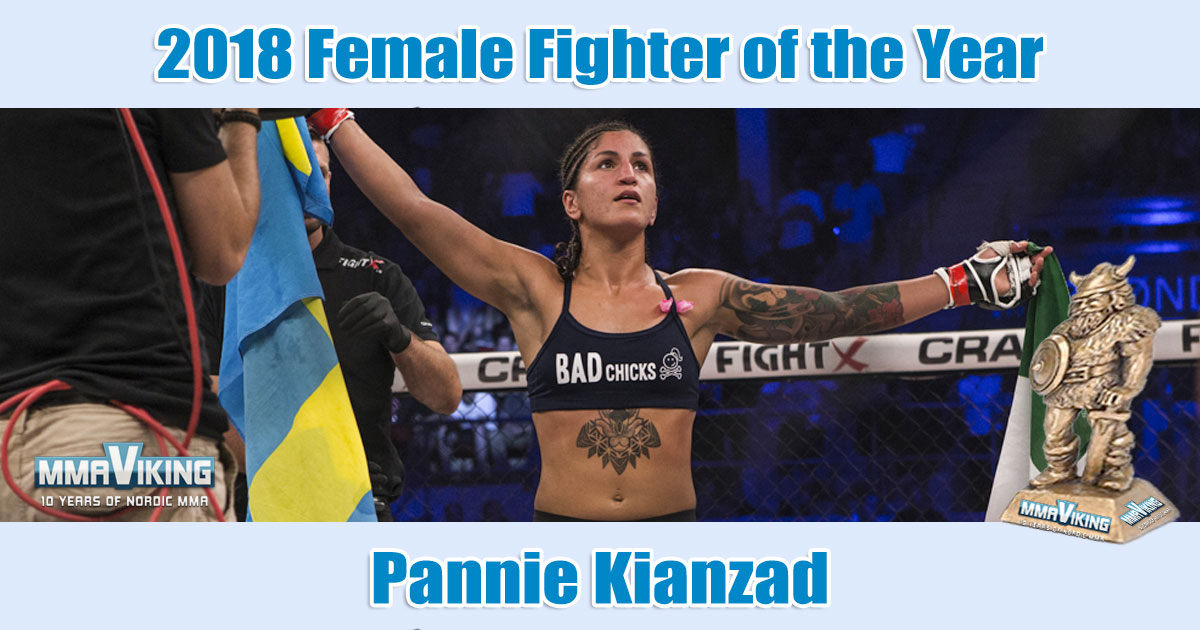 Kianzad started off the year with a fight against female pioneer Sarah Kaufman at Invicta FC 27, where she had a three round fight leading to a decision loss, which was her third in a row.  Pannie however was featured again at Invicta FC 29 in May and this time got the unanimous decision win over Bianca Daimoni in May.
The Iranian born fighter got her second win in a row in her Copenhagen with decision victory over Kerry Hughes at Danish MMA Night.
Pannie was supposed to be on The Ultimate Fighter years ago, but fell ill and could not compete on the show.  This time however it was a new and experienced Kianzad that moved up to 145 lbs and joined Team Gastelum.
Kianzad beat German Katharina Lehner (7-1) on Episode 2 and won by unanimous decision over Julija Stoliarenko (4-2-1) on episode 10 in the semi-finals to earn a shot at gold at The Ultimate Fighter Finale 28.  The impressive run got her to the finals, where she lost to a bigger teammate Macy Chiasson.
All in all it was 4 wins and 2 losses with an impressive TUF 28 finale run earning Kianzad the Nordic Female Fighter of the Year 2018.

Former award winners :
• 2017 : Minna Grusander
• 2016 : Sunna Davidsdottir
• 2015 : Anna Elmose
• 2014 : Katja Kankaanpää
• 2013 : Pannie Kianzad
• 2012 : Katja Kankaanpää
• 2011 : Katja Kankaanpää
Check out a complete listing of all of MMAViking.com Nordic awards since 2011.