Professional grappling show Primates takes place this Saturday at the Teatteri Forum in Helsinki, Finland. The sold out event is headlined by "submission only" super fight between Finland's top dog Janne-Pekka Pietiläinen and no-gi legend Dean Lister of USA. In addition the event, that is organized by fight gear and clothing company Macaco Branco, will also hold two other super fights and an eight man tournament.
Pietiläinen has won European ADCC tournament four times and placed 5th three times at the world ADCC tournament. Lister, who is one of the most successful no-gi grapplers in the world, has won the prestigious ADCC world title three times.  In MMA the American holds notable wins over Jeremy Horn, Alessio Sakara and Jordan Radev and has fought in the UFC and PRIDE among other promotions.
"There's no reason to sugar coat it: Dean is hard as rock. If I'm not mistaken, the last time he was submitted was in 2001. So it's not going to be too easy, that's for sure. It is awesome that we get to compete in jiu-jitsu in front of a packed house. I'm very happy to be involved in this." commented Pietiläinen to our content partner FightSport.fi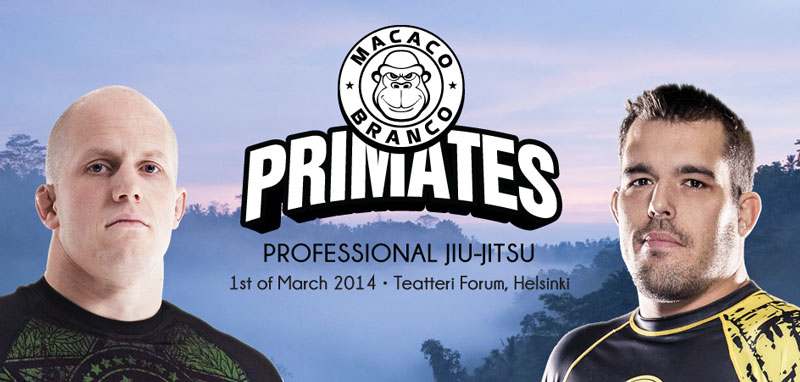 Card:
Super Fight 1: Janne-Pekka Pietiläinen vs Dean Lister, USA
Super Fight 2: Toni Linden vs Eduardo "Jamelão" Conceição, Brazil
Super Fight 3:  Tero Pyylampi vs Jesse Urholin
Under 75 kg Tournament first round:
Tuomas Tammilehto vs Riku Hapulahti
Max Lindblad vs Sakari Räsänen
Greger Forsell vs Antti Mannila
Jarkko Hanninen vs Raimo Posti
Stay tuned for results from the event on Saturday.