Alexander Gustafsson Bio
Current Promotion : UFC (debut in 2009)
Nickname: The Mauler
Pro Record : 12-1
UFC Record : 4-1
Birthday: January 15, 1987
Out of : Arboga, Sweden
Training out of : Stockholm, Sweden & San Diego, California, USA
Height : 6'5″ (196cm)
Weight : Light Heavyweight 205lbs (93kg)
Introduction
Meet Alexander "The Mauler" Gustafsson. In his words.
Highlight Video –Featuring the 6'5″ Mauler's big right hand

Training Video from 2010

Alexander Gustafsson (nicknamed "The Mauler") started out as a boxer, and transitioned to MMA in 2006. He racked up an undefeated 8-0 record in shows in Finland, Dubai, and Sweden before getting a call-up to the UFC. His last victory in this run was at Superior Challenge 3 in May of 2009, where he KO'd Vladimir Shemarov a veteran out of the Ukraine.
The Swede was signed by the UFC in late 2009.  He was the third Swedish fighter behind Per Eklund and David Bielkheden to make it to the Octagon. He signed a 4-fight contract, which he completed.
He now trains in Sweden and in San Diego at Stockholm Shoot / Gladius MMA, and Alliance MMA.
UFC Summary
11/14/2009 – Alexander debuted against Jared Hamman at UFC 105, and impressed with a 1st round knockout at 41 seconds of the first round.
4/10/2010 – Alexander's second fight was against NCAA I wrestling star Phil Davis at UFC 112.  Alexander showed great wrestling take-down defense, but eventually Phil Davis was able to get the fight to the ground and secured a submission at 4:55 in the first round.
11/17/2010 – Gustafsson's third fight was a victory at UFC 120 over Cyrille Diabate. The submission came in the second round. This brings the Mauler's record to 2-1 in the UFC, and he is seen as an up-and-comer in the light heavyweight division!
2/17/2011 – The Mauler's fourth fight was at UFC 127 where he won by submission over local James Te-Huna. After being taken down, the Swede was able to bring the fight back to his feet where he submitted the grappler at 4:27 in the first round. His record stands at 3-1 in the Octagon.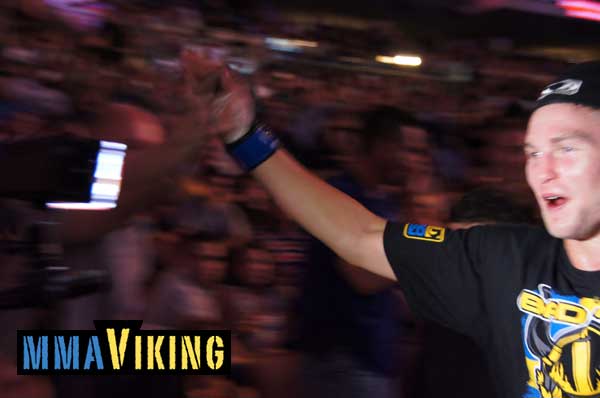 8/6/2011 – Alexander's fought Vladimir Matyushenko Rich Franklin Matt Hamill at UFC 133 in his fifth fight in the UFC, and the Swede was victorious, bringing his UFC record to 4 wins and 1 loss.  It was a dominant TKO performance for The Mauler.