MMAviking's goal is to provide the world insight into the Nordic mixed martial arts scene. The team covers the most local events in person, delivering unique coverage in an entertaining manner to help grow the sport in Iceland, Norway, Sweden, Finland, and Denmark.
MMAViking.com also covers Nordic fighters abroad so nothing is ever missed. 50,000+ fans each month visit the site and an active group of over 7,000+ Facebook fans.
2008 – 2010
mmaViking.com was founded in the Summer of 2008 by American Ryan O'Leary. With limited information available in English about Swedish fighters and the Scandinavian MMA scene, O'Leary started writing about local fighters and events to share with the world.

O'Leary's first local event was a ringside seat at Superior Challenge 2 in late 2008 –he was in awe of the top-notch production, talented local fighters, and the energy at the packed house at Fryshuset in Stockholm.
The transport from California also began obsessively tracking the plans of the UFC, which began mentioning Sweden as a potential destination for an event for the first time in 2008, and provided information to help urge Zuffa to bring the Octagon to Stockholm.
As O'Leary began to cover more and more events within Sweden, he began to expand. Seeing how close MMA was intertwined with Finland, Norway, Iceland, and Denmark, he began to extend coverage into neighboring countries.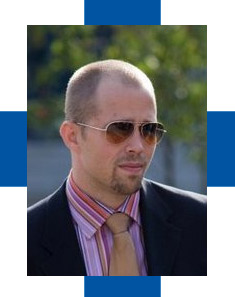 2011 – 2012
When MMA Viking looked for a Finland MMA insider, it turned to Joona Pylkäs. He is the founder of beatingsfromthenorth.blogspot.com, and began shared many of his popular event previews and local event reports on MMA Viking. His interview about MMA in Finland was one of the sites most popular interviews ever on the website.
In October of 2011, Pylkäs and O'Leary decided to merge websites in order to create better coverage for all things Nordic MMA.
Pylkäs insights into Nordic MMA are unique, and he lead the creation of the first official Nordic rankings for MMA Viking.
O'Leary's is also a frequent contributor to Sherdog. He first penned "Bright Lights in Sweden's Dark November" in November of 2010, which is one of the most widely read articles about Swedish MMA.
Kaoru Tsukamoto began writing for MMA Viking in late 2011. She was the founder of AsgardMMA.com, which was the only source for Nordic MMA in English from 2003 – 2008. She was a mixed-martial-arts practitioner and has seen hundreds of MMA events. From Shooto and Pride in Japan to old FinnFights in Finland, she has seen it all –you won't find anyone who loves to talk MMA as Tsukamoto does. Tsukamoto will be providing exclusive coverage, including fighter interviews and updating the Nordic MMA calendar.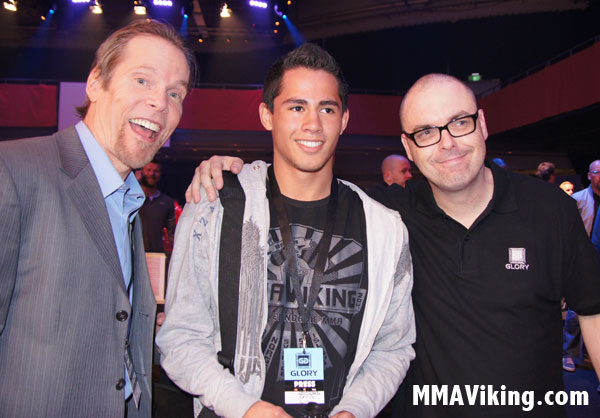 Henrik Wall is MMA Viking's heavy gun for getting fantastic event photos and videos.  Wall was thrown in the deep end as he covered his first sporting event at Superior Challenge 7 in 2011.  View the event report and photos, and photo gallery on Sherdog. His photos have continued to improve, and has even been featured recently in a 7-page spread in Sweden's Fighter Magazine.
Tommas Tingbjør began contributing video from Norway. The documentary maker and videographer has extended MMA Viking coverage, including the recent Cage Fight Live events in Denmark. Learn more about Tommas. With close ties to John Olav Einemo, be prepared for some exclusive footage as he continues his exciting fight style in the Octagon.
Stockholm's Daniel Schälander launched MMA Viking move into video interviews. The up-and-coming submission wrestler, filmed and edited the websites first interviews with Sirwan Kakai and Claes Beverlöv, and the goal it to keep adding more and more.  His game went to another level with the Nico Musoke video series. Check out our new video section.
Denmark's Thomas Christensen helps MMA Viking with all things Danish, including translations and event information. He has also began with writing fight announcements.
Sofia Berg rocked with photos for both Vision Fight Night 1 and The Zone FC Demolition, and has always been there to help at events when called upon.
Iikka Nikkinen has a passion for MMA and photography.  When he went out to take photos at his first event (Carelia 8 in Imatra, Finland) and also wrote an event report, we knew we had a unique contributor. Look for a camera cageside at an MMA event in Finland, and this vegan hipster is likely to be behind the lens. In between rounds, look for the guy eating bananas… his name is likely to be Iikka, or "Iikster" as we like to call him.
2013
MMA Viking got some help from Norway, when Kit Aarnes and Ms. skOOm who take some photos, interviews, and features for some of the Frontline MMA guys in Oslo.
A huge change was that Jesper Baek, the founder and prominent photographer at FightFan.dk, has joined MMAViking.com as lead photographer to help cover Danish MMA and take high-quality photos at the biggest events. We have always loved his photos, and used them (with permission of course) on MMAViking.com, and can't wait to show them off to our fans.
Check out the Gustafsson versus Jones pictures taken cageside at Baek's first Viking outing in Toronto at UFC 165.  For more of the Dane's fight photos go to jesperbaek.com. Not by coincidence, we started our "Cageside Photos" series, where we show off pictures fight by fight in their own galleries.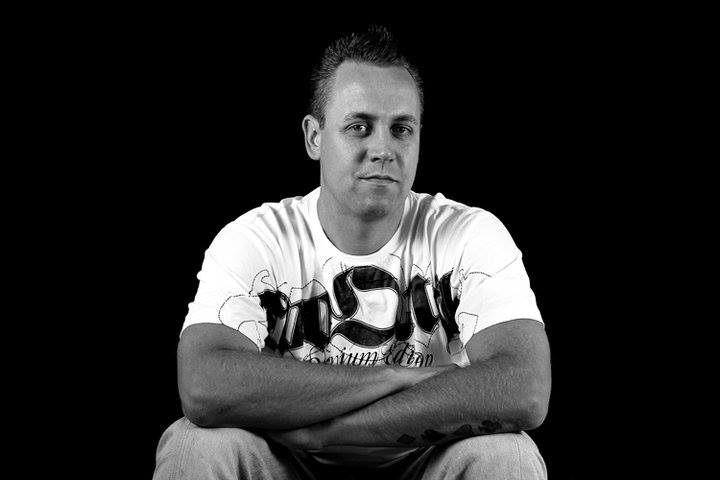 Steve Stewart, a Las Vegas native now living in Tampere, Finland, has joined the team to help with coverage throughout Finland. Coming from the fight capital of the world, he will also do some coverage in Nevada. Stewart ran at the chance to go to Las Vegas to cover Finland's Tom Niinimäki's UFC debut, and rocked photos, videos, and live play-by-play. When he asked Niklas Backstrom to say "I love MMAViking.com" at the end of his first video interview… we knew we had a keeper.
In 2013, the team covered local events in the USA, Canada, Estonia, Philippines, England, Sweden, Finland, and Denmark!
2014
Bo Foght has started to be a regular contributor for live events. He started doing play by play while Jesper Baek was taking pictures at the first European MMA of the year. The two Danes made a habit of doing this for FightFan.dk, and now for MMAViking.com. Foght also took duties as lead videographer, when Chris Jonasson stepped up to video interviews at Cage Warriors 66, the first time the promotion headed to Copenhagen.  You can also count on Chris to get awesome pre-fight interviews and get the latest news up on the site.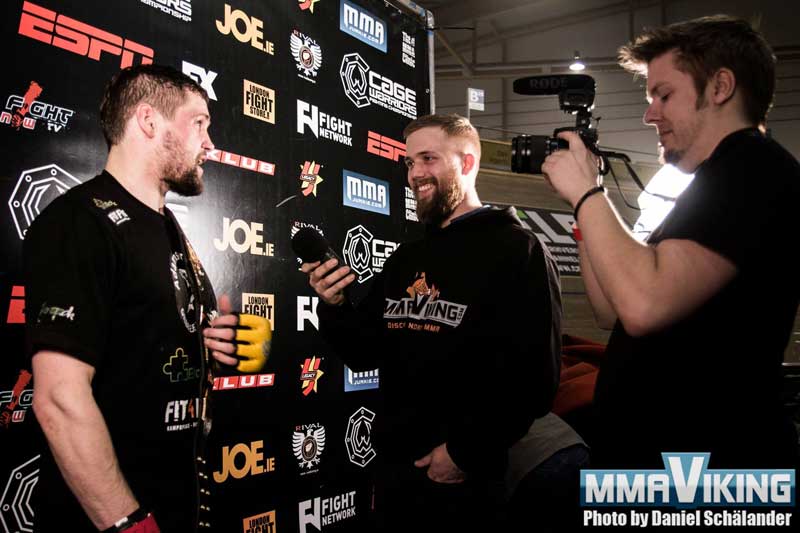 Schälander has stepped up his photo abilities with his new camera is is quickly learning to take cageside pictures.
2015
Per Karlsson has joined the team and has been contributing to play-by-play and interviews. Located in Sävsjö, he makes his way to most souther Sweden events and isn't afraid to drive up to Stockholm either.
Videographer Daniel Schälander decided to make his amateur debut inside the cage and put down his video camera at Fight Night Finland 9. While we don't try to take sides for any Nordic battle, we were hoping that this fight went in the favor of the Swede traveling to Finland.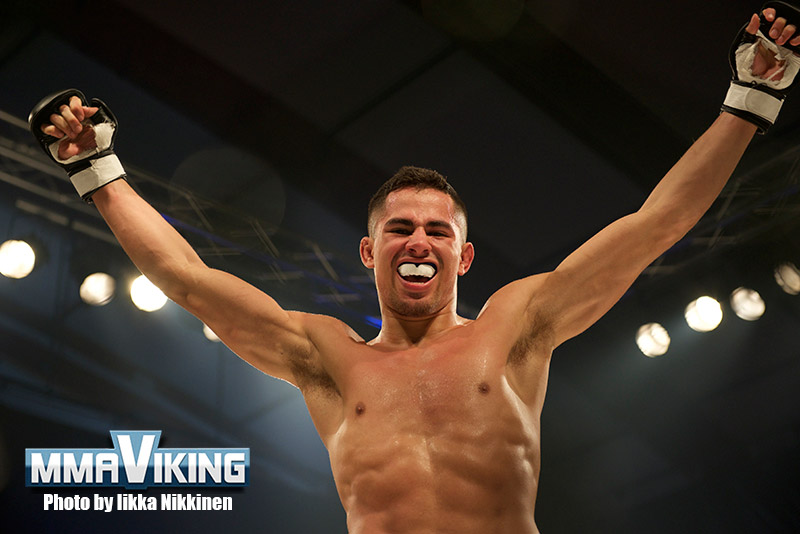 Iikka Nikkinen has shot at the most local events in the Nordics in 2015 and continues to be dedicated to the local game, and improving each time out.
2016
Canadian Ian Cowie, now living in Finland, has started to rock video interviews at local events in Southern Finland. Also contributing in Norway is Pål Magnus that is probably the toughest website contributor around!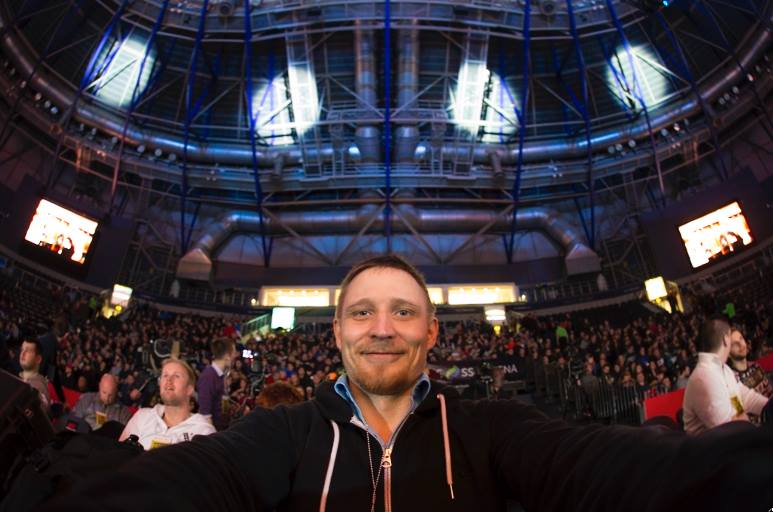 Jarno Juutinen has been a frequent contributor for a few years with photos and more at grappling and events in Finland and beyond.  This year he made it cageside for several UFC events to cover the Nordic fighters.
2017
We started out the year with a sponsorship from Betsafe that is investing in growing MMA in the Nordics. Click on a banner and support us and them!
The Nurminen brothers have started rocking the most in depth play-by-play coverage of Finland events.
Darren Russell is the first contributor outside of the Nordics, but the MMA insider is up at all hours and ready to break viking stories on the regular.
2018
You will never meet someone with more insight outside of the Nordics than Ireland based Caoilte de Barra.  He provides some fresh interviews and articles.
2019
A rocking year for the crew, including a monumental trip to Copenhagen for their first UFC event, and UFC in Stockholm (including a MMA Viking crew get together!)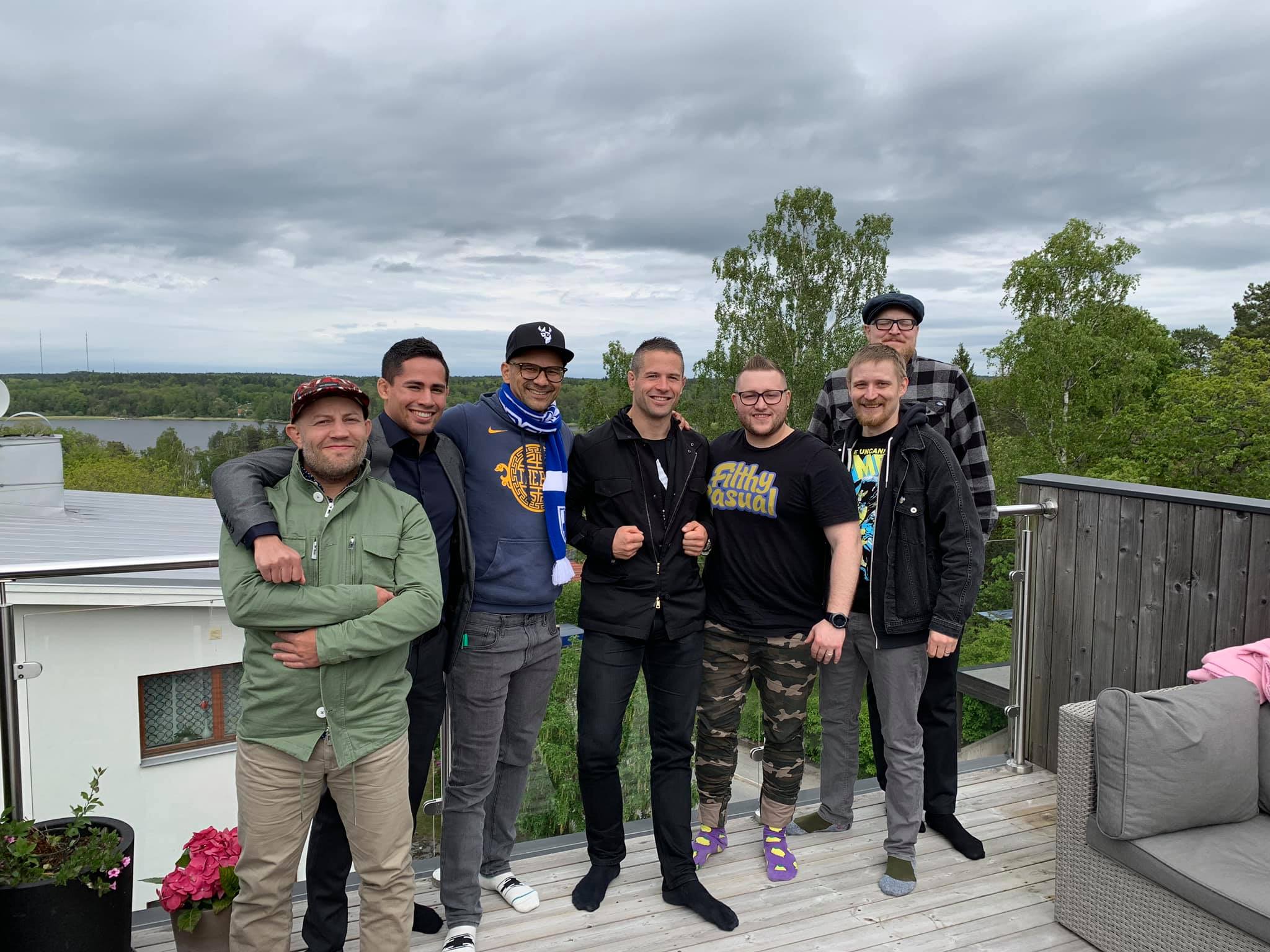 2020
Well, this whole corona virus thing stopped the traveling MMA Media circus. We had a special contributor in UFC commentator John Gooden pen our Nordic Fighter of the Decade award, which went went to Alexander Gustafsson. We also got the chance to interview the "Mauler" outside from a distance before his comeback, and it became our most watched video in our history.  Check it out here!
Current Contributors
Ryan O'Leary
Founder & Editor, Stockholm, Sweden
Email – [email protected]
Twitter – @mmaViking
Daniel Schälander
Videographer, Stockholm, Sweden
Twitter – @Spiderpigbegins
Jarno Juutinen
Photographer & Writer
Helsinki, Sweden
Caoilte de Barra
Writer
Dungarvan, Ireland
Jesper S. Baek
Lead Photographer, Odense, Denmark
Twitter – @fightfandk
website – jesperbaek.com
Iikka Nikkinen
Photographer, Videographer, and Writer
Tampere, Finland
Twitter – @iikkapetteri
MMA Viking is the best source for Nordic mixed martial arts. 50,000+ fans each month discover exclusive news, interviews, photos, event reports, and the UFC's plans for Sweden and Finland. Approximately 70% of our traffic is Nordic, so if you want to target campaigns to the area or individual Scandinavian countries, please contact us.
Contact Us
Do you have a story or a tip that would be appropriate for the site?
Looking for targeted advertising opportunities to Nordic countries?
Want to contribute with photos or writing articles or other?
Ryan O'Leary
Stockholm, Sweden
Email – [email protected]
Skype – olearysd or Facebook
Let's grow Nordic MMA together!