Finland's Anton Kuivanen might be an underdog going into Saturday's bout with Michael Chiesa at UFC 157, but he has no problem with that. The lightweight star from Helsinki looks to solidify his place in the UFC roster by upsetting the former Ultimate Fighter winner.
And Kuivanen has a good reason to believe in himself. After his last fight against Mitch Clarke Kuivanen suffered from a nagging rib injury, but last few months have been good. And having spent the last five weeks at the American Top Team gym in Florida, he has had the best camp in his young UFC career.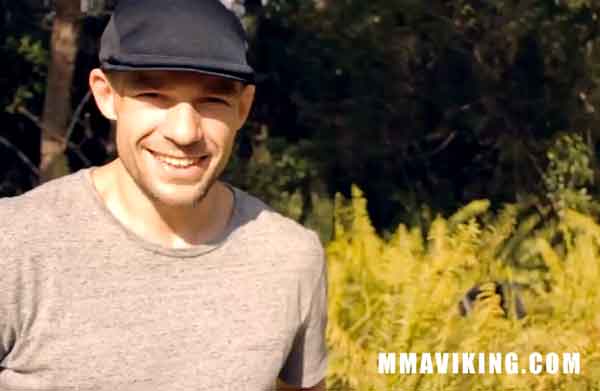 "It's all good, the trip has been what I expected. Training is great and life tastess good in this new environment. The focus is of course in training and preparing for the fight, but I've had the time see some beaches as well", Kuivanen told just before flying to Anaheim for his fight.
The days in Florida have been long and well spent. Kuivanen has had the pleasure of sparring with the likes of Yves Edwards, Dustin Poirier, Robbie Lawler, Pablo Garza, Mike Brown, Cole Miller and Jorge Masividal. Having this kind of tarining partners is the reason he decided to leave his home gym for few months. The only thing missing is his personal coach Sammy Hämäläinen, but top-level ATT coaches have provided their help.
"Every last round of tough training is over now, and I feel like I'm in a top shape, ready for the battle. I've had a lot of versatile sparring with different partners, the coaches have picked enough leftys and tall guys to simulate Chiesa. In general, we've worked on all aspects of my game, strength and conditioning coach Brian Harris has really helped to improve my condition and stamina."
In the last few days before the fight Kuivanen feels at ease. Cutting weight seems to be woking fine, and there's no extra pressure, since everything is going as planned.
"Of course I'm excited, I guess there's a little tension at times as well. I wouldn't enjoy this so much if it didn't cause any tension. But I feel so good about my shape that there is no pressure. I've been doing this for so long that I know what this week will bring, and I know how to deal with it properly", Kuivanen ponders.
In Anaheim Kuivanen gets the last essential support from his manager-coach Olli Hartikainen. On Saturday night Hartikainen will be cornering Kuivanen alongside ATT's wrestling coach Kami Barzini. Not having a long-time mentor Hämäläinen to back him up might be a little weird, but the game plan was mostly thought out with the coach before Kuivanen left to Florida.

Kuivanen Training at ATT
"I can adjust to this situation. The coaches here have been a great help, and I think can apply a lot of thing I've picked along the way."
Although Kuivanen is feeling easy before the fight, there was a hint of growing tension between him and Michael Chiesa last week. An otherwise harmless home-made fight promo video, by Kuivanen's Finnish sponsor, irritated the American by comparing him to suffering Jesus Christ in a borrowed movie scene.
The polite Finn is not the one to spill oil in the flames, but he has no intention on taking a step backward.
"I liked it! The Calmighty boys made a funny promo, which was meant to stir a pot, that was good humor in my opinion. I'm focusing on the essential now, if the video hurt Chiesa's feelings that's his problem."
Anton Kuivanen has firm plans to end the fight before full three rounds. His vision is clear.
"When I step into the cage I will leave my Mr Nice Guy mode outside the Octagon, and we're going to rumble. I can already hear the pounding of the battle drums and the lion roaring in my mind. I'm ready to leave everything in the cage. It's going to be fun, and in the end my hand will be raised!"