Marcus Vänttinen lost last night in what many saw as a controversial stoppage against Benjamin Angelier in the 8 man tournament at Valhalla 2013. The Finn, who has now lost two straight bouts, says that this bout was stopped early against the Frenchman. "Caveman" posted the following on his Facebook page today.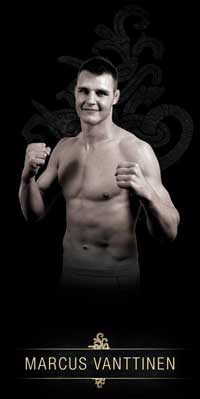 Early stoppage.
Thats on top of my mind from yesterdays fight. I felt pretty good in the beginning of the fight, even thou I didnt get a chance to warm up properly because of a mistake by the organizers.
My movement and striking felt fine. Then I made a mistake and let my opponent hit me with some hooks and I fell down. I wasnt "out" at any moment and I was ready to protect myself on the ground but the ref decided to stop the fight. Maybe he saw something that looked bad (I did loose my mouthpiece when I fell) But I and my corners think he stopped the fight too early.
I wanna thank my trainers, family, friends, fans and sponsors for your amazing support! I will have to analyze this loss and keep on improving. I will be back. Stronger.
Thank you. Kiitos. Tack.
Caveman
Look for Vänttinen to get back on track with Finland's Cage promotion, where he is expected to fight at Cage's May event in Vantaa, and also the two bigger cards in September and November. The Finn now has a record of 21 wins and 5 losses.