With Denmark's Martin Kampmann (3.15) and Sweden's Papy Abedi (2.90) as the biggest underdog's on tonights UFC Fight Night 'Kampmann vs. Condit', it's a great opportunity to open an account with a startbonus with partner Unibet. Sign up for MMAViking.com's sponsor Unibet special offer and win more with your startbonus!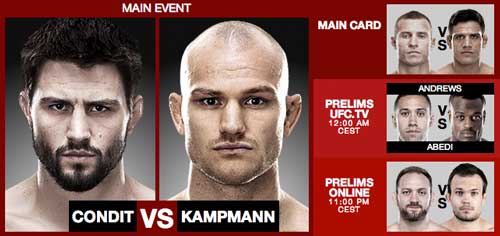 Betting Odds with Unibet*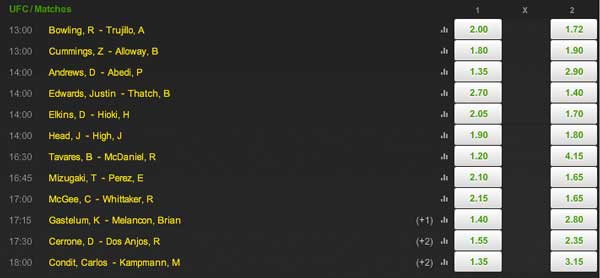 * Click on Unibet banner above or below for deposit bonus, and latest odds!
Betting Insights from MMAViking.com Staff
Papy Vs Andrews: Papy is worth a bet at 2.90. Andrews has size advantage but that's it. Andrews hasn't beaten any notable fighters and in his UFC debut he fought another TUF Smashes rookie with a 3-1 pro record. Papy has faced a much stiffer competition before than Andrews.
Head vs High: James Head (1.90x) is a massive WW with solid striking. He hurt Mike Pyle with strikes before getting too reckless and caught by Pyle's knee. Jason High will get bullied on the feet.
Court McKee vs Robert Whittaker: McKee (2.15) is a seasoned vet who has had close fights with top talents like Costa Phillippou at MW. McKee is a relentless allrounder who has a tough chin, big gas tank and a grinding style that will wear his opponent down. Whittaker is Machida style karate striker who will get outhustled by McKee. McKee is a huge step up in competition for Whittaker who is a talented fighter but at the moment a bit inexperienced at this level.
Cerrone vs Dos Anjos: Dos Anjos (2.35) has been improving his skills and striking. After some early falters in the UFC career, Dos Anjos is positioned for a big upset. He is on a 4 fight winning streak and might be a nice play against Cerrone who may have been distracted by recent legal issues.
Don't forget to learn more about winning a Martin Kampmann Signed Shirt! Just open an account and place a bet to win a signed shirt! Learn more.