Superior Challenge organizers announced that Yosef Ali Mohammad will be facing Denis Sokol on the upcoming Superior Challenge 8 card on October 6 at Malmö Arena.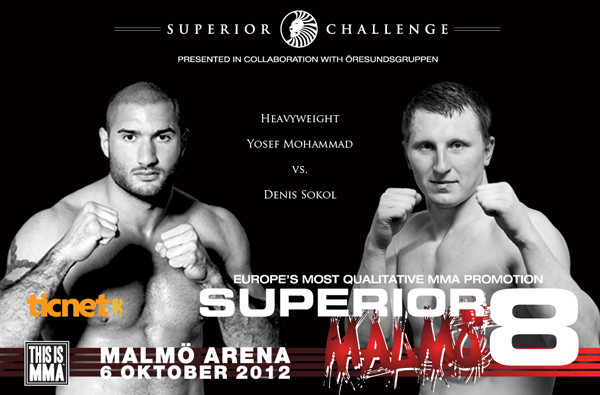 Press Release
Superior Management's young talent Yosef Ali Mohammad makes his professional MMA debut against Denis Sokol at Superior Challenge 8, October 6 at Malmö Arena.
The 24-year-old Malmo resident is a Shotoo European Champion, Swedish ADCC Champion, and Scandinavian Open BJJ gold medalist, and the wide margin at all, he is two meters long and 120 kg muscle. His trainer and coach is none other than MMA legend Arben Latifi will ensure that Yosef is well prepared for October 6.
 
Sokol made ​​his professional MMA debut just before the turn of the year when he finished his first ever opponents in professional MMA via armbar after just 45 seconds into the first round. Litauern have similar physiques as his opponent, he is almost 2 meters tall and weighs 110 kg.
 
Babak Aghavali, CEO Superior Group International:
– This is the second heavyweight match at the gala. Yosef is an incredibly talented fighter who has everything it takes to reach the top in a short time. I guarantee we will get to see much more of him after the Malmo gala.
– Denis is a technical and durable fighter who has the advantage of having already debuted as a professional. Again, an incredibly smooth match between two young men with similar physical conditions. We hope that the cage is ready when these two giants meet.