Martin Wojcik Versus Patrick Vallée at Superior Challenge 8
Superior Challenge today announced another bout for its October 6 card in Malmö, Sweden. Superior Challenge 8 will bring together a Sweden based Martin "Poker Face" Wojcik versus Patrick "Dexter" Vallée.  Read the press release below.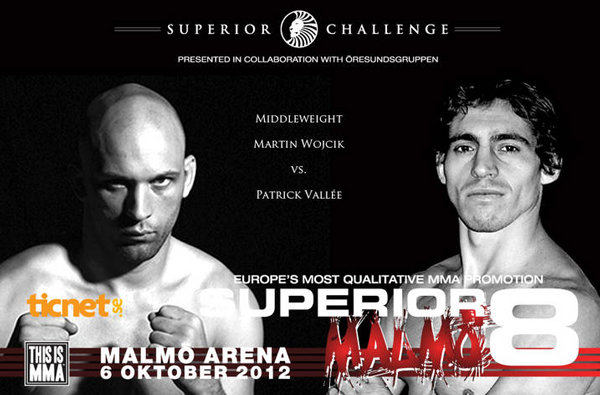 Martin "Poker Face" Wojcik will stand against Patrick "Dexter" Vallée
The Judoka from Lund will stand against the Judoka and Kick boxerfrom France at Superior Challenge 8, on October 6th in Malmö, Sweden.

The Brazil-born Patrick practiced judo as a youngster but was challenged by a friend to try MMA. He quickly became hooked on the sport, and subsequently improved his repertoire with Kickboxing as a true Frenchman. He began his MMA training ten years ago and has competed nine of those as a pro. In 2005 he fought David Bielkheden in welterweight but after a couple of bouts he decided to go up a weight class to the current middleweight. Recently, he was also matched against Superior Challenge's reigning welterweight champion, Daniel "The Viking Hunter" Acacio.
This is the first time that Lund's son Martin is competing for his home crowd, and also the first time he competes in themiddleweight division. After his last fight against Alik Tseiko he chose to drop down a weight class, and in order to do it naturally he carefully planned his training and took help from nutritionists.
Babak Aghavali, CEO Superior Group International:
- Martin "Poker Face" Wojcik drops weight as scheduled, and he looks to be in good shape. I think the new weight will suit him fine but it will be really interesting to evaluate it after the bout. His opponent, Patrick is a quick and explosivefighter who is light on his feet, and maintains a fast pace all through the fight. Both are basically grapplers butextremely dangerous as stand-up fighters. It will be very interesting to see which of the Judokas who will manage totake down the other, and how Martin's calm and tactical fight style handles Patrick's fast and highly intense fight style.