Today officials from The Zone FC have announced a new opponent for top Swedish welterweight Assan Njie on The Zone FC card 'Demolition', which will take place Sunday, May 6th in Gothenburg, Sweden. Morten Djursaa will now step up for the injured Ivan Truscek, who pulls out just over a week before the scheduled card. See the official announcement below: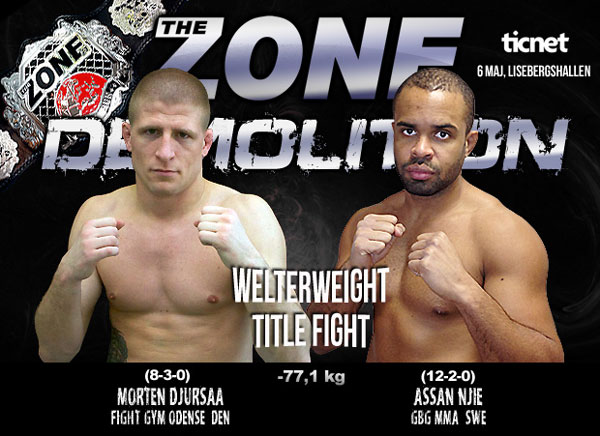 Djursaa replaces injured Truscek in welterweight title fight
The event is one of the top cards seen in (Sweden), and is stacked with quality bouts from top to bottom, along with three title fights.
Morten Djursaa, 28, from Fight Gym Odende in Denmark replaces an injured Ivica Truscek. Djursaa has a pro record of 8-3 and will fight Assan Njie (12-2) for the vacant welterweight title at The Zone FC – Demolition.
Morten Djursaa is originally a thaiboxer (Dansih Champion 2006) and replaces Truscek in short notice. He has previously fought Allan Carlos and won on lowkicks in the second round. He is 6-1 in his last 7 fights. The only loss came against the experienced Peter Irving (http://www.sherdog.com/fighter/Peter-Irving-7323) from England.
Russell Smith VS Morten Djursaa (CFL) Cage Fight Live
Assan Njie at Sherdog:
http://www.sherdog.com/fighter/Assan-Njie-6858
Morten Djursaa at Sherdog:
http://www.sherdog.com/fighter/Morten-Djursaa-19140
The Zone FC – Demolition Fight Card:
http://www.thezonefc.com/fightcard.asp?CompetitionID=940
Tickets can be bought at Ticnet:
http://www.ticnet.se/event/The-Zone-FC-10-Demolition-biljetter/LIH1001