Swede David Bielkheden will return to Cage Warriors for a bout on May 11th. Cage Warriors officials announced today that the "Brazilian Swede" will face Jack "the stone" Mason. Read the press release below.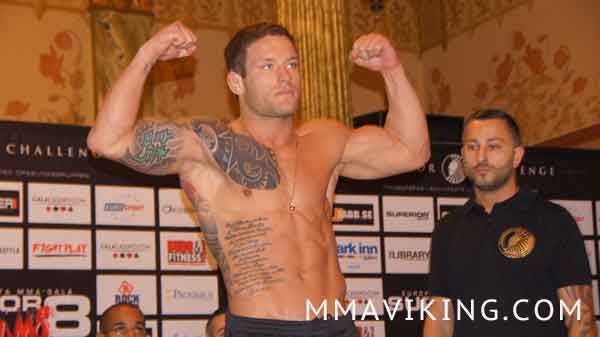 Press Release
TWO experienced welterweights will collide when Cage Warriors returns to the Middle East on Saturday, May 11, 2013.
David Bielkheden (pictured) will take on Jack Mason on the main card at CWFC Fight Night 8, which is set to take place in Al Fujairah, United Arab Emirates.
The pair, who have clocked up over 60 professional bouts between them, will form part of Cage Warriors' first event in the region since last September's Fight Night 7 in Amman, Jordan.
Bielkheden (17-12 MMA, 2-1 CWFC) will be appearing on a CWFC card for the fourth time in his career, with the three-time UFC veteran keen to return to winning ways.
After starting 2012 with a win over Edgar Dayan, Bielkheden suffered decision losses to fellow UFC veteran Marcus Davis and recently-crowned CWFC welterweight champion Cathal Pendred – a bout that was nominated for Cage Warriors Fight of the Year.
The 33-year-old Swede said: "This is a very interesting match-up as we both have a lot of experience. Jack looks extremely strong and is more of a wrestler, which will make it a tough fight.
"He needs the win over me to go to the next level and I need to beat him to get back on a winning streak."
Mason (23-11 MMA, 4-4 CWFC) comes into the bout on an impressive run that has seen him go 6-1 in the last 12 months.
The 30-year-old Englishman has been successful in his last two CWFC outings, earning a decision win over Florent Betorangal on New Year's Eve before stopping Matt Inman by TKO at Cage Warriors 52 earlier this month.
"I'm in this sport to test myself against the best and that's what I'll be doing in this fight, so it's an exciting opportunity for me," said Mason.
"David is good in all areas and his wrestling is especially strong for a European fighter, but I'll be looking to put him away inside the distance and make my mark on the Cage Warriors welterweight division."
Video Interview
MMA Viking caught up with Bielkheden in January, where he talked about his "fresh start" and potential return with the Cage Warriors promotion.