MMA Viking's UFC Sweden II preview series continues with a match up between TUF season 17 middleweight competitors Tor Troeng and Adam Cella.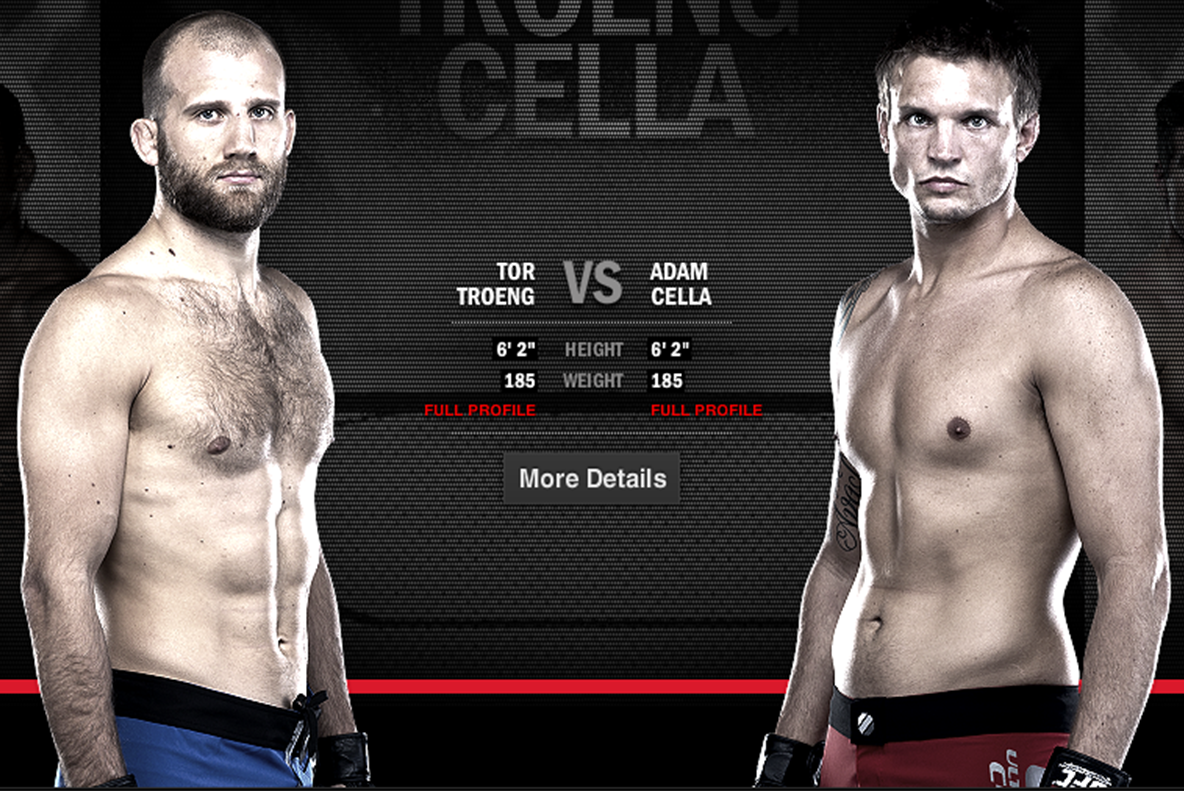 Tor "the Hammer" Troeng (15-4, 0-0 UFC): Umeå, Sweden based Troeng has been among the top Nordic middleweight for several years now  During this time Troeng steadily climbed the Euro rankings with wins over established veterans in Robert Jocz, Tomas Kuzela and Andre Reinders. In his last official bout Troeng took the crown of best Swedish middleweight after beating Mats Nilsson is an exciting three round war at the Zone 10.
In the Ultimate Fighter Troeng made his way to the house by submitting Scott Rosa (5-1) with a rear naked choke. However Troeng tasted defeat in his second fight when he was knocked out late in the first round by Josh Samman. Against Samman Troeng started strong with active clinch works, takedowns and Ground and Pound but faded too quickly giving Samman room the work on his striking. Maybe it was the nerves, weight cut or overtraining but Troeng gassing out like that was a surprise to anyone who has seen his previous fights. Since leaving the TUF house Troeng has been training hard at the All Stars gym in Stockholm with the likes of Alexander Gustafsson, Papy Abedi and Reza Madadi who are all fighting on this card.
Adam Cella (4-0, 0-0 UFC): Cella made his way to the house with a first round armbar win over Jake Heun. In his second bout Cella was on the wrong end of the most brutal knock out ever in the history of the Ultimate Fighter. Uriah Hall's spinning back kick put Cella to sleep for minutes. Before TUF Cella has fought in the minor leagues and finished guys with losing records. First three opponents all have a pro record of 0-2. Cella is a scrappy fighter who has some skills in all areas of the game. His ground game should be his best asset at the moment.
Match up: Troeng is a solid allrounder with a long history in the sport. Troeng striking is a bit more technical and crisp than Cella. On the ground Cella uses his long limbs well and actively hunts for subs while Troeng is more of a Ground and Pound player. The fighters are about the same size at 187 cm and both being average sized middleweights.
Summary: Sweden's own Troeng has a big experience advantage over Cella that he should be able to use to control both the pace of the fight and also where the fight takes place. It's hard to tell how much Cella has improved since the TUF but anyways Troeng is a huge step up in competition for him comparing to the opponents he has faced before in official bouts.
Bet on UFC in Sweden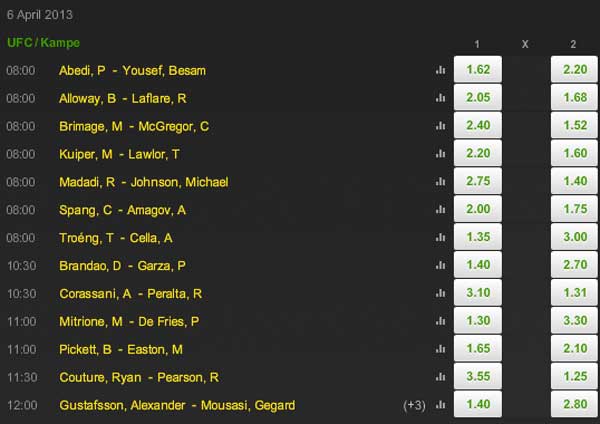 Get Big Bonus for MMA Viking Fans in Finland – Denmark – Norway – Sweden