MMA Viking's UFC Sweden II preview series starts with a thrilling featherweight match up featuring American Marcus Brimage and Irish UFC newcomer Conor McGregor.  The fight will be shown live on Facebook.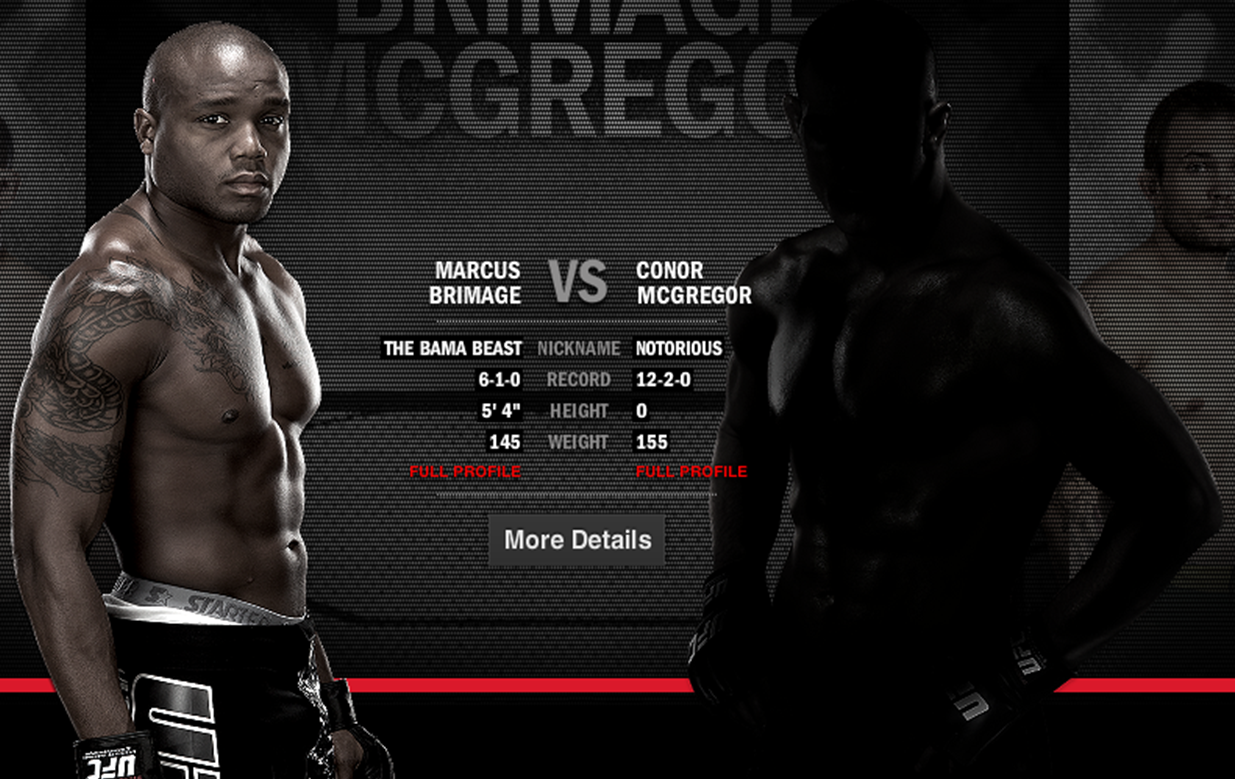 Marcus "The Bama Beast" Brimage (6-1, 3-0 UFC):  27 year old Brimage, who has been fighting pro since 2007, came to the UFC through the Ultimate Fighter show. Brimage took part to the show's 14th seasons that was coached by Michael Bisping and Jason Miller. Brimage won his first fight by TKO but lost the second bout to Bryan Caraway by submission in the second round. Brimage has gone 3-0 in the UFC and looked improved in every fight. His last fight against highly regarded prospect Jimmy Hettes especially raised Brimage's stock. Brimage was able stuff takedown attempt of Hettes and punish him with punches and kicks for the whole three rounds. Southpaw Brimage is pretty much a pure striker in a sense that he is willing to fight on the feet at all times. American Top Team's protege has great overall athletic abilities and a sizeable gas tank to push the pace for full rounds.
Southpaw Brimage used his technical striking to pick Hettes apart of the feet.
Conor "Notorious" McGregor (12-2, 0-0 UFC): Irish UFC new comer Conor McGregor has gathered a lot of hype behind him mainly with few of his last fights. McGregor comes to the UFC as a Cage Warriors double champ holding promotion's belt both in featherweight and in lightweight. McGregor got the FW belt when he fought for the vacant title against durable English grappler Dave Hill. Outmatched in every area of the game Hill showed massive heart and chin once again but had to tap to McGregor's rear naked choke in the second round.  
Next McGregor jumped a weight class up and took on Slovakian grappler Ivan Buchinger for the vacant lightweight belt. The Irish absolutely destroyed slower and technically less refined Buchinger with lighting fast striking combinations before putting him to sleep with a vicious hook late in the first round. While both wins were impressive showings from McGregor, it's also good to point out that both Hill and Buchinger were stylistically favorable match ups for him. McGregor is obviously beastly on the feet with fast hands and powerful kicks and knees. He has been lately working hard on his ground game with Icelandic grappling wonderkid Gunnar Nelson in both Ireland and Iceland. You can see the two training together on the MTV mini doc on McGregor.
Southpaw McGregor sent Buchinger to Wonderland with a brutal counter.
Match up: Stylewise this is an excellent match up from many point of views. For the fans this striker vs striker match up should deliver exciting striking exchange with a good possibility of knock downs and even a finish. For McGregor this is a reasonable debut fight. It's still a big question mark how McGregor will be able to deal with powerful North American featherweight wrestlers, like Nik Lentz or Ricardo Lamas, but this fight will not give an answer to that question nor it should. Beforehand it is really hard to say how this fight will play out. Brimage is a significant step up for competition for McGregor but then again it might be also the case that Brimage hasn't faced a striker on the level of McGregor in the UFC.
Summary: There have been some pre-fight trash talk between the two. First McGregor called Brimage a "okay little boxer" which didn't sit too well with the American who replied that his punches will "turn McGregor into a wrestler". There's a good chance this pre-fight heat will burst into full blown bonfire in the Octagon. Let's hope the fight at Globen meets the high expections that we have placed on it.
Bet on UFC in Sweden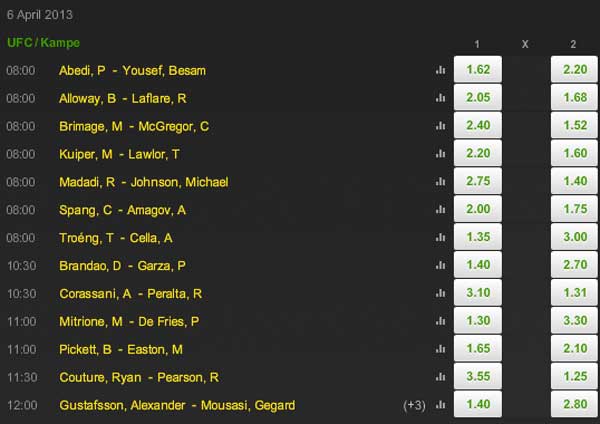 Get Big Bonus for MMA Viking Fans in Finland – Denmark – Norway – Sweden