MMA Viking is cageside to cover Supreior Challenge 19 at Cirkus in Stockholm. There are two title fights on the line in the 9-fight card.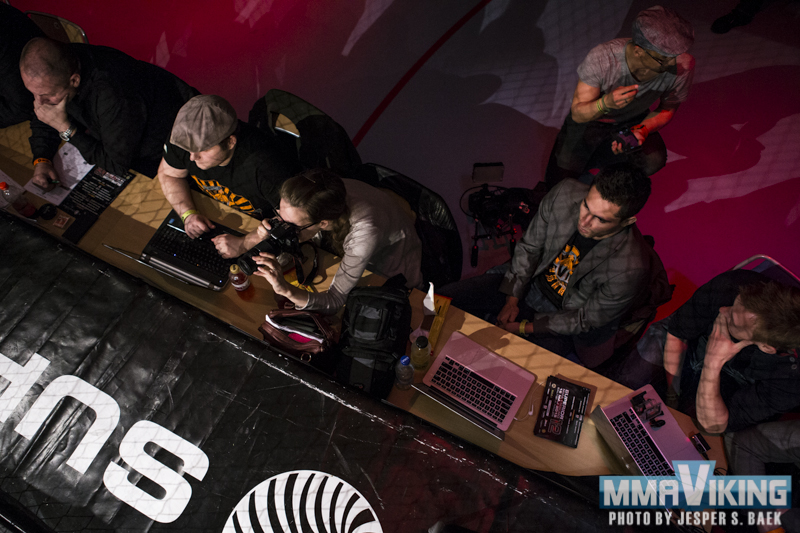 Live Results
UNDERCARD
Moraad Moreno vs. Mika Kuronen
Moreno with a dominant first round, using his striking to keep Kuronen at distance and avoiding take-downs. More striking from Moraad that lands punch after punch on a tiring Mika forcing the referee to stop the bout in round 2 by TKO.
Robin Roos vs. Christopher Jeanpier Basauri Corrales
Roos with very effective standup in the first, landing with both high and low kicks. Jeanpier wtih two brief take-downs, and smiling throughout. Roos wins by TKO. Corrales did not come out to the 3rd round due to injury.
Serdar Altas vs. Jhonata Silva
A nice punch from Silva early that rocks the Swede. Altas with a big headkick in the first round, and goes for ground and pound for the finish, but Silva battles out of it. Silva took control in the second round, landing big right hands and low kicks. The third round, Serdar begins to tire and Silva is landing punches and kicks at will. Unanimous decision win for Silva.
Bartosz Wójćikiewicz vs. Wilbert Huaman
Dominant fight for Bartosz that nearly had several submissions in each of the three rounds, but also landed signifiant ground and pound for a unanimous decision win.
MAIN CARD
Rostem Akman vs. Mauricio Reis
Akman with impressive striking throughout the fight, and is able to turn it up in the third round for a TKO finish.
Pannie Kianzad vs. Inoy Razafiarison
Kianzad controls the fight with punching from distance, and brutal knees from the clinch to win a unanimous decision. She wants back in the UFC!
David Bielkheden vs Patrik Pietilä
David landing brutal leg kicks early, but Patrik lands a booming right hand that drops David and tries to finish the fight on the ground. Another powerful punch puts "Buster" to the ground again in the second, but David fights back to get a take-down late. Shocking first two rounds for the crowd in Stockholm. David gets a take-down in the third and on top looking for a finish, searching for a rear-naked choke, but time just runs out. Pietila gets unanimous decision victory.

Dylan Andrews vs. Nicholas Musoke
Devastating leg attack from Musoke. Now punches, and Nico is looking sharp. A take-down and Nico just dominant in the first.
Nico landing punch after punch, and Andrews wants more. Nico looks to be tiring but keeps landing.
Musoke puts the champ against the cage and starts dirty boxing, and eventually gets the fight to the ground for a perfect performance, earning the MW Superior Challenge title.
Diego Nunes vs. Simon Sköld
Simon with a huge body kick to start the fight, but Nunes lands a bomb as the two trade in the pocket. Simon able to to get the fight the ground after tie-up against the cage, actually full mount! Now the champ is out, but the two try to tie-up and Simon landing body shots as Nunes looks to land a knee in the clinch. A big shot from Nunes and the Swede is rocked. Simon goes for a double-leg take-down, but Diego snatches a tight guillotine.
It is tight and Simon forced to tap. First round submission for Nunes.