The first of May will be a day to mark to your calendar if you are a jiu-jitsu fan as Macaco Branco presents Primates. The event will be held in Teatteri Forum -restaurant and the main event for the evening will be Finland's jiu-jitsu beast Janne-Pekka Pietiläinen vs. UFC-veteran Dean Lister. Pietiläinen is one of Europe's top jiu-jitsu fighters, winning the ADCC European Title four times. Dean Lister is no stranger to long time MMA fans, six time UFC veteran and three time ADCC world champion.  The second super fight of the evening will be Toni Linden vs. TBA foreign opponent.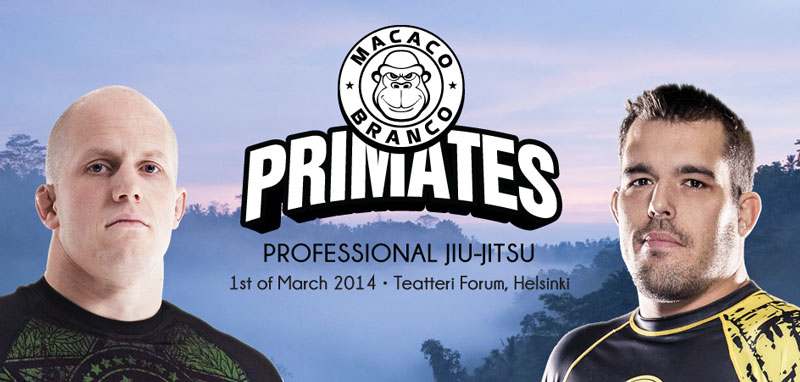 Our content partner site FightSport.fi talked to one of the guys behind this historical event, Mikko Rouvali is also one of the guys behind Macaco Branco brand. Here's what he had to say:
"We wanted to make something in Finland, that has been never done in submission wrestling or BJJ and the American event Metamoris has been a huge influence to our Primates event."
In addition to the super fights, there will also be a eight man BJJ-tournament in 75 kg division. The winner of the tournament will win 1000 euros. The grapplers taking part on the tournament are one of the best grapplers from Finland. Four time European champion and World bronze medalist Greger Forsell is the favourite coming into the tournament. He won't have an easy road to the paycheck as the other participants are Jarkko Hanninen, Finnish champion Riku Hapulahti, Antti Mannila, Raimo Posti, Sakari Räsänen, European champion Swede Max Lindblad and European champion and World silver medalist Tuomas Tammilehto.
"The tournament will use IBJJF:n black belt rules, first fights are going to be 10 minutes or submission. The final fight will be 20 minutes. If the fight goes full time, three judges will decide the winner."
"People have been asking for a tournament like this. Every fighter we contacted jumped in right away. My phones been ringing the whole day, people asking for a spot in the tournament."
"The main reason we arranged this event is that I hate BJJ-fighters who play it safe. They make a sweep and then just passively cruise to a decision. The main principle behind Jiu-Jitsu is that you always look for a submission. Now our rules favours the fighters who look for submissions and passive fighters are going to get slapped back stage, laughed Rouvali".