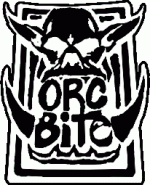 For any MMA fan in Scandinavia, you've heard the slogan "Get Your Bite On!" from the new clothing brand Orcbite.  I had a chance to interview Christian Lindell, the founder and CEO.  The company includes Orcbite (clothing and fight gear), Orcbitch (the woman's brand), and Mixed Breed (responsible for designing clothing with other partners).
Christian is a long-time martial arts practitioner, and even managed a Capoeira academy before developing a love for training MMA and grappling.  Below is an interview from the man behind the bite.
1) Why did you decide to start Orcbite?
I had a lot of ideas of starting my own brand already in 2003 when I trained capoeira regularly but nothing really happened then. Last summer I was in California visiting my friend and instructor Ricardo "Franjinha" Miller who have inspired me tremendously and we started to talk about building my own brand. He just said "go for it Chris" and when I told him about the name and the meaning behind it he gave me even more praise. That boost was exactly what I needed, when I got home I registered the name and in January of 2010 I started to look for manufacturers. This summer my friend and the man behind almost all Orcbite designs, Emil Söderholm joined the Orcbite team as a co-founder.
2)  Looking back at MMA in Sweden, what do you think are the biggest challenges and successes?
The biggest challenges are still the government and the general prejudices people have towards things that they don´t know that much about.
The biggest success so far has to be the job SMMAF has done already.  One recent success is the new "Amateur MMA", which MMA förbundet will start with next year. This will for sure elevate MMA in Sweden even higher and increase the talent pool of fighters.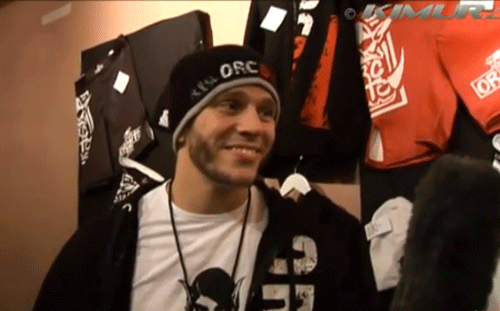 Photo from a recent interview with our friends at www.kimura.se.
3) Why is Sweden growing so fast in MMA now?
It´s a cooperation of many different things such as the UFC being shown everywhere, Swedish fighters in the UFC, great Swedish websites that covers fighters with videoblogs and all competitions we are having like submission wrestling, BJJ, Shootfighting, Amateur MMA and Pro MMA.
4) Why should MMA fans and fighters "get their bite on"?
First off we really don´t have that many Swedish MMA brands and since MMA is growing so fast all over the world there will be a lot of guys and girls who wants and needs training gear, clothes, accessories etc.  The thing that separates us from other Swedish MMA brands is that we are a lifestyle brand who works with lines in fightgear/streetwear, business and high-end fashion. I really do think that we have combined Quality, Design and Service in Orcbite. An example when it comes to design and quality is our fight shorts that are printed with sublimation dye which joins the print with the fabric. The shorts material is something that you haven´t felt before. You will for sure get your bite on when wearing these shorts.
For more information about Orcbite visit www.orcbite.com.