Superior Challenge has officially announced that the Kimura Talent 2 in collaboration with the Superior Challenge will feature a bout between Rami Aziz and Mr Ersoy.  The bout will take place at Superior Challenge 8, October 6 in Malmo.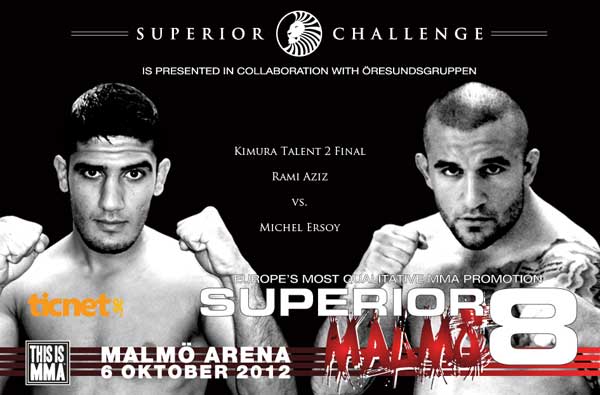 Press Release
(translated from Swedish)
The road to the final of the latest edition of Kimura Talent in cooperation with the Superior Challenge has been up and down the two finalists. Both semifinals were postponed several times due to injuries and finally went Rami and Michel advance to the final. The winner of the final match wins the promotional contract with Superior Challenge and management agreement with Superior Management.
Babak Aghavali, CEO Superior Group International:
– Both these gentlemen were disappointed that the semi-finals were canceled but very excited to move on to the finals. Both are talented young men who have fought to get where they are. All participants socialized a lot during auditions and many became very close. Both Rami and Michel are athletes, but when it's time they will do their best to overpower his opponent, but after the game, they will once again be friends. This is an exemplary evidence of the camaraderie that exists within the sport and the affinity between two struggling athletes. Kimura Talent 2 in connection with Superior Challenge showed that MMA is a sport, and practitioners are professional athletes. I can promise that there will be a very interesting and entertaining match between two of Sweden's greatest young talents.