Finnish star Tom "Stoneface" Niinimäki (17-5) has been a top ranked European featherweight and one of the hottest prospect for the major promotions to sign for a long time. The Finn took a one step closer to getting an international deal by winning his US debut at the Titan Fighting Championships event "23". Niinimäki dominated TUF veteran Brian Pearman with submission attempts and strikes from the top, scoring a TKO win in the second round after a barrage of heavy elbows from the top position.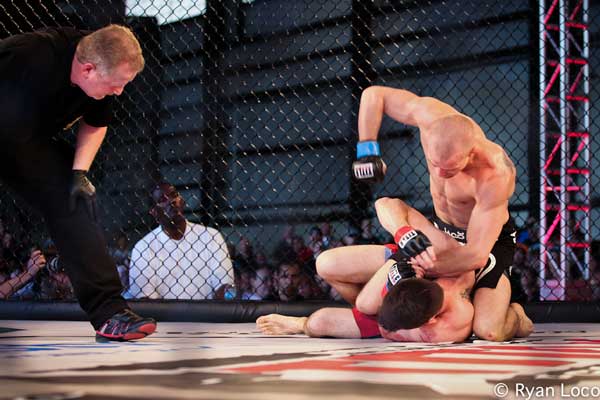 Finnish FightSport magazine interviewed Niinimäki after the bout. Following text is based on the article by Karhuherra of the FightSport.fi and published with  their permission.
On pre-fight hassle:
Niinimäki: "The fight was almost cancelled but they found a late replacement. Overall everything was new and unclear thus making it a bit stressful too. Even our entrance announcements were mixed and the corners too so it was a hassle all the way to fight time. "
Play by play on the fight:
Niinimäki:"Striking was a bit stiff in the beginning. At some point the opponent shooted on me but blocked that and we went to clinch. From the clinch I took him down and tried to control the fight from the top. I got a pretty good guillotine attempt also in the first round. In the second round I landed knee strikes that took the wind out of him.I felt that he was softening so I took him down and threw couple of elbows to the speaker box. Those opened up a nasty cut and he was giving up. Couple of more strikes and he turned over giving his back so I choked him out."
On the fight and result:
Niinimäki:"It went even better than I thought considering the circumstances. I managed to block all that non sense out and put on a 100 percent performance. There was a lot of pressure on me to get a win here. This was only my second fight within a year and the first one lasted only a minute. But I felt relaxed when the fight started. One thing that slowed me down a bit was that I didn't know anything about my opponent and didn't know what to expect. That showed in my striking as I was waiting for his shoots."
On the event:
Niinimäki:"It was a damn nice show at the Fort Riley military base. You could smell the patriotism. The show was well produced and the plane hanger was packed."
On future plans:
Niinimäki: "I don't know, I haven't talked to my management yet. I didn't get any injuries in the fight so let's relax for couple of weeks and then get back to training in my home gym in Turku, Finland. I will also return to my job as a bouncer. I would like to fight again in three months."
UFC Nottingham is in three months. Hopefully the UFC will finally sign "Stoneface", who is riding a eight fight win streak, and put him on the UK card for the Nordic fans.