The inaugural European Fighting Challenge (EuroFC) goes down today at the Metro Areena Espoo in Finland. UFC Veteran Tom Niinimäki will return to action against The Ultimate Fighter season 12 winner American Jonathan Brookins in the main event of this Nordic dream card. MMAViking.com is live cageside for play-by-play, photos, and interviews. If you aren't in the arena or watching the live stream on FloCombat, get your live updates here and come back for photos after.
Live Results: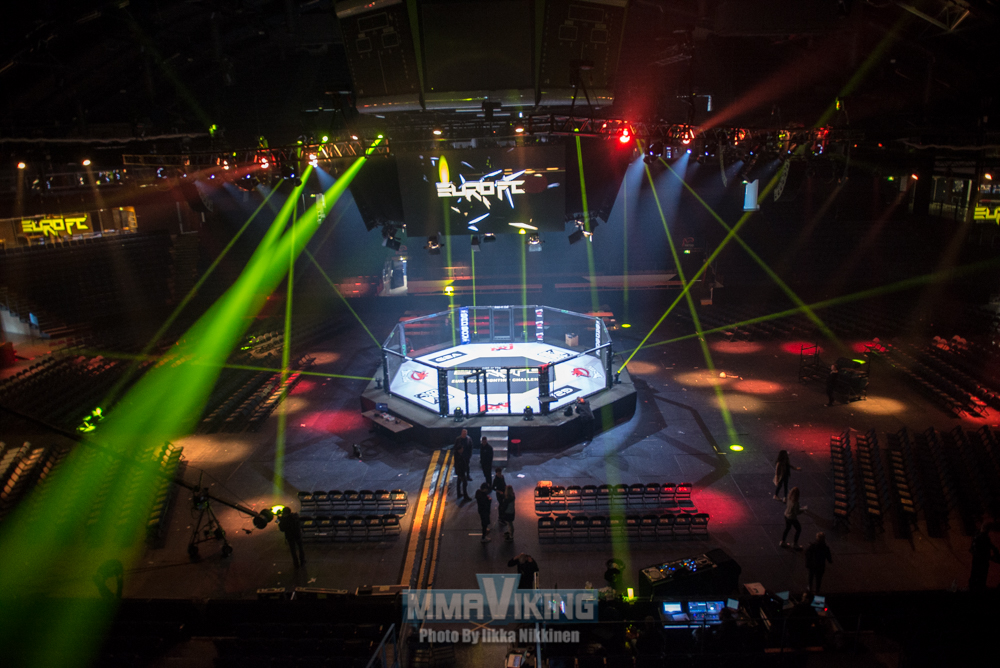 Aleksi Mantykivi (9-4) vs. Soren Bak (7-0)
Round 1: These two guys are not wasting any time as both men trade punches in the early going. Mantykivi drops Bak with straight right, and follows-up with some ground and pound, but Bak is able to scramble back to his feet.
However, the Dane looks rocked. Mantykivi lands an uppercut and another big right hand before the referee stops the fight at 1:22 in the first round.
Mantykivi wins by TKO.  See Cageside Pictures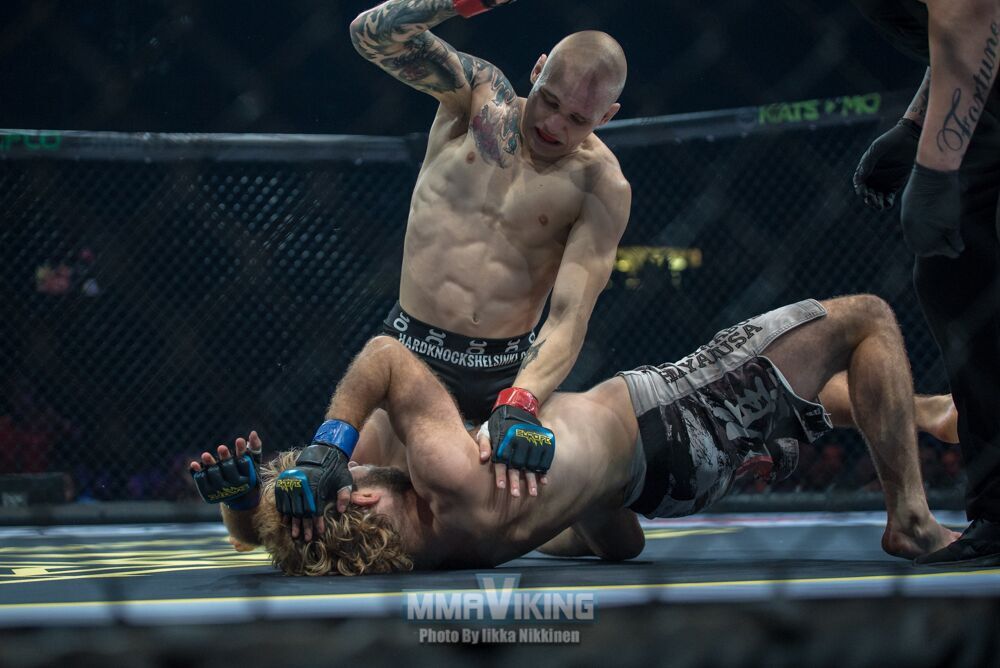 Stuart Austin (10-2) vs. Nills van Noord (15-6-2)
Round 1: Noord tries to open up the first round with a head kick, but Austin blocks it. Noord then goes for a double-leg takedown, but Austin stuffs it, and then hits an uchimata throw and lands on top.
Austin secures another takedown and lands some viscous ground and pound. The ref stops the fight at 2:33.
Austin wins by TKO in the first round.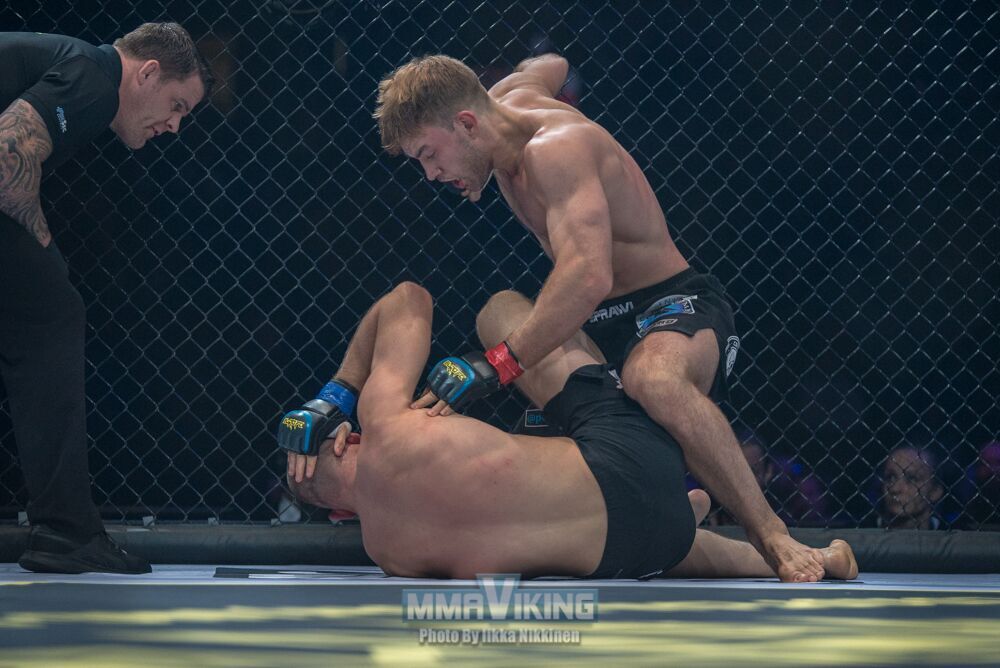 Andreas Stahl (10-2) v. Georgi Valentinov (18-3)
Round 1: Stahl comes out firing and runs into a Valentinov left hook. This seems to get Stahl´s attention as he backs off momentarily.
Valentinov lands a nice combo to the body, and Stahl returns with a flurry of his own. Valentinov lands a crazy fast combo and follows-up with a left hook. There is some swelling now forming over Stahl´s right eye.
Valentinov lands a powerful right low kick and Stahl looks to be limping a bit on his front foot. Stahl returns with a combo, but Valentinov counters with a beautiful left hook.
Valentinov closes off the round with a spinning wheel kick, but Stahl avoids damage.
Round 2: The two come out guns blazing in the second round with both men landing nice high-low combinations. Stahl counters with a high kick that´s partially blocked. Stahl is working his combinations well, often linking four or five punches and kicks.
Valentinov is now bleeding from his mouth. Stahl gets in deep on a double, and drags his man to the fence. Valentinov fights him off, and the two men square off in the center of the cage.
Stahl is using good lateral movement as he looks to pick his shots. The second round closes with both men gasping for air.
Round 3: Valentinov takes a hard low kick in the family jewels and the ref stops the fight to let him collect his thoughts. Action resumes. Stahl lands a thudding knee, and the two fighters clinch up along the fence.
Stahl breaks free and delivers a knee. Stahl then shoots a double, but Valentinov fights it off. Stahl pushes the pace, and seems to be the better conditioned fighter. Stahl lands a good body kick, and then looks for a head kick, but no dice.
The crowd is on its feet for the last 30 seconds of the bout. These two warriors go the distance.
Valentinov wins by unanimous decision. See Cageside Photos
"He is one of the toughest guys I've ever fought," said Omer after the fight.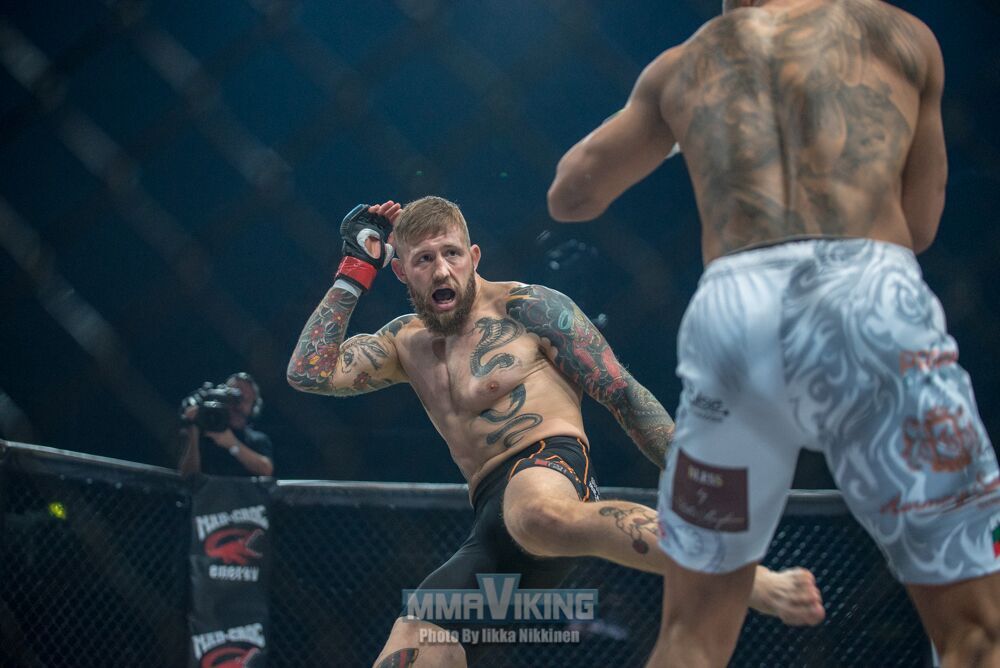 Toni Tauru (10-3) vs. Marc Gomez (17-7)
Round 1: Tauru shoots for an early single, but Gomez defends well. Tauru lands a good low kick off a combination, and then pushes Gomez to the fence.
Gomez lands an elbow on the break, and Tauru now has a cut on his cheek. Tauru briefly takes Gomez down, but the Spaniard defends well.
Gomez lands a leaping left hook, sending Tauru to the mat. Tauru looks rocked but is saved by the bell.
Round 2: Tauru´s hands are low to start the second round. Gomez lands hard shots in the clinch, and Tauru looks to be struggling to breath with a broken nose. Gomez drops Tauru, but Tauru is able to weather the storm.
There is no quit in Tauru though, and the Finn battles on, landing a few elbows of his own. The crowd chants "Toni, Toni" to close out the second round.
Round 3: The fighters touch gloves to begin the final round, showing the kind of mutual respect you only see in MMA. Tauru seems to be showing a sense of urgency as he presses forward. Tauru´s face is beginning to look like hamburger meat, but his heart beat as strong as ever.
Tauru lands a nice counter uppercut; his best of the fight so far. The fighters are now standing in the pocket, trading shots to close out an epic battle.
Gomez wins by unanimous decision. See Cageside Photos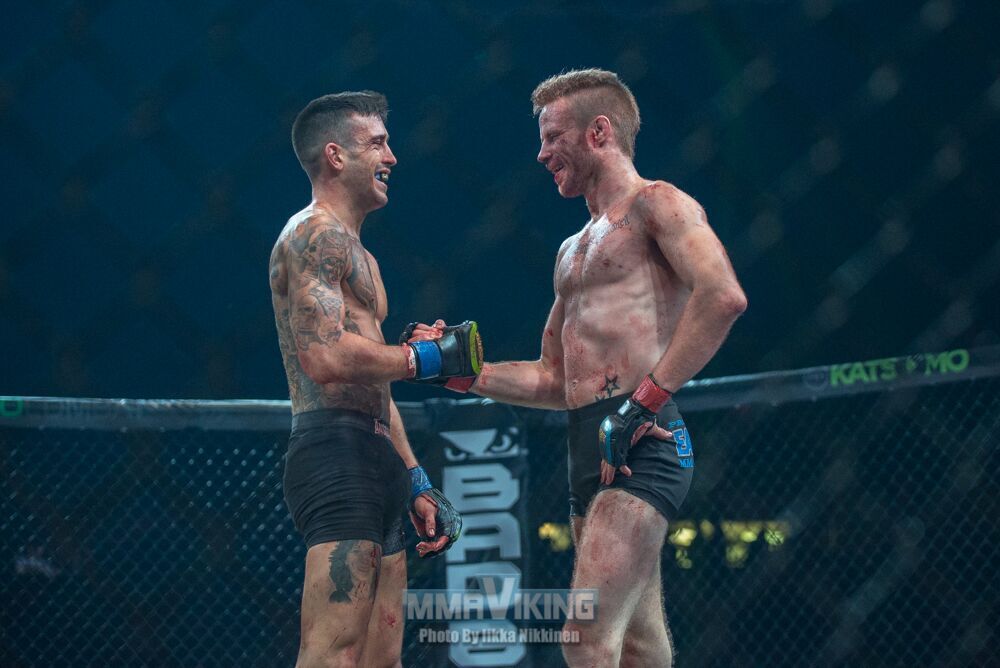 Alex Poppeck (7-0) vs. Rob Wilkinson (9-0)
Round 1: Wilkinson presses forward to start the action. Both fighters are looking to set-up the hands early on.
Wilkinson gets a body lock and drags Poppeck to the ground. Poppeck gives up his back, scrambling to his feet, but Wilkinson takes him down and gains back control. Wilkinson sinks in the choke, and Poppeck taps.
Wilkinson wins by RNC.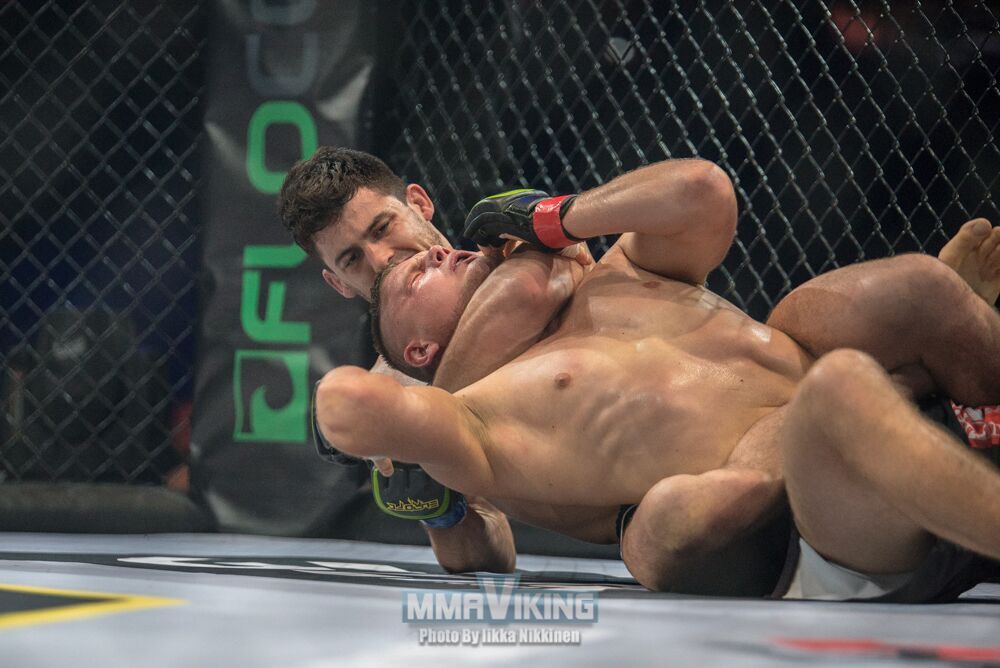 Alan Omer (18-5) vs. Hiroyuki Takaya (20-12-2)
Round 1: Omer starts the first round with a jumping knee that barely misses its target. Takaya answers with a one-two that gets Omer´s attention.
Takaya takes an eye poke, and the ref briefly stops action. Omer lands a series of thudding body kicks, and Takaya takes a deep breath.
Omer lands a one-two, sending Takaya to the mat. Omer lands a few shots on the ground to close out the round, but nothing significant.
Round 2: Omer comes out swinging to start the second round. Crack! Omer punishes Takaya with a two hard body kicks. The pace begins to slow now as both men look to be conserving their energy.
Takaya shoots a double, but Omer stuffs it, turns and presses Takaya to the fence.
Round 3: Omer pumps out a couple nice jabs to start the third round. Takaya´s head swings back as he eats a straight right.
Takaya tries for a takedown, then pulls guard. He wasn´t having much success on the feet, so perhaps not a bad decision. However, he is able to do little off his back, and the ref stands them up.
Takaya lands a right cross and sends Omer to the mat briefly. Omer answers with a cross of his own, dropping the Japanese fighter. He tries to finish the fight with ground and pound, but the bell sounds before can finish the fight.
Omer wins by unanimous decision.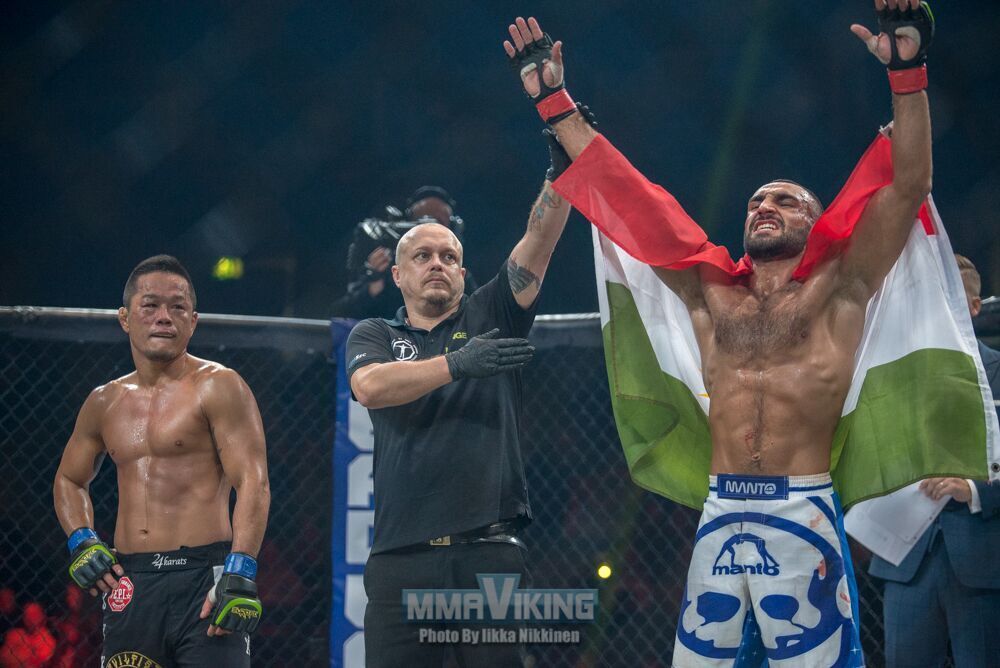 Juho Valamaa (12-3) vs. Karl Amoussou (22-7-2)
Round 1: Amoussou comes out like a raging bull, swinging wildly, but the Finn weathers the early storm. Valamaa lands a good knee and Amoussou looks to take the fight to the ground, but Valamaa reverses and winds up on top.
After taking a few shots, Amoussou scrambles to his feet. Just when Valamaa seemed to be getting the better of the stand up, Amoussou lands a one-two on Valamaa´s chin, and shuts the lights off.
Amoussou wins by KO at 3:44 in the first.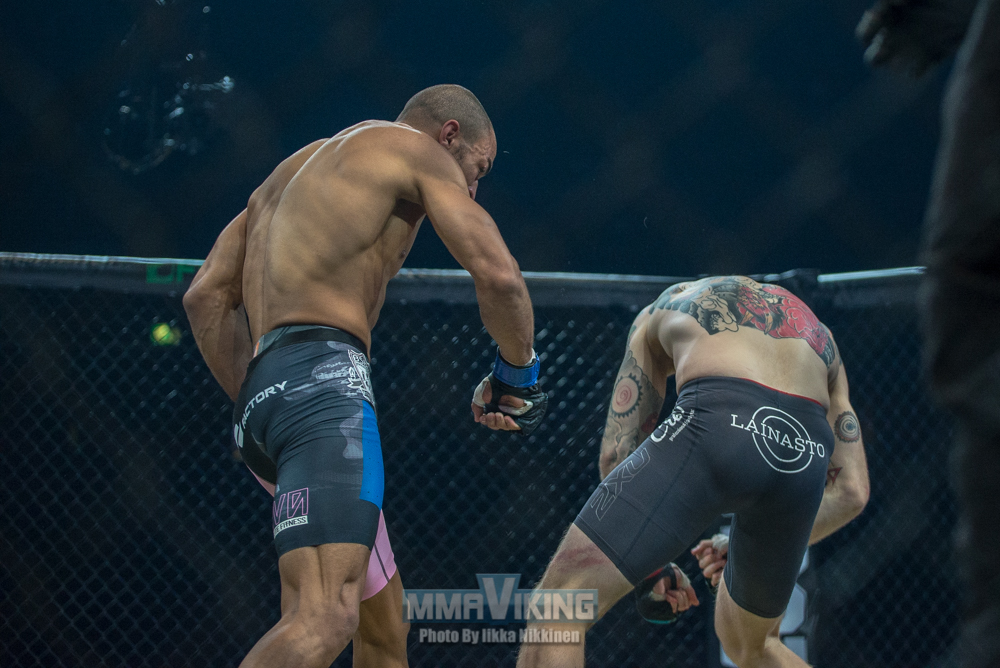 Co-Main Event – Yosef Ali Mohammad (6-2) vs. Fernando Rodrigues Jr. (9-2)
Round 1: Mohammad drops Rodrigues in the opening seconds of the first round, but Rodrigues somehow weathers the storm and the gets the fight back to the feet. Rodrigues then drops Mohammad! What a crazy back-and-forth fight.
Mohammad is back to his feet quickly and looks for a takedown, but Rodrigues jumps to a guillotine and Mohammad taps.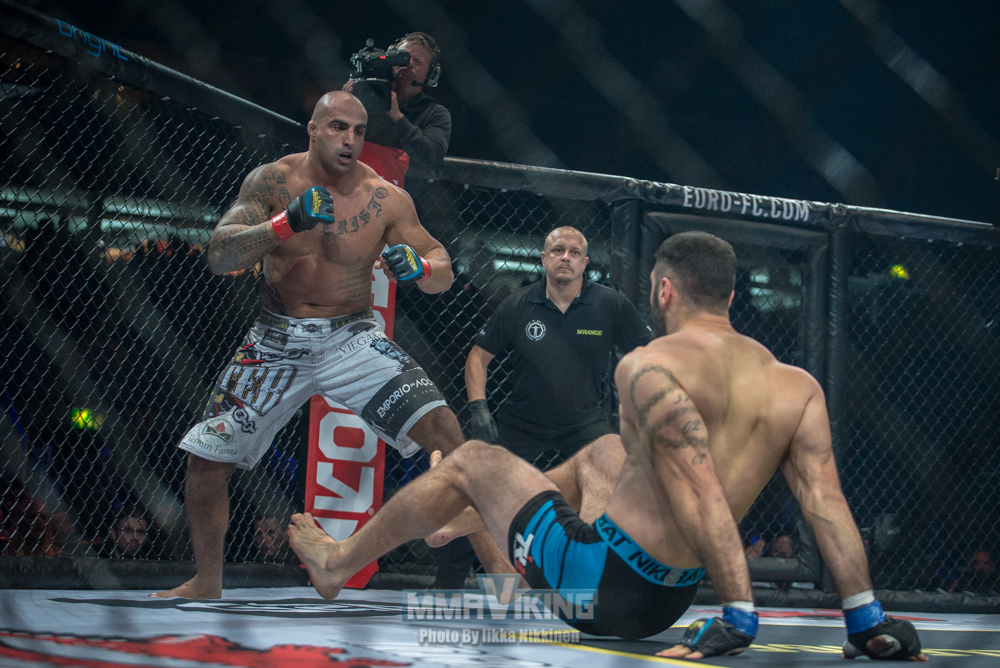 Rodrigues wins by guillotine choke in the first round. See Cageside Photos
Main Event Tom Niinimaki (21-8-1) vs. Jonathan Brookins (15-8)
Round 1: Niinimäki presses Brookings to the cage to open the fight. Brookins lands a side-kick, and Niinimäki answers with a right hand that lands.
Brookins shoots a single and presses the Finn to the cage. Niinimäki lands a couple hard knees to the legs, and Brookins reply´s with a knee to the solar-plexus. Both fighters methodically pick their shots, like they are playing a chess for keeps.
Round 2: Niinimäki opens the second round with a couple takedowns, but Brookins threatens with a guillotine. Niinimäki passes to side control, rendering the choke useless. Brookins scrambles to his feet, then scores a takedown with two minutes left in the round. As he transitions to the back, Niinimäki nicely reverses and takes the American down.
Niinimäki softens up Brookins with a few elbows from the top. Brookins looks for an omaplata from rubber guard, but the Finn defends well.
Round 3: Niinimäki cracks Brookins to start the second round, and the American immediately looks to take the fight to the ground. Niinimäki´s takedown defense is on point though, and he ends up taking Brookins down.
Niinimäki is dropping short elbows, and Brookins´shows off his iron chin. Brookins rallies to his feet and jumps an ill-advised triangle. Niinimäki punishes Brookins with some hard shots to close out the match.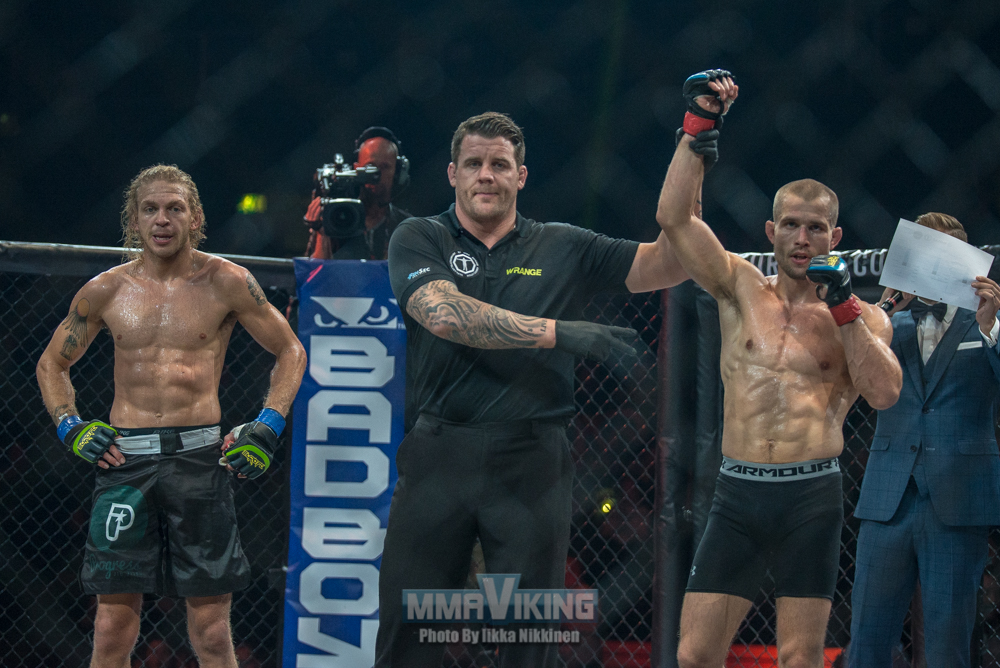 Niinimäki wins by unanimous decision.