Last night at the Cage Warriors Fight Night 5 show Gladius MMA's middleweight Victor Cheng (9-2) earned a spot at the Cage Warriors FC's Middleweight Tournament final. In the semi final bout Cheng was able to outgrapple Frenchman Faycal Hucin and punish him with strikes on the floor. The swede was in some hairy situations on the feet with the much larger Hucin but Cheng showed good gameness in the cage and persistently went after takedowns. In the final Cheng will meet Ukrainian Pavel Kusch (13-2) who got his ticket to the final by heelhooking Welshman John Phillips in just 25 seconds.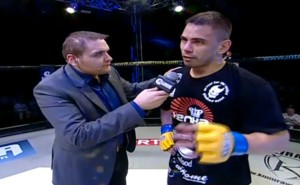 In preliminary fights Sweden's Thomas Bäck didn't have an answer for England's James Brum who threw everything but the kitchen sink at the Swede in a three round fight. Bäck absorbed crazy amount of punishment and showed a lot of heart but in the end it was a dominant decision win for the talented Brit.
Finland's Janne "Jamba" Elonen-Kulmala fought on the Facebook prelims against Wales' Kris Edwards. The fight was an exciting ground war between two skilled young fighters who both had good opportunities to finish the fight but didn't succeed in it. In the third round it looked like Jamba might break Edwards' hand with a super tight kimura but the Welshman gutted it out and ended up winning the decision.
Cage Warriors Fight Night 5 Results by YourMMA.tv
DJ Linderman def. Bobby Brents by unanimous decision (30-27, 30-27, 29-28)
Pavel Kusch def. John Phillips by submission (heel-hook) after 0:25 of Round 1
Victor Cheng def. Faycal Hucin by unanimous decision (30-27, 30-27, 30-26)
Liam James def. Jean N'Doye by split decision (29-28, 28-29, 29-28)
Mike Ling def. Eric Cebarec by TKO (strikes) after 2:11 of Round 2
Piotr Hallmann def. Kevin Donnelly by submission (rear-naked choke) after 4:10 of Round 3
James Brum def. Thomas Back by unanimous decision (30-26, 30-27, 30-25)
Kris Edwards def. Janne Elonen-Kulmala by unanimous decision (30-27, 29-28, 29-28)
Mohamed Ali def. Doo Hwan Kim by unanimous decision (30-27, 30-27, 29-28)