UFC lightweight Anton Kuivanen, who has a fight coming up on 21st of July with Canadian Mitch Clarke at UFC 149,  released a new blog entry today. In the blog the Finn writes suffering from a sudden illness and about the plan for the next couple of weeks leading up to the fight in Calgary.
"Last week on the Finnish soil has begun. For the last few days I have been battling with a nasty stomach flu and fever. Luckily now it seems that I have gotten a hold of that bastard and I'm trying to destroy it with all tricks. Even had a gin shot for an aperitif. " writes the Finn about the bug.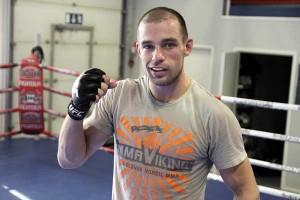 Kuivanen also wrote about what he is going to do before the fight:
"I'm gonna do couple of killer training sessions before I fly to the USA on Sunday. I'll land in Vegas just on time for UFC 148 Silva vs Sonnen. I don't know yet if I'll able to watch it live in the MGM or at some sports bar. After the event Zuffa is holding is fighter summit for all the UFC and StrikeForce fighters with all the 400 fighters showing up. Shoots for a video game and promo photos are on the agenda among other things. After this I'll do few practices in Vegas and then we'll head to San Diego to visit Jeremy Stephens. I'll do the final practices at the Alliance Gym before flying to Calgary a week before the fight."
At the Alliance Gym the Finn will probably meet a fellow Nordic fighter as Sweden's superstar Alexander Gustafsson has also the same plan as Kuivanen for combining the Vegas summit with a training trip to Alliance.
UFC Lightweight Anton Kuivanen Feeling Confident Heading Into UFC 149