Swede Reza Madadi has made a bit of a buzz with his recent heroics in Stockholm. "Mad Dog", who will transition to a career as a fireman after his MMA days, found himself in a position to stay calm and help a family after a baby fell into the water. Read the press release below regarding the event.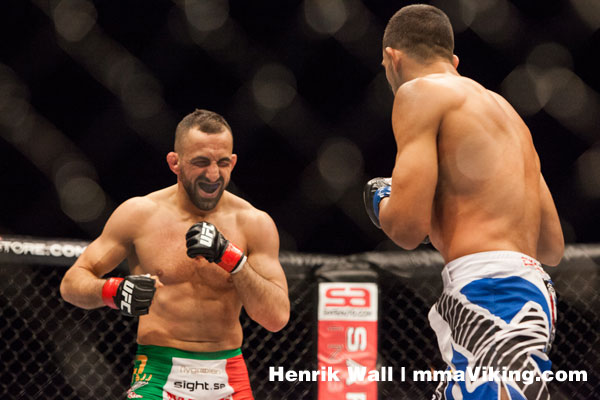 Press Release
UFC FIGHTER REZA MADADI SAVES BABY BOY FROM DROWNING
Stockholm, Sweden – Swedish UFC star Reza "Maddog" Madadi saved a toddler's life from drowning Friday, August 3. The Mixed Martial Artist had been kayaking in the Stockholm Archipelago and was about to buy lunch at a restaurant in Hornsberg, when he witnessed a child of one and a half years old falling from a nearby pier into the sea. The child's father quickly dove in to help save his son.
Madadi, a former aspiring fireman, immediately jumped into the water and saved both father and child from the turmoil of waves and rapid currents.
"Everyone just panicked but I didn't even think, I just acted on instinct," says Madadi.
Madadi's life saving skills, learned during a fireman's preparation course came in handy as he successfully pulled father and son out of the water. The father, a German tourist, was immensely grateful, and repeatedly thanked the UFC fighter.
"I could tell the man was very upset, but at the same time relieved. It's easier said than done to act fast in situations like these. The problem is that many people start to think, but there is no time for thinking."
The shore was crowded with sun bathing people and many witnessed the event including the staff of the nearby restaurant Primo Ciao Ciao.
A bystander who was very impressed with the performance of the athlete could conclude "If Reza hadn't been there that boy would have drowned. One person wanted to take pictures of Reza with the father and the son, but Reza humbly declined, with respect to the family's emotional status."
Madadi who won his UFC debut match in front of a sold out crowd of 15.000 in his hometown of Stockholm last April, has already gained substantial stardom.
Video Highlight of Madadi at UFC in Sweden