Trophy MMA will put on their "Summer Break" card today, which will be held at Amiralen in Malmo Sweden. MMAViking.com will be reporting live from cageside.
Play-by-play
Swede Emil Hartsner (5-1) will face Poland's Kamil Selwa (5-3) in the main event of Trophy MMA IV- Summer Break headliner. Hartsner will return home after fighting in Denmark for his last two bouts for the European MMA promotion.
Amateur MMA: Mohammad Ali Sanei 0-1-0 (Sweden) vs Rostem Akman 0-0-0 (Sweden) – 83,9kg
Round 1 – Both guys with short combinations landing, Mohammad circles good and catches Rostem briefly with a few good punches, but Rostem answers with hard legkicks and keeps the pressure. Rostem now drives Mohammad towards the cage and eventually gets the takedown, landing in full guard. Rostem controlling the fight for a good minute with punches on top, and Mohammad able to get up, gets the back of his opponent, but unable to get anything with it. Now Rostem going forward and lands several punches clean on the jaw of the Team AVAM fighter Mohammad. End of round.
Round 2 – Mohammad starts right away with a good combination, but Rostem not backing away and keeps the pressure. Mohammad comes over with a hard hook but Rostem doesnt budge. Rostem goes in with a hard knee and a very good combination with his hands. Both guys have slowed down considerably but Mohammad with a slight advantage on the feet at the moment. Mohammad lands a hard spinning punch! Rostem looks OK but pressures even more now and tries for the takedown, but fails. Mohammad goes low but gets countered by a knee from Rostem. End of round.
Winner by Majority Decision – Rostem Akman from Fightzone Stockholm.
Amateur MMA: Nils Påhlman 0-0-0 (Sweden) vs Daniel Berström 1-0-0 (Sweden) – 82kg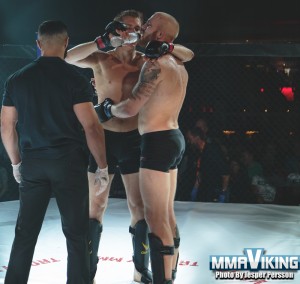 Round 1 – Daniel staying light on his feet and lunges forward with a nice 1-2 combination. Daniel with another succesful combination and Nils is forced to go low and gets the takedown briefly, Daniel doing a good job getting on his feet again but Nils able to stay on him and keep pressure, now against the cage. The two seperates and Daniel is cut on his right eyebrow. Both men with hard combinations! They are going hard in the first round. Daniel smothers Nils against the cage and have for 2 minutes now. End of round.
Round 2 – Nils with a good combination and recieves a smile from Daniel, now Nils goes forward again and with vicious punches knocks Daniel out! If just for a moment he goes down and the referee steps in and wisely stops the fight.
Winner by KO 0:33 in the second round – Nils Påhlman from Malmö Muay Thai.
Nasir Aoubi 0-1-0 (Sweden) vs Mads Burnell 2-0-0 (Denmark) – 67kg
Round 1 – Nasir starts off the action with a spinning heel kick that misses, Mads keeps distance but Nasir able to hit him a few times before Mads goes low and takes Nasir down, a great scramble on the ground from both guys and Mads lands on top in south/north position. Changes to sidecontrol and now in a crucifix is Mads, but only for a moment. The Rumble Sports fighter showing a great top game against Nasir. Nasir with a scramble and able to slip out and get up, Mads immediately fires a high kick that lands with his toes. Mads dives down for a double leg and gets the takedown. End of round. MMAViking scores that round 10-9 to Mads Burnell.
Round 2 – Nasir working the push kicks but Mads able to time it the third time and gets Nasir down again. Beautifully works his way to full mount and now occasionally creating space to hammer down on the Team AVAM fighter. Mads having great success with punches from the top, Nasir having difficulties finding a way out, Mads is on him like glue. Mads turning it up and Nasir just not able to do anything, not doing a bad job defending but heavy shots going through anyway. End of round. MMAViking scores that round 10-8 to Mads Burnell.
Round 3 – Nasir now very careful standing up, lands a very good combination and Mads answers with his own! Mads clearly the better conditioned fighter and Nasir looks battered but keeps on coming. Mads with a HARD hook that lands clean, closes the distance and takes down his opponent landing straight into full mount. Mads postures and hammers down but Nasir doing a fair job of defending, but unable to escape the top control of the Dane. Mads again turns it up and referee Sundell looks closer at the action, but Nasir just able to defend enough punches and times up. MMAViking scores that round 10-9 to Mads Burnell.
Winner by Unanimous Decision – Mads Burnell from Rumble Sports.
Linus Andersson 0-0-0 (Sweden)  vs Alexander Bergman 2-0-0 (Sweden) -83,9kg
Round 1 – Linus coming out very agressive, clinches up and tries to deal some damage but Alexander counters and turns it around trying to take his opponent down, eventually successful and ends up on his back, trying to secure the rear naked choke, adjusting it and it looks tight! Linus goes limb! Great set up from Alexander fighting out of Kampsportscentret from Linköping.
Winner by Rear Naked Choke – Alexander Bergman from Kampsportscentret.
Nick Barno 0-0-0 (Denmark) vs Jakub Holub 0-0-0 (Poland) – 120,2kg
Round 1 – Jakub trying to close the distance but gets peppered with quick punches from Nick. The polish fighter having some success with a few legkicks. Nick is light on his feet early in the round and looks comfortable standing up, trying to get in and deliver some punishment. Nick now dives for the takedown, Jakub with a sloppy guillotine connected, it looks like Nick is struggling but eventually slips out of it and gets ready to work from half guard. Nick now steps over to full mount, hammers down hard punches and flattens the Polish out! Referee intervenes to stop it simultaneously as Jakub taps from strikes.
Winner by Tapout (From strikes) – Nick Barno from Renegade MMA.
Mohammed Abdallah 4-1-0 (Sweden) vs Michal Wiencek 4-1-0 (Poland) – 77,1kg
Round 1 – Mohammed flurries Michal and forces him to back away, really throwing hard hooks but Michal weathers it and pressures Mohammed against the cage, but the Malmö native able to turn it around. Mohammed working knees very well in the clinch here and throws him around as he likes. Michal able to land a terrific knee to the head! Mohammed looks rocked, drives forward and pushes the Polish fighter against the cage trying to rest up a little. Michal seperates and both men landing good strikes on their way out. Mohammed ends the round with good knees and octagon control. End of round. MMAViking scores that round 10-9 to Mohammed Abdallah.
Round 2 – Michal with a 1-2 that knocks down Mohammed! But he bounces up and goes forward with a combination of his own that lands flush. Mohammed bleeding from his nose now. And he lands a hard hook to the head of Michal! He doesnt go down however, now Mohammed clinches up and knees him hard to the body that forces him down on one knee. Mohammed seperates and hits Michal hard and makes him wobble! The Polish fighter goes low but Mohammed recognizes and again gets him up against the cage and peppers him with knees. End of round. MMAViking scores that round 10-9 to Mohammed Abdallah.
Round 3 – Mohammed lunges forward with a good combination, and on the second one it lands! Michal however still in there. Mohammed doing a great job with ducking and weaving, showing a great stand up game, again goes forward and lands hard strikes! Mohammed now cut and bleeding a lot from the face. Michal tries with a combination but Mohammed ducks and comes over the top with a HARD hook! Michal wobbles but is still standing up. Mohammed gets him down, after a  scramble Mohammed sneaks in what looks like a d'arce choke, tightens it up and Michal taps and the crowd goes wild! What a entertaining fight.
Winner by Tapout (due to Submission) – Mohammed Abdallah from Malmö Muay Thai.
Emil Hartsner 5-1-0 (Sweden) vs Kamil Selwa 5-3-0 (Poland) – 61,2kg
Round 1 – Kamil lands a straight and Emil goes down! He recovers briefly and clunges on to Kamil, still looks shaken up but looks for submissions from bottom. He connects a triangle choke! Kamil is in big trouble, now Kamil struggling a lot, but somehow survives, but Emil turns it up and adjusts it to a armbar that looks tight. Kamil gets out of it and both fighters are now standing up! Kamil clinches up and lands a few good uppercuts from there, "Megahertz" turns it around and is now pressuring the Polish fighter. Works for the trip, and he secures the takedown, lands in half guard. Kamil now looking for a heel hook, almost secures the hold but Emil defends. End of round, what a crazy round. MMAViking scores that 10-10.
Round 2 – Emil throws some hard legkicks, Kamil rushes in and lands a good punch, this time however Emil remains standing and circles the cage. Kamil with a headkick! Emil goes down stiff! That was a crazy KO.
Winner by KO – Kamil Selwa from Spartakus Rzeszow