Announcement : Simon Sköld Versus Dennis Olofsson at Superior Challenge 8
Superior Challenge officials have announced a new matchup with Simon Sköld (1-3-0) facing Dennis Olofsson at Superior Challenge 8, which will be held October 6 in Malmö.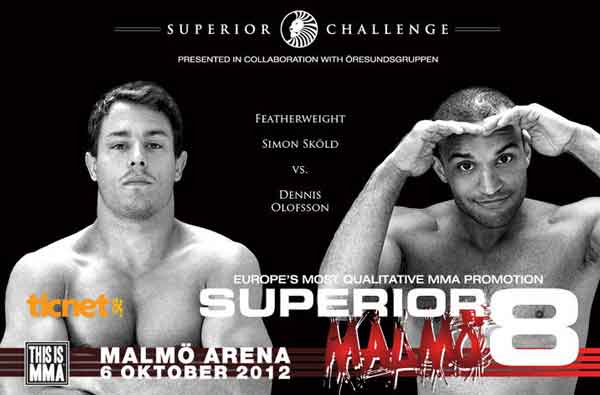 Press Release
(translated from Swedish)
Simon took his destiny into his own hands at 18 years old and moved alone to Stockholm to try his luck. He has since been living as a personal trainer and focused entirely on his martial arts career. Karate and Ju-Jutsu, he began with an early age and he has competed successfully in both of these martial arts disciplines. It was at Nacka Dojo where he introduced to grappling and MMA, and today he has had a total of four professional matches. The 24 year old is known for being a tough fighter and he has always performed strongly as a result, audience-friendly and very eventful matches.
See his exciting bout at Superior Challenge 6 against top-ranked Niklas Backstrom:


 
The Sweded will fight Pancrase fighter Dennis Olofsson who will make his professional MMA debut. The 25 year old is a hyperactive and intense athlete with very large training discipline. He has a background in Boxing and Mauy Thai, where he also has been active as a competitor in both disciplines. After several years of training with Omar Bouiche in Stockholm he has competed in Shootfighting and amateur MMA. He trains daily with the team at Pancrase gym has now gone to the U.S. to prepare for his professional MMA debut. With many relatives in the Malmö area, be ready for a big turnout for the local.
 
 
Babak Aghavali, CEO Superior Group International:
Superior Challenge has been the gateway for many young Swedish talent into a professional MMA career, and we have also produced the majority of Swedish fighters who compete in the UFC or other large international promotions. We believe that one of the most important aspects of Superior Challenge is to promote Swedish MMA, and Swedish MMA fighters.
Both Simon and Dennis have appeared in the program series Kimura Talent, and Simon has also competed twice in the Superior Challenge. Dennis is really build up for his debut and really wants to show off, and Simon, as usual in good shape and ready for war regardless of opponent.