Fightsport.fi is reporting that Finnish feathweight star Tom "Stoneface Niinimäki (16-5) will face a new opponent in the fight tonight at the Titan Fighting Championships show in Fort Riley, USA. Niinimäki is now matched up against TUF veteran Brian Pearman (7-1) who has beaten Niinimäki's original opponent Dustin Blake by decision three years ago. Pearman's stint at the Ultimate Fighter was a short one as he got blasted by the Swedish brawler Hamid "Akira" Corassani in a fight to get on to the house.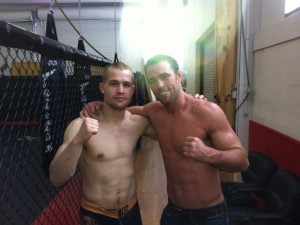 Niinimäki, who is currently riding a seven fight win streak, has long been one of the European fighters that many have wished to see in the UFC. For this fight the 27 year old Finn has been training again at the Imperial Gym, also known as Blackzillians, in Boca Raton Florida. A win over Pearman at State side should be enough to propel Niinimäki to the big league.
Titan FC 23 show takes place in the Fort Riley military base in Kansas.  The show will be televised on HD NET Fights. See the full fight card here.