Today The Zone FC officials announced the matchup between Assan Njie versus Ivica Truscek for the welterweight title in Gothenburg. Demolition will take place on May 6th. See the press release below: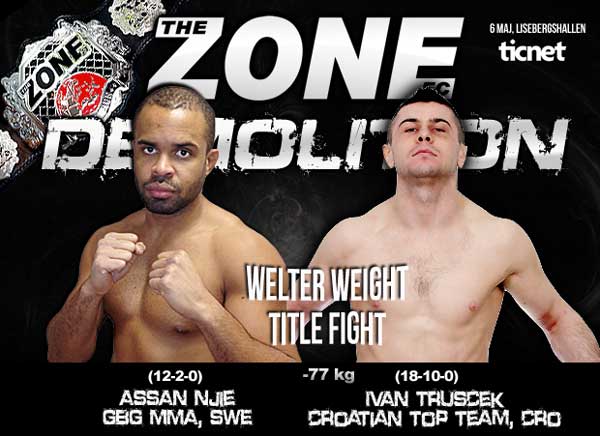 Assan Njie, 28 years old, from GBG MMA with a impressing fight record
of 12-2 is one of the best welterweights in Europe right now, earning
him the spot for the vacant welterweight title at The Zone FC. Many
were surprised Njie didn't get the chance to fight in UFC, but his
time will come. He has previously fought in middleweight but since not
cutting so much weight he recently made the transition to
welterweight. He will fight Ivica "Terror" Truscek (18-10-0) at The
Zone FC – Demolition the 6th of May, in Lisebergshallen, Gothenburg.
Njies last fight was in welterweight and he fought Steven Ray at Cage
Warriors Fight Night 4, 16th of March, Njie won the fight on his
favourite choke, the guillotine.
Ivica "Terror" Truscek holds a record of 18-10-0 and has 7-2 in his
last 9 fights, with wins over fighters as Lubomir Guedjev, Jarkko
Latomäki and Fabricio Nascimento.
Truscek holds the welterweight title in WFC, where he defeated Lubomir
Guedjev in December 2011. The referee stopped the fight between round
2 and 3.
The opponent Ivica "Terror" Truscek also has fought two tough Nordic
opponents recently. Truscek fought at Cage Warriors 46, 23rd of
February against Diego Gonzalez who had big difficulties with the
Croatian fighter who clearly dominated the first round. Gonzalez could
secure the victory in the second round on submission, but until that
point Truscek had the upper hand in the score cards.
Truscek got back in the saddle and took on the highly respected Danish
fighter Kenneth Rosfort-Nees at Royal Arena the 10th of March. It was
a dominant victory for the Croatian fighter who dominated the fight in
all three rounds with fast distinct boxing, Rosfort-Nees couldn't find
any solution to his speed and footwork. Many of Rosfort-Nees counters
didn't find its target. Ivica "Terror" Truscek was too fast and
outsmarted his opponent.
The recent impressive win against Rosfort-Nees and the fact that he
holds the WFC welterweight title made him jump up on the Zone FC's
matchmaker's radar who was at Royal Arena that night, earning him the
chance to fight for the vacant title at The Zone FC the 6th of May.
Tickets can be bought at Ticnet:
http://www.ticnet.se/event/The-Zone-FC-10-Demolition-biljetter/LIH1001
Assan Njie at Sherdog: http://www.sherdog.com/fighter/Assan-Njie-6858
Ivica Truscek at Sherdog: http://www.sherdog.com/fighter/Ivica-Truscek-22880
The Zone FC – Demolition Fight Card:
http://www.thezonefc.com/fightcard.asp?CompetitionID=940