Sweden's Lina Eklund's bout from Belgium's Staredown 6 against Fran Vanderstukken is now available to be seen. The fight took place on March 17. The Pancrase Gym fighter took on a local fighter from Team Perfect, and won by unanimous decision over what she called a "very tough girl".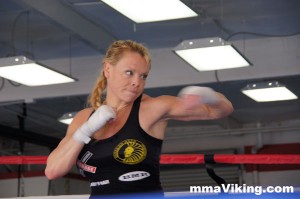 Eklund (2 wins, 1 loss) was looking to rebound from a loss against the overweight Shana Nelson in February against the debuting fighter from Belgium.
The bout however was not as straight-forward as seen in the video. Both Eklund and Pancrase head coach Omar Bouiche were told the bout would be two rounds. Upon reaching the end of two rounds, the Swede was then told it was a three round fight, outraging bout coach Bouiche and fighter that were given misleading direction. In the end however it was Eklund looking impressive with her second victory, and first decision. Watch the fight video below.
Fight Video