MMAViking.com presents its first rankings by weight class for Nordic women. While we have always included women in our rankings since 2011 in pound-for-pound format, now we breakout each weight class for a more detailed view of mixed martial arts. We have taken into consideration all recent events including UFC, Invicta, Cage Warriors, Superior Challenge, IRFA, and other shows.
Strawweight 115lbs. Rankings
Summary : Finland's Katja "Killer Bunny" Kankaanpää is the number one ranked Strawweight in the Nordics and among the best in the world.  She captured the Invicta title over American Stephanie Eggink in early September in dramatic fashion with a submission to win the coveted title.  The Botnia Punishment fighter just re-signed with Invicta FC and looks to defend her title early in 2015.  The only loss on her record over her nearly 5 year career was over Joanne Calderwood in a close decision back in 2013.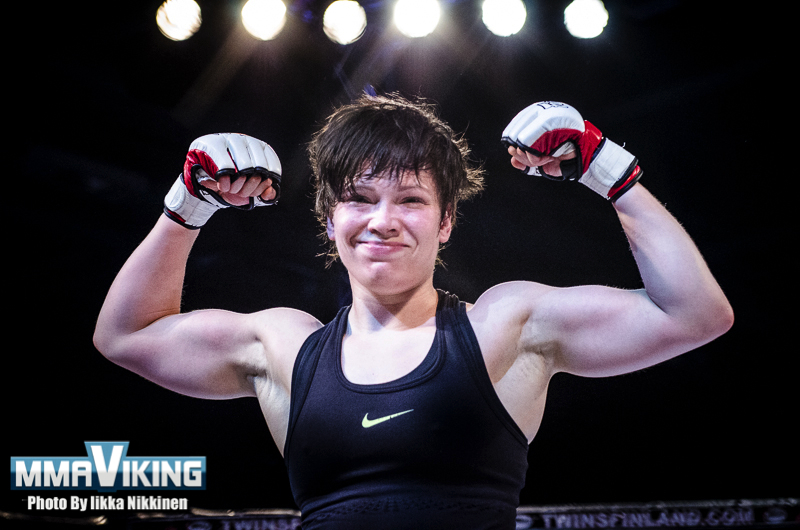 UFC fighter Tina "Jellybean" Lähdemäki suffered her first defeat in her UFC debut at UFC Fight Night 45 in July. The Finn put on a fantastic performance against Glaudia Gadelha but in the end it was a clear cut decision win for the Brazilian. The bout between the two was the first ever strawweight fight in the UFC.  The Finn had surgery at the end of last year on her wrist, but is getting back in shape and rehabbing and we should see her in the Octagon in mid to late 2015.
Iman Darabi is a BJJ Purple Belt that is looking to make a successful transition into MMA.  The natural Atomweight is only finding fights at the Strawweight division, but has faired well so far.  Darabi decisioned Finn Veera Nykanen at IRFA 6 in April, but her IRFA 7 bout was cancelled.  The Kurdish and Swedish pro trains out of Pancrase Gym in Stockholm and is hoping to fight within the next month or two.
Celine Haga is from Norway, but has become a staple on Jewel cards in Japan.  Training out of Jackson's MMA in New Mexico, the 30 year old has won her last 5 of 6 bouts.
Veera Nykanen is new to the MMA scene, as her only pro fight took place last April against Iman Darabi.  Her planned pro debut at Cage Warriors 64 in February turned into an amateur fight when her opponent didn't make weight.
Flyweights 125lbs. Rankings
Summary : Lina Eklund tops the Flyweights based on her last outing, which was her most impressive against Sylwia Juskiewicz at IRFA 4.  Although she pulled out of her scheduled bout at Superior Challenge against Suvi Salmimies, we should expect to see the Pancrase fighter soon in her first bout as a mother.  A showdown versus the Finn or even Wennergren would help decide the rankings for the #1 spot in the Nordics.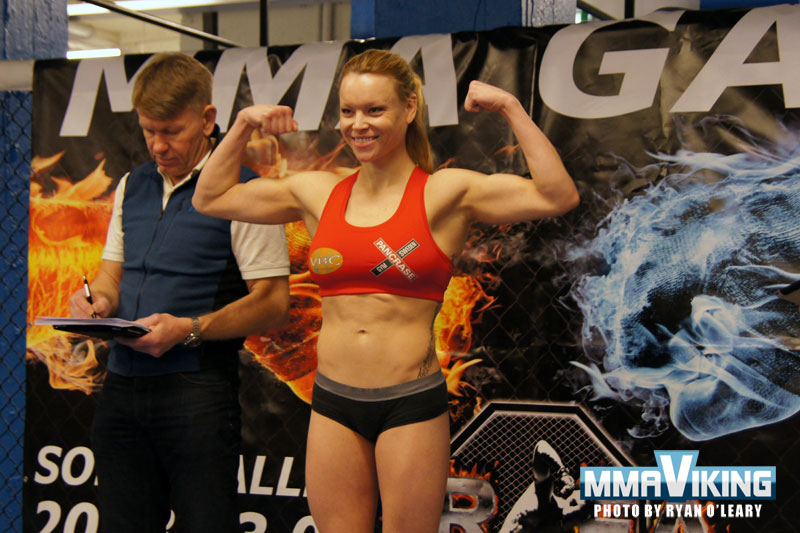 Suvi Salmimies did get a fight however, as she got to square up against Isabelle Pare at Cage 28.  The bout was a split decision for the MMA Utti fighter, keeping her from toping the 125 lbs. category.  With previous wins over Tanja Hoffmann and Clemence Schreiber in 2015, it was a successful first year for the 29 year old Finn.
Linn Wnnergren didn't have any bouts in 2014, and the most latest was due to in injury that kept her out of heading to Brazil in November for a bout with XFCi.  La Machine's only loss it to Tina Lahdemaki.  The 29 year old's last bout was  beatdown of Angelica Babbi at Superior Challenge 9 back in November of 2013 in Gothenburg.  Look for Wnnergren to be back in action soon.
Vuokko Katainen had a win, loss, and draw in 2014 for a mixed year.  The MMA Kuopio fighter was last in action at XFC International 6, where she lost a majority decision to Antonia Silvaneide da silva.
Bantamweight 135lbs. Rankings
Summary : Undefeated Pannie "Banzai" Kianzad has shown that she is among the best in the world with her undefeated run. Kianzad was victorious in May at Superior Challenge 10 where she took home a decision win over Italian Annalisa Bucci. In August the Rumble Sports fighter beat Holland's Megan van Houtum at Cage Warriors 71 by TKO in the 3rd round.  In November, she captured Cage Warriors gold by decisioning Eeeva Siiskonen over 5 rounds as she hit the scales at 135lbs.  She tops the weight class, and shouldn't be too long before we see her in the Octagon.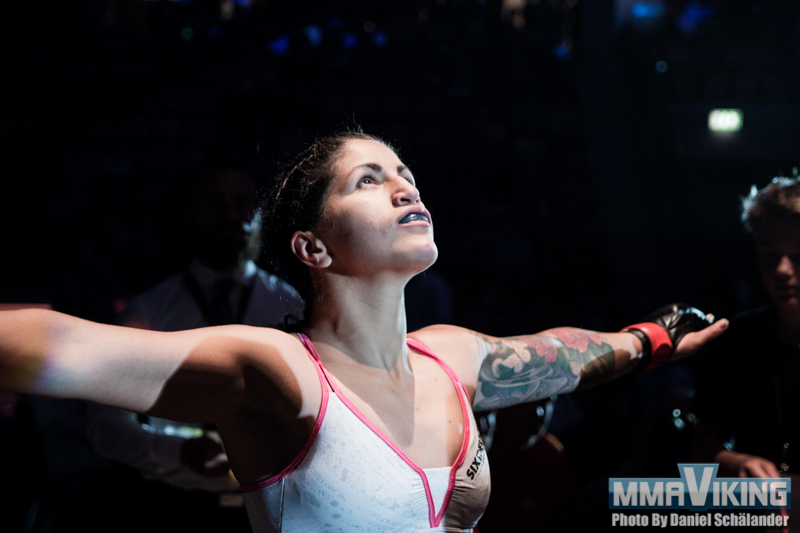 Lina Akhtar Länsbarg is ranked second in the division, and put on a vicious beatdown in her last outing with a first round TKO win over England's Laura Howarth at Cage Warriors 71.  Out of Malmo Muay Thai and MMA, the 32 year old striker is dangerous and will head into her next bout on a three fight winning streak.  Her only loss is to the Kianzad, which took place back in 2012.
Eeva Siiskonen is in the third spot after dropping her most recent fight against Pannie Kianzad, a bout that she took on short notice.  The MMA Imatra fighter showed heart and impressive cardio over five rounds with the late notice matchup.  At Carelia Fight 10, the 32 year old beat Inga Kaledaite by KO in the second round.
With only 19 seconds of pro MMA, Anna Elmose takes up the last slot.  With unlimited potential, it will be interesting to see where Panda can take her career.  The striking and power of the Dane is unusual, and anyone on the end of her punches will end up KO'd.  Stay tuned.
Featherweight 145lbs. Rankings
Summary : Denmark's Maria Hougaard Djursaa is the top ranked featherweight Nordic fighter.  Coming off a three fight winning streak over 2011 – 2013, she has now lost a decision in a close bout to Italian Annalisa Bucci at EMMA 9 and most recently was stopped by Amanda Bell in her Invicta debut in November.  Look to the Dane to return to action for another Invicta bout.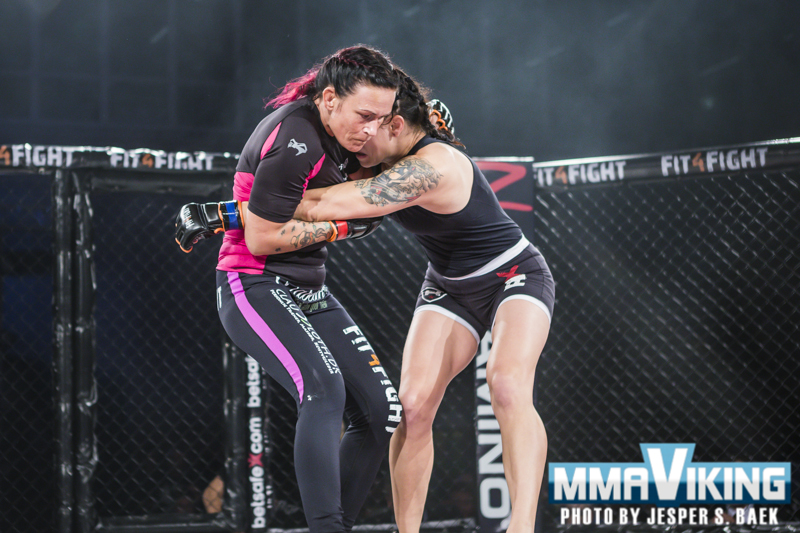 Elina Nilsson out of Gladius MMA is also a former Invicta veteran.  While not active in pro MMA since 2013, Nilsson keeps busy with fight sports and continues to be Sweden's best in Muay Thai and could be an option when The Zone FC returns to action in her hometown of Gothenburg.
More information regarding MMA Viking's ranking criteria and previous rankings.