Anette Österberg (0-0) is a MMA Fighter from Helsinki, Finland, representing Loop MMA Helsinki. Making her professional debut tomorrow at Excellence Fighting Championships, Linköping, Sweden against Swede Elin Öberg (1-0).
Your amateur record is strong, you are a MMA Finnish Championships gold medalist (2016), IMMAF European Open Championships bronze (2016) and silver (2017) and IMMAF World Championships silver medalist (2016) and bronze (2017). You have fought 25 muaythai matches before switching to MMA and your amateur record is 13 – 8.

How would you describe yourself as a fighter?
As a fighter I'm known as a technical striker. In the cage I rely on skill and strategy rather than just fighting all in all the time. My background is in muay thai but I've been working a lot with my wrestling and grappling skills and I feel pretty confident in every aspect of the game.

How long have you been training MMA?
I took my first fight in the end of year 2015. Before that I had practiced just some basics of wrestling and grappling. After 2016 IMMAF Worlds I decided to focus my training 100% to MMA, instead of muay thai.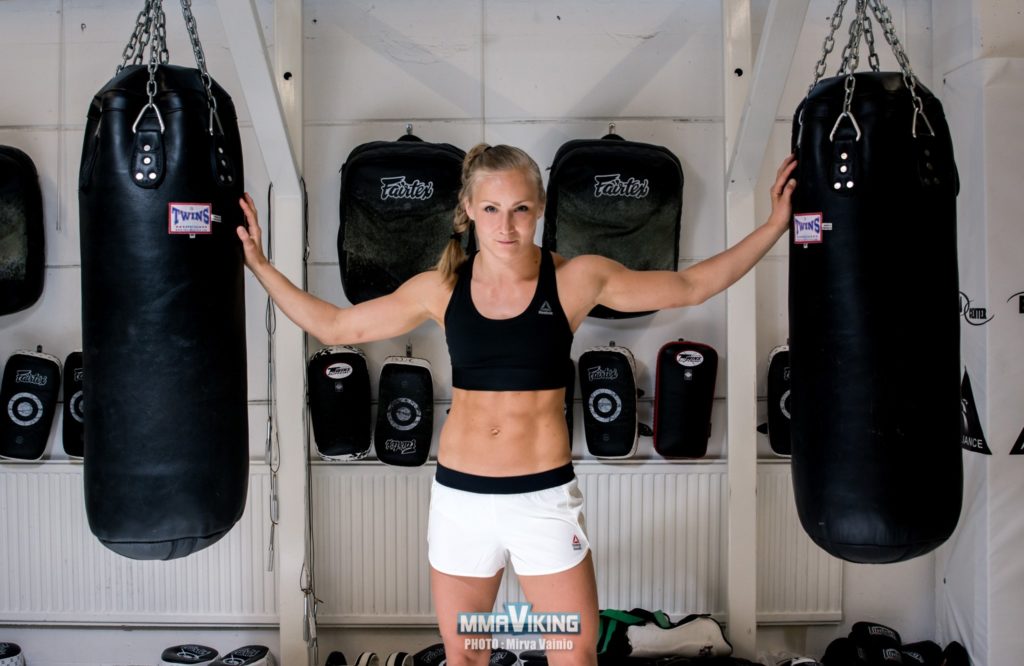 Motive about turning pro. Why now is the time?
With over 40 amateur fights muay thai and MMA combined I think i'm ready to take one step further and take my first pro fight. Actually I planned to go pro already a year ago. While training in Florida, we got in contact with Joanna in Poland with Ladys Fight night. The match had already been agreed, but unfortunately it was canceled due to an opponent's injury

In the last IMMAF European Championships, you fought up your normal weight class (bantamweight), how do you feel about getting back on your comfort zone in flyweight?
After fight cancelation, I wanted to get fight as soon as possible. Flyweight fighters were already selected in the Finnish team, but there was still one place in the bantamweight, so I went up a weight class. Now I feel good to fight again in my own weight class.

How do you feel about making your debut straight in the title match?
I'm very excited about this fight, it's my first pro fight and really didn't started it with easiest way. But with my experience I'm ready for it.

Have you ever trained or matched with Elin Öberg? How do you see her as an opponent?
No. I think she is a technical and skillful fighter and I promise that you will see an action-packed and entertaining fight.
How do you feel about fighting a swede in Sweden?
I've fought a few times muaythai competition in Sweden. The Swedes are sports people and it is also seen in the audience. I believe that after Finland it is certainly the best place to fight, even against swedes 🙂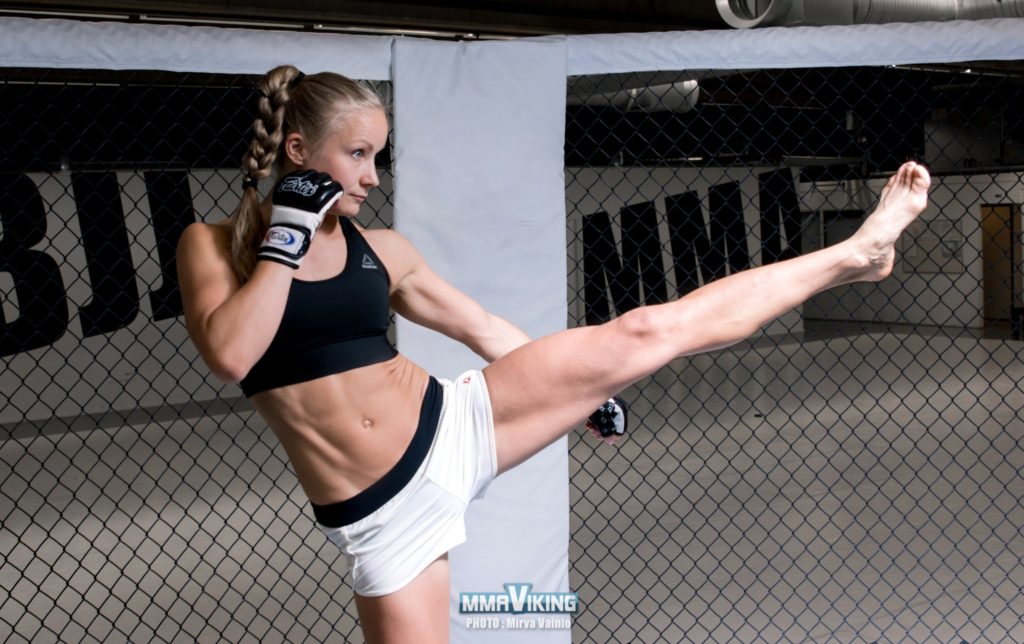 What kind of matches do you hope to get after this?
Next fight will be title defence in Excellence Fighting Championship 😉

What are your goals as a pro MMA fighter?
I want to go one fight at the time. Enjoy practicing and fighting and see where it takes. I'm open to all kind of challenges and want to improve my skills day by day.

How about fighting in Finland as a female athlete? Is there any future?
Now days Finland doesn't offer so many opportunities to female fighters, but hopefully in future it will change.

How have the preparations gone towards the match?
I'm training all year around, and I have stayed healthy and injury free. I have good team behind me and coaches who can take push me forward all the time. So couldn't get better preparation.

I know the community of female MMA fighters is close knit in Finland. Recently other pro fighters like Chamia Chabbi and Veera Nykänen were preparing for a match. Have you been training together?
I have good training partners in our gym, but most of them are guys, so it's nice to get to train with female fighters sometimes. I've been training regularly with Veera Nykänen who lives also in Helsinki. But also been training with Chamia Chabbi and Suvi Salmimies.

MMA Viking and tour readers will be looking forward May 4th and your debut at the Excellence Fighting Championships.
Article and photos by Mirva Vainio.