David Häggström will be fighting on the World Fighting Championship (WFC) card this Saturday. The bantamweight will seek to add to his undefeated (4 wins, 0 losses, 1 draw) record as he travels to the UK to compete on the promotions second event.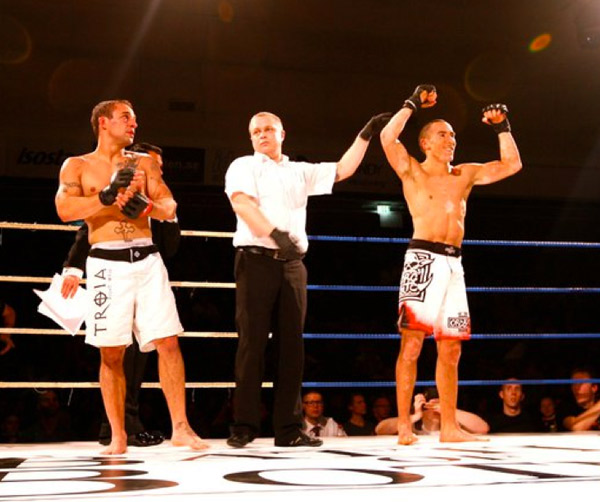 The card at Grundy Park in Cheshunt, Hertfordshire puts four titles on the line, and also features other Scandinavian fighters, including Finland's Toni Valtonen, Norway's Jack Hermansson, and Sweden's Jonathan Westin. Let's learn more about the young Swede in an exclusive interview.
Interview
MMA Viking : You've been fighting professional since 2009, but for those that are just learning about you, can your provide us some background about your MMA training?
Häggström : Like you say I made my professional debut in the end of 2009 against Samuel Alm a fellow debutee. I come out of Renyi Fightcamp along with Tor Troéng, Thomas Bäck, Jonas Hellqvist and many others and have been training MMA since 2005. I made my amateur debut in 2006 and have been trying to keep busy since then. I actually started out my martial arts background doing Kyokushin Karate, I received my black belt in 2007 and up until 2008 I was focusing on getting into the national team, but due to some circumstances at the gym I was training in I decided to put my time and effort into competing in MMA more seriously instead.
Amateur Shootfighting Match at Alive Fight Night in 2009
During the past years I've been doing most of my training at Renyi trying to develop a game that suits my style and using some of the things I learned in Kyokushin. I have also been to Indonesia a few months each year, the past three years and there I have trained with Niko Han from Synergy Jiu Jitsu a black belt under Marc Laimon, mostly focusing on my BJJ and getting a different approach to my training.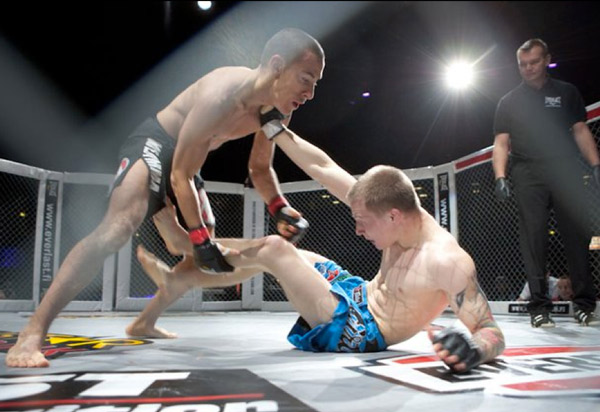 MMA Viking :Is there a fighter out there that you emulate or others say is similar to your fighting style?
Häggström : I don't know if other people perceive my style to be similar to any other fighters style but I do look up to fighters like Brad Pickett, Demetrious Johnson and Dominic Cruz. I really like how those guys incorporate their wrestling and boxing to be able to keep their opponents guessing. That is something I try to emulate when fighting, I like to push the pace and mix it up with a lot of different techniques. I'm not quite sure if that anwers your question or not, but I pick parts from each of those fighters game and try to add it to my arsenal.
MMA Viking :You were extremely busy at the end of 2010, with 3 fights in just two months. Tell us about this packed MMA schedule.
Häggström : Yeah, the end of 2010 was a really intensive period in my life in general. I'm really happy to have been through it though. It was a great experience to fight three times in just a couple of weeks. Cutting down to bantamweight three times in a short period of time was sometimes difficult but I was healthy and in great shape. My coach Tor Troéng thought it was a good idea to take the fights, and I agreed with him so I just put my mind into it and kept training.
Video of Häggström's Last Fight at Battle of Botnia 3 Against Fernando Neto is Below
I allowed myself a few days of unhealthy food after each fight, and then getting on the diet and the usual training schedule again. And by the time I fought Fernando Neto on Battle of Botnia 3, I felt in great shape. I learned a lot about myself and how I can perform under pressure during those two months. I was hoping of competing earlier in 2011 but a lot of fights fell though so I've been focusing on building strength and working on my conditioning for the past months, as well as improving my game and striking game in particular.
MMA Viking : You will now be fighting Dino Gambatesa this upcoming weekend at WFC 2 in London.  Dino has a lot of experience, and fought many of the top bantamweights such as Brad Picket, an holds a victory over ranked Greg Knapp.  Tell us about this step-up in competition, and your approach to this fight.
Häggström : Yeah Dino Gambatesa is probably the thoughest opponent I've ever faced. Like you say, he's got a lot of experience and has been in there with some of the best inEurope. I've been putting in a lot of work down to come into the best shape possible and under Tor Troéngs guidance I've been pushing myself to the limit. I feel like I've had a great off season during the beginning of the year gaining a lot of strength due to a new olympic lift program as well as pure explosivity training once a week and during the camp for this fight I've tried a new approach to the sparring and conditioning that I hope will show in my performance.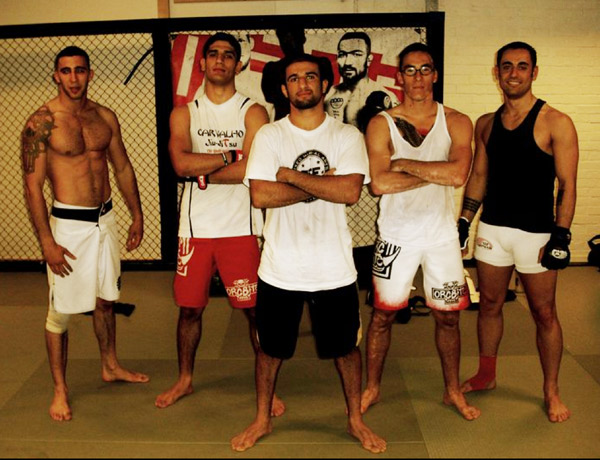 I know Dino is dangerous in all aspects of the game but I'm coming in well prepared. I also spent one week down in Gothenburg where Sirwan Kakai and the guys from GBG MMA (Team Örfil – Sirwan, Rami Aziz, Keivan Akradloo and Botan Tokay) helped me with great sparring and technical input. So basically I've been putting in many hours of training and I've also arranged so that I worked as little as possible during this period to enable me to really focus on training and recovery instead of having to hustle with combining studies (I'm studying to become a psychologist) as well as work, with training full time. It's going to be fun to finally get in there and slug it out!
MMA Viking : Please list any sponsors or anyone else you would like to thank.
Häggström : I'd like to thank all the guys from Renyi Fightcamp, in particular Tor Troéng, Filip Hagkvist, Pavel Lukashin and Alexander Grahn among others who really took their time and helped me getting prepared for war. I also would like to thank Sirwan Kakai and the guys from GBG MMA for letting me come down there and train.
MMA Viking wishes Häggström the best in this best in his upcoming bout.  The fights will be shown on Sky Television Channel 281 (The Active Channel).
"Like" MMA Viking on Facebook and follow on Twitter for additional updates on David Häggström and other Scandinavian MMA news.