Content partners fightfan.dk were on site for European MMA 2 in Denmark. Saturday's event delivered with a quick fight for the European MMA welterweight title between local Morten Hougaard Djursaa and Poland's Aslambek Saidov. See the results from the event are below.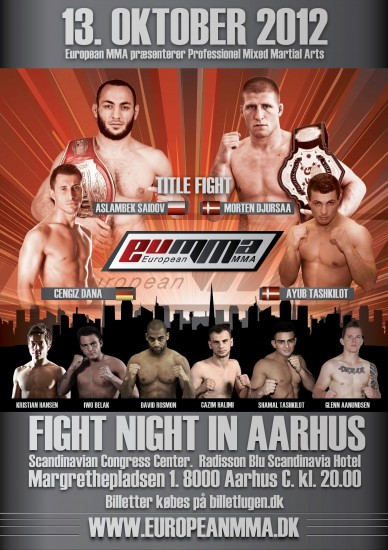 Results
Kristian Hansen (0-1) vs. Bouzid Belhameche (0-0)
Hansen winner by TKO in R1
Glenn Abildgaard Aanundsen (0-1) vs. Amine Chibi (0-1)
Aanundsen winner by TKO in R1
Shamal Tashkilot (0-2) vs. Amir Ahmady (0-0)
Tashkilot winner by submission in R2 (Guillotine choke)
Cazim Halimi (1-1) vs. Arthur Grass (1-1)
Grass winner by KO in R3
Christian Colombo (2-1) vs. Iwo Cuk (1-4)
Colombo winner by TKO in R2
David Rosmon (7-7) vs. Christian Eckerlin (7-2)
Rosmon over Christian Eckerlin in the first round after Eckerlin withdraw with a broken hand
Ayub Tashkilot (8-3) vs. Alexander Heinrich (4-4)
Ayub winner by decision (3-0)
Morten Hougaard Djursaa (10-4) vs. Aslambek Saidov (12-2) – TITLE BOUT
Djursaa winner by TKO in R1
Read the event report on fightfan.dk in Danish here.