Superior Challenge 15 goes down in Stockholm at the Eriksdalshallen. Papy Abedi (10-3) will rematch Dylan Andrews (17-7-1) in the final match, Nordic vets David Bielkheden (13-5) and Morten Djursaa (13-5) battle, and Martin Akhtar fights for the title, and so much more!
Live Results
Get your live results from the MMA Viking cageside team of Ryan O'Leary, Antti Latva-Kyyny, and Daniel Schälander.
ROSTEM AKMAN versus OLE MAGNOR
Round 1 – Rostem gets a big cheer from the local crowd. Once in the cage, it is the Swede looking for a take-down, and after a couple attempts… he gets it. Magnor looks comfortable on his back, and looks for submissions. The Norwegian is up and the two fighters throw some looping punches, but Akman gets the fight to the ground in the end.
Round 2 – Nice headkick from Ole. Both look open for for punches, but again the IMMAF Euro champ gets the fight to the ground. Full mount and punches from the Swede. Looks like Rostem is getting close to a stoppage. Punches and more punches… 10 seconds left, and there is the stoppage! Rostem winner by TKO with only seconds left.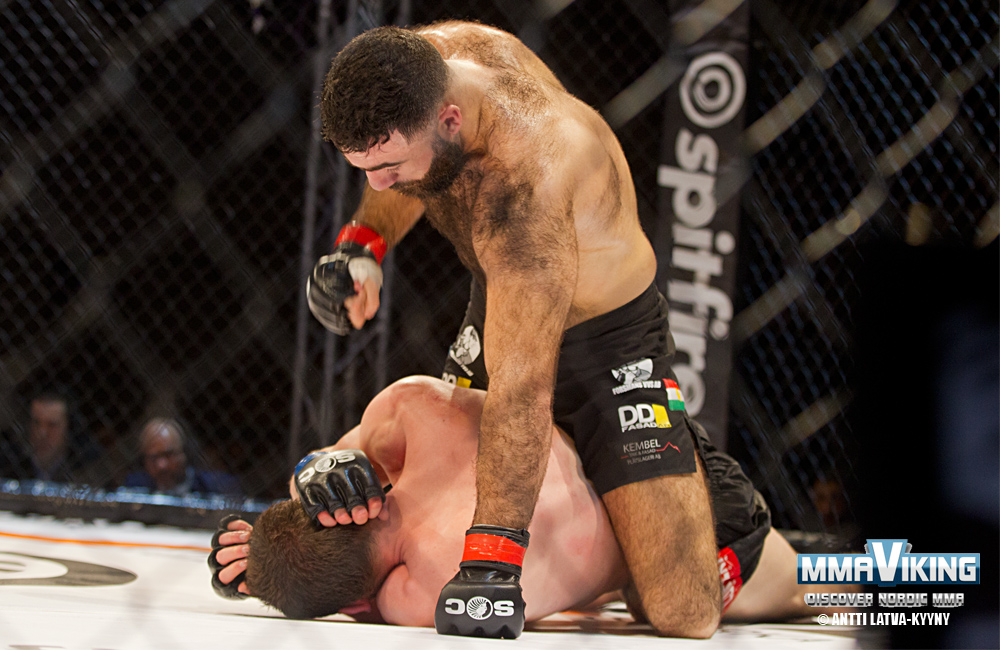 DILMUROD MOVLONOV versus KASPARS PEREGUDOVS
Round 1 – Movlonov wins early by armbar early in the first. Dominant performance.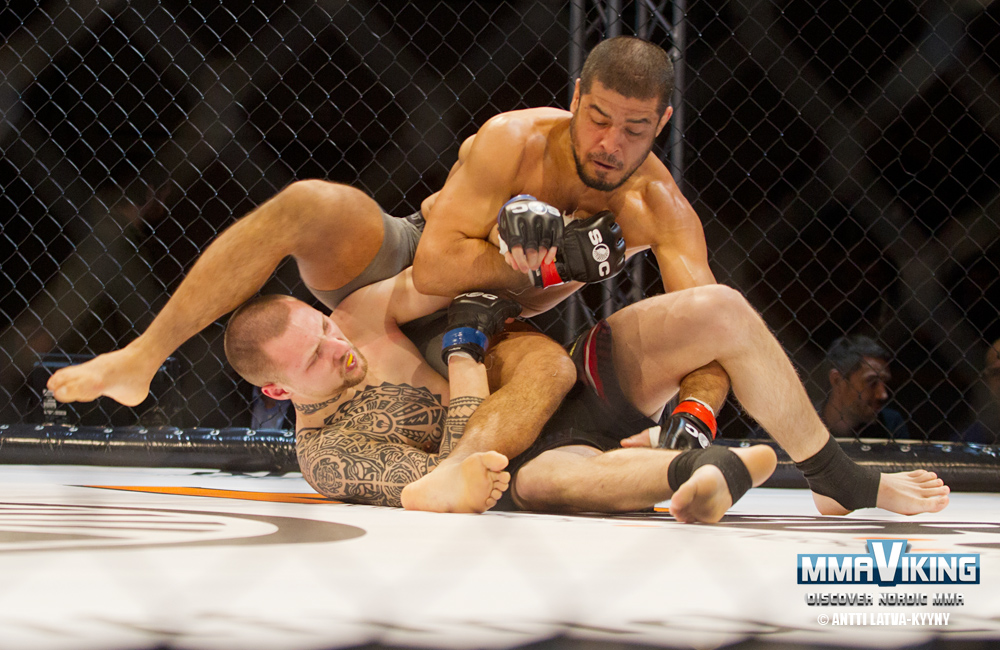 ZVONIMIR KRALJ versus MARTHIN HAMLET NIELSEN
Round 1 – Krajl landing nice low kicks early, but Hamlet not afraid and lands some punches before getting body lock. There is the throw and the Norwegian on top. Landing some punches on top, but now to the feet and the GBG fighter lands a nice kick and punch, oh Hamlet might be in trouble. But no… a HUGE RIGHT HAND. That is it. Marthin wins by TKO… what a fight!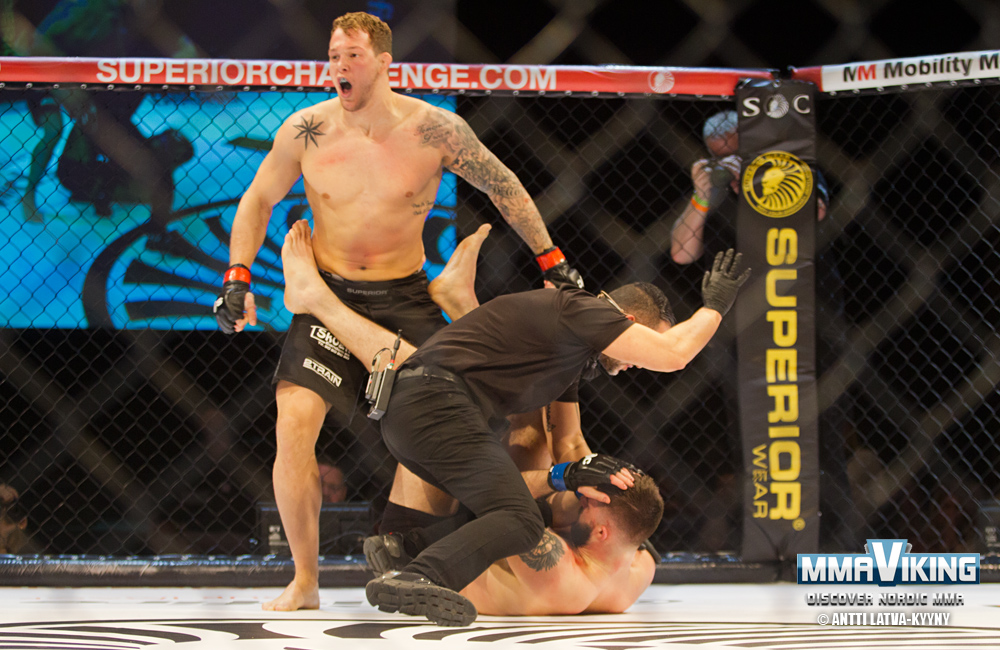 ALEXANDER BERGMAN versus ROGGY LAWSON
Round 1 – Bergman with a takedown early. 1 point deduction for a knee to the head, while down. Little break in the action. We got a good fight here, and Lawson came to fight.
Round 2 – Standup battle here, and the Swede looks to be tiring. Evenly matched fighters here. Alexander has really improved his standup, and landing at the end.
Round 3 – The Swede gets a take-dwon and taking his time looking for damage here. Lawsom looking for a kimura, but can't get it. Alexander back on top, and a solid last round for the Swede.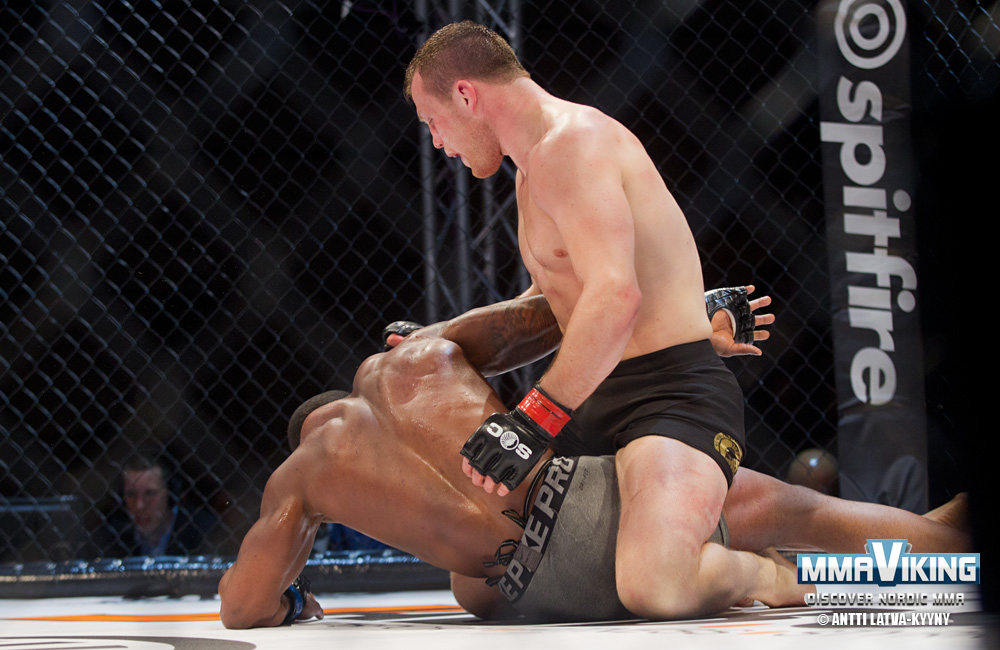 Bergman wins by majority decision.
BREAK IN ACTION. THERE IS A PROBLEM WITH THE CAGE.
OLIVER ENKAMP versus FRODI HANSEN
Round 1 – Takeedown early from Hansen that looks in great shape. But, a reversal from Enkamp. The Swede stays on top after a brief exchange, and now landing punches. More and more punches, and it is all over. TKO stoppage for Enkamp.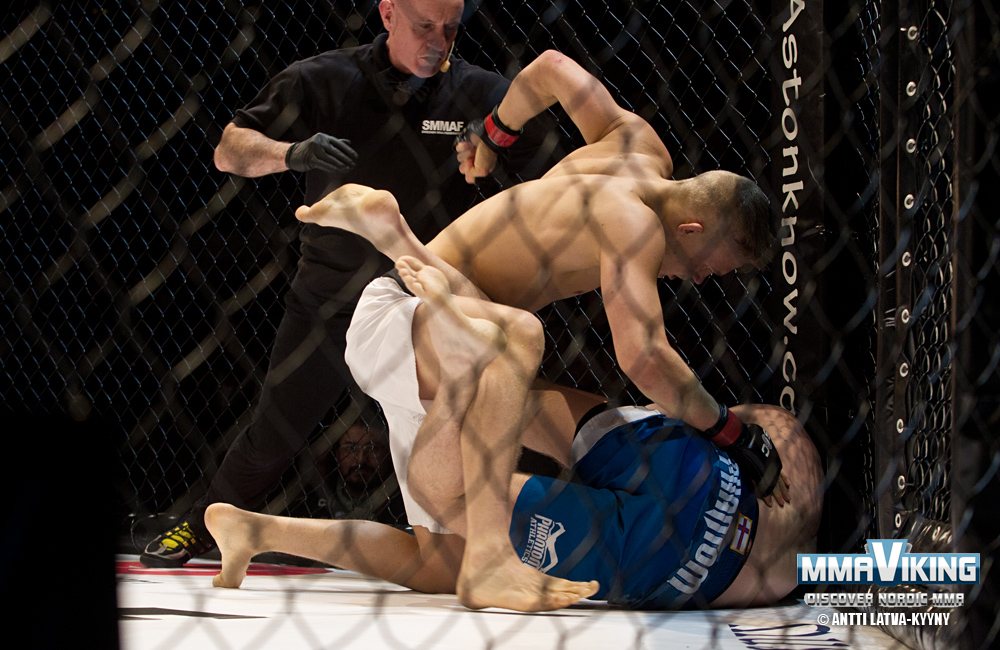 THOMAS HYTTEN versus FERNANDO FLORES
Both of the fighters have an important day today as they both are coming out of losses to this fight. Thomas Hytten from Oslo is in 3 fight losing streak (including one against former UFC fighter Niklas Backström) as Fernando "El Toro" fighting out of Umea is coming of a loss agains Edgars Skrivers in Battle of Bosnia december 2016. Interesting to see how Hytten has developed his skills as this is his first fight since 2013.
Round 1 – Flores is controlling the center of the cage and throwing leg kicks. Hytten staying carefully in the outer ring. Hytten goes for a combination of strikes but quickly retreats back the outer ring of the cage. Flores goes in and fighters initiate in grappling against the fence. Flores has one underhook in while the fighters are standing up. Flores disengages and delivers combination of strikes. South pole Hytte is using his jab to keep the distance and executes occasional attacks. So far in to the fight Flores seems to be the aggressor in this fight. Flores goes with a flying knee but it misses.  Round is over. Highly likely 10-9 round for Flores.
Round 2 – Both fighters immediatelly go after it as the round 2 starts. Flores' punches seem to find their mark as Hytten is clearly shaken. Fight goes to the ground as Flores is on top in open guard. Hytten throwing short punches from bottom but Flores does not seem active. Fighters disengage, flores kicks the downed opponent to the legs and jumps back to top to deliver some GNP. Hytten gets back up. Hytten throwns in nice knee but Flores counters with strikes. Flores scores with punches and Hytten is in trouble! Flores now in sprawl control. Hytten rolls and gains closed guard. Round is over.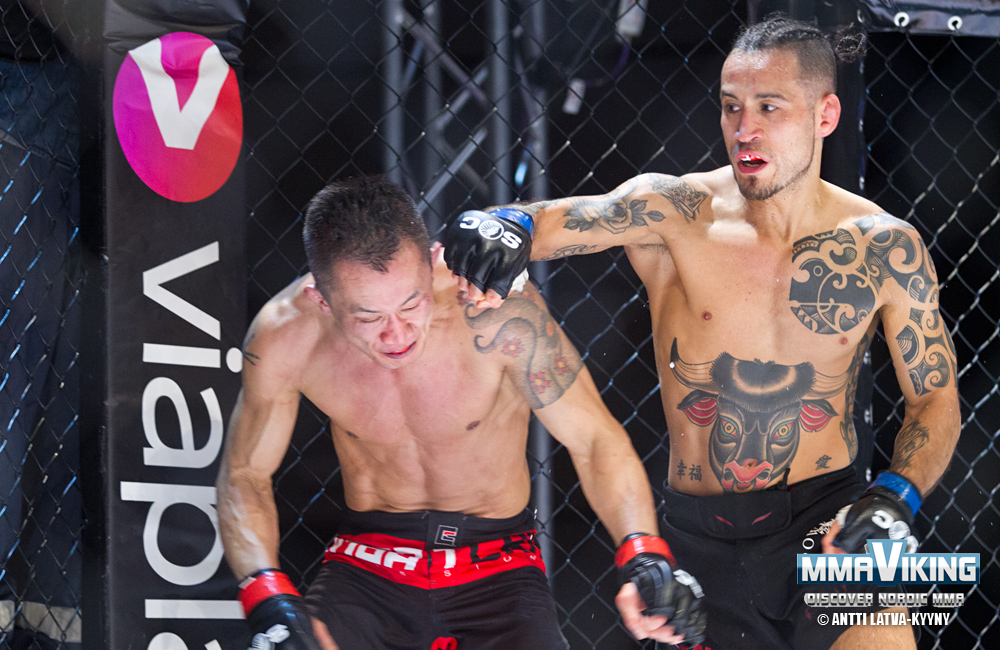 Round 3 – Flores scores another combination and runs his opponent to the fence. Flores tries a single leg takedown but its not good enough to succeed. Both fighters throwing single punches that find their mark. Flores putting on pressure and fight is back on the ground as Flors is in Hytten's open guard. 2:30 left in the clock as referee stands the fighters back up for lack of activity. Hytten puts again some serious pressure on and is controlling the cage. Fighters are standing agains the fence as Flores has one underhook in. Flores lifts Hytten up and takes him down and starts to deliver some GNP. Another 10-9 for Flores.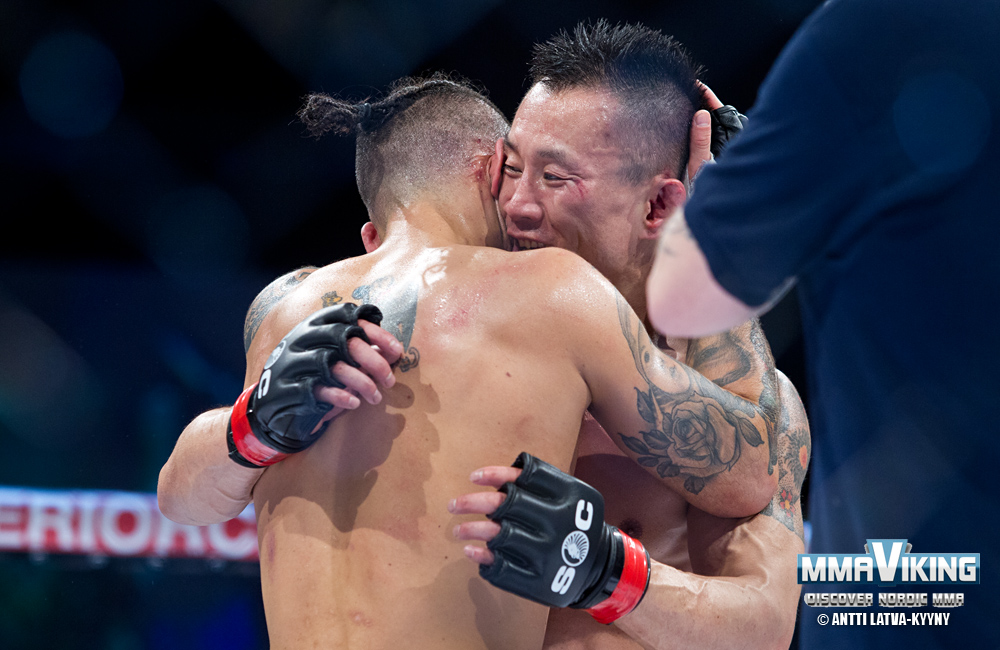 Result: Fernando Flores wins by unanimous decision.
ZEBAZTIAN KADESTAM versus JUHO VALAMAA
This is true treat for the Finnish fight fans. Valamaa is considered as one of the primary candidates to be next in line for UFC from Finland even after his brutal KO loss to French monster Karl Amoussou in now defunct EuroFC last October. Valamaa has a strong grinding fight style that literally can suck the life out of his opponents. However a loss to a elite level striker Amoussou in his last fight brings up the question that can dangerous striker Zebaztian Kademstam, fighting out of Sweden's Legacy Gym, repeat what Amoussou did. Kadestam has proved himself dangerous opponent as he has finished 6 of his 8 wins with either KO or TKO. Last victim to fall for Kademstam's strikes was Finn Glenn Sparv of AKA Thailand.
Round 1 – Kicks early from Kadestam.  Valamaa fights for a takedown and gets it, then takes back.  Oh, the Swede climbs up, but Juho rolls for an armbar.  It looks tight.  But, the two are standing and exchanging.  The Finn shoots for a take-down, but the Swede elbows him.  Blood is all over.  A takedown from the Finn late, and he looks for a rear-naked choke, but no time.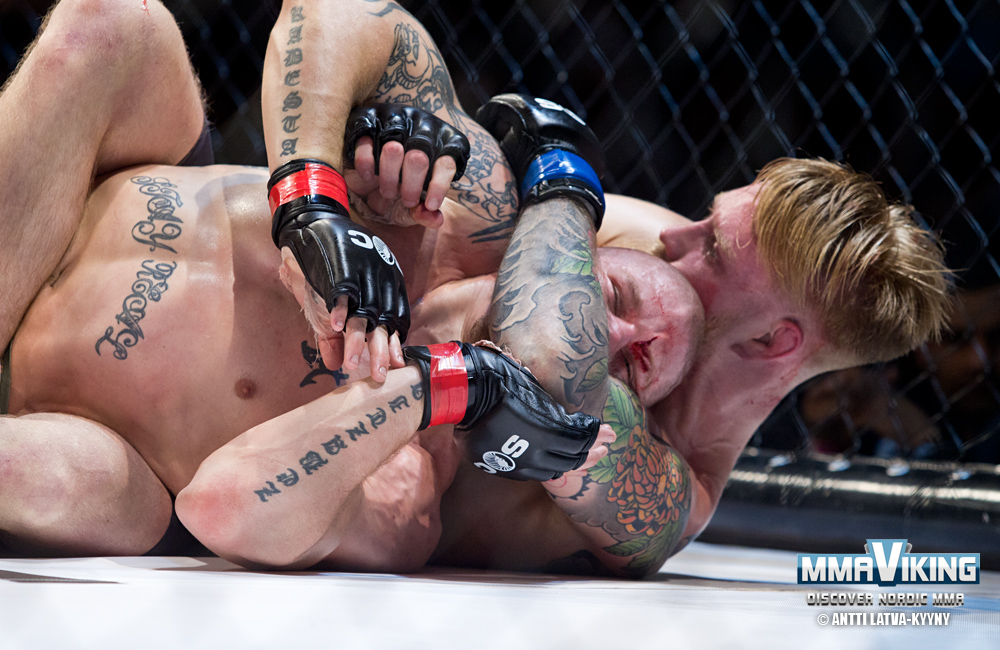 Round 2 – Kadestam lands kicks, and now a big punch misses and Valamaa capitalizes and gets a take-down.  Juho has back and again look ing for a submission.  The Swede had a huge fan base and they are cheering on their man.  Juho searching for a rear-naked choke, and gets full mount, then takes back again and gets the choke.  It is all over. Juho wins by RNC.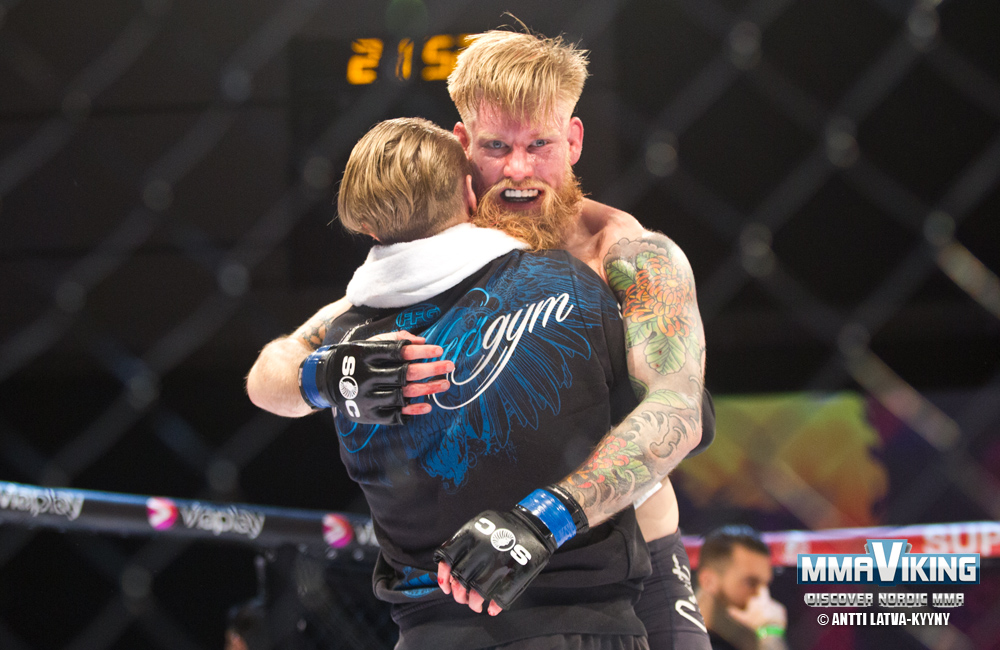 MARTIN AKHTAR versus KEVIN PETSHI – BANTAMWEIGHT TITLE
Round 1 – Takedown for Petshi early, and he has come to fight.  Full mount now and just raging on Martin, and now a rear.naked choke… and it is tight!  It is all over.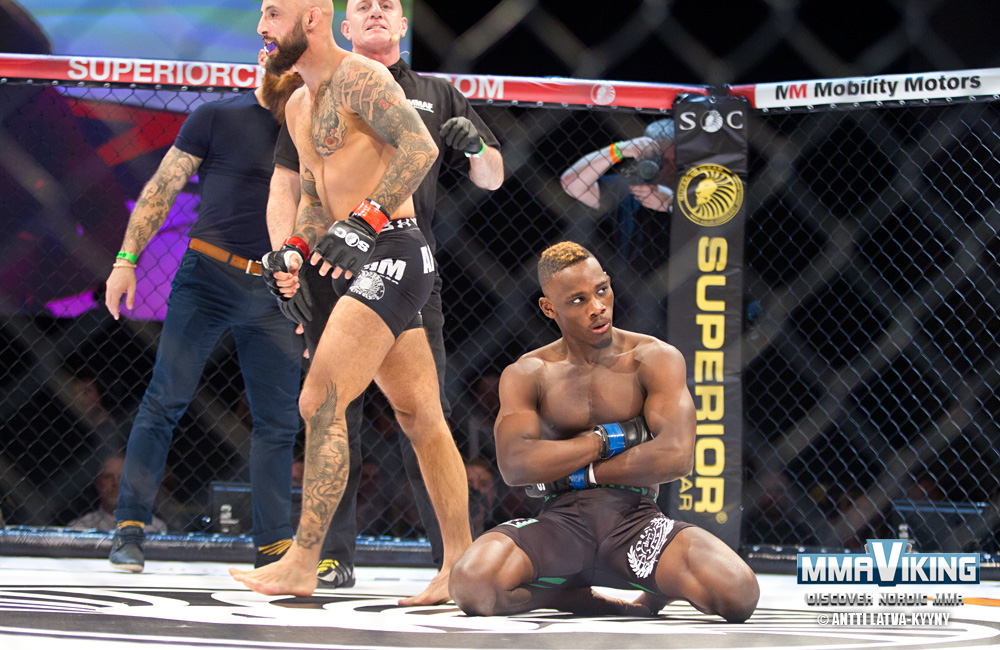 SIMON SKÖLD versus JUNTARO AMI
Round 1 – The Swede with good punches early.  The Gentleman gets it to the ground and secures a rear-naked choke!  Quick fight!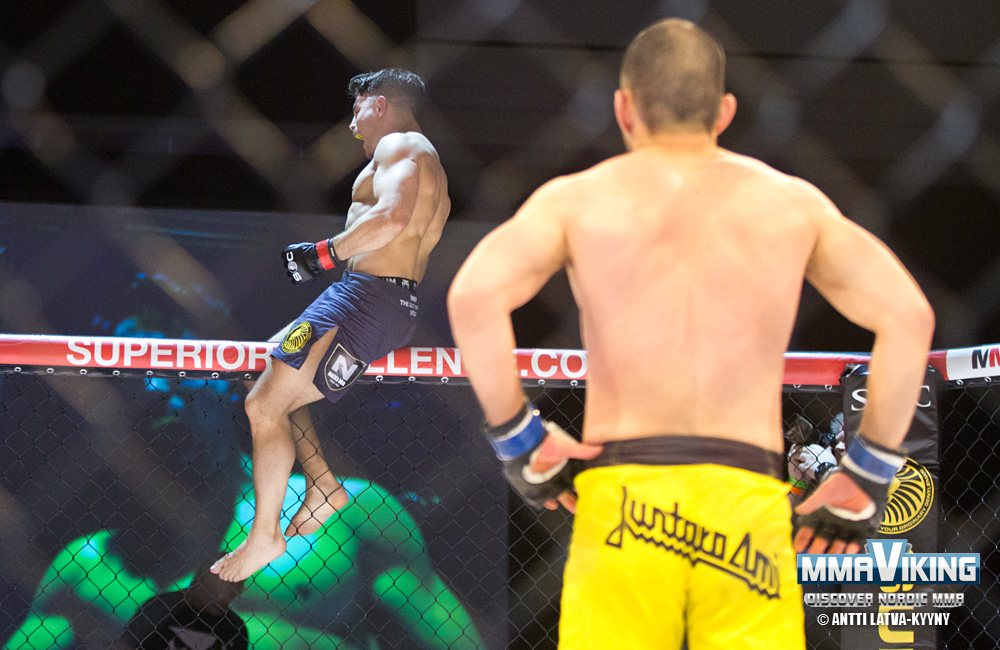 DAVID BIELKHEDEN versus MORTEN DJURSAA – WELTERWEIGHT TITLE BOUT
Round 1 – No action early as the two pioneers size each other up.  A finger in the eye, and David needs time to recover.  68 seconds in.  David backing down the Dane that looks to counterpunch.  The lumberjack is on his heals, moving left and right.  Solid left hand from Morten at the end of the round.  Good kick from David at the bell.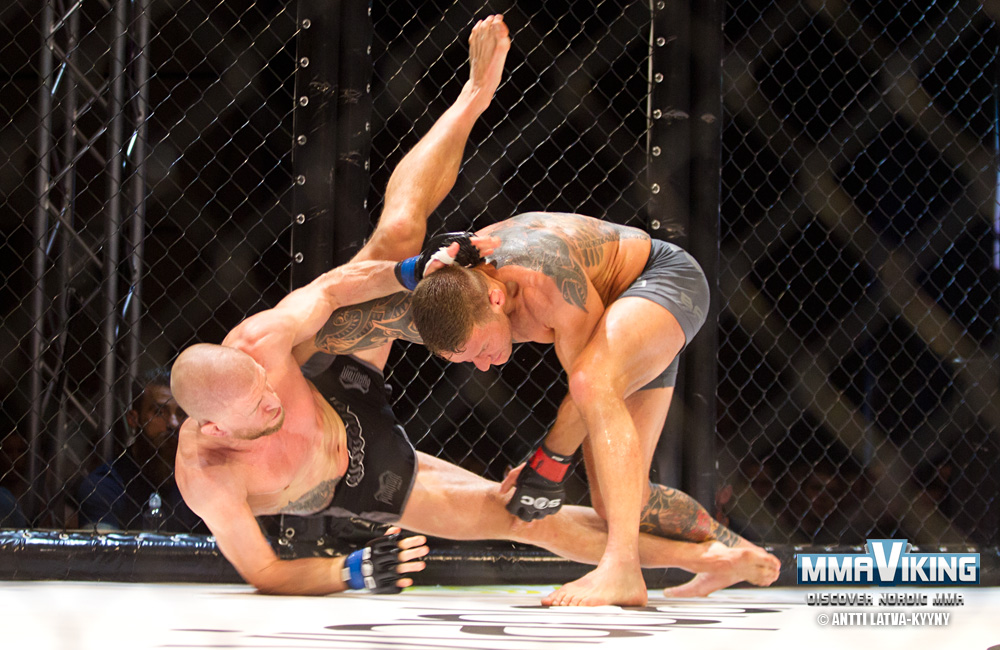 Round 2 – Morten finding a groove here, as David's left eye is swelling.  Both fighters cautious, with David looking for his third take-down, but they are defended well.  Two minutes left in the round here.  Uppercut attempt by David, but he can't land it.  Solid punch by Morten, but David counters with a frontkick.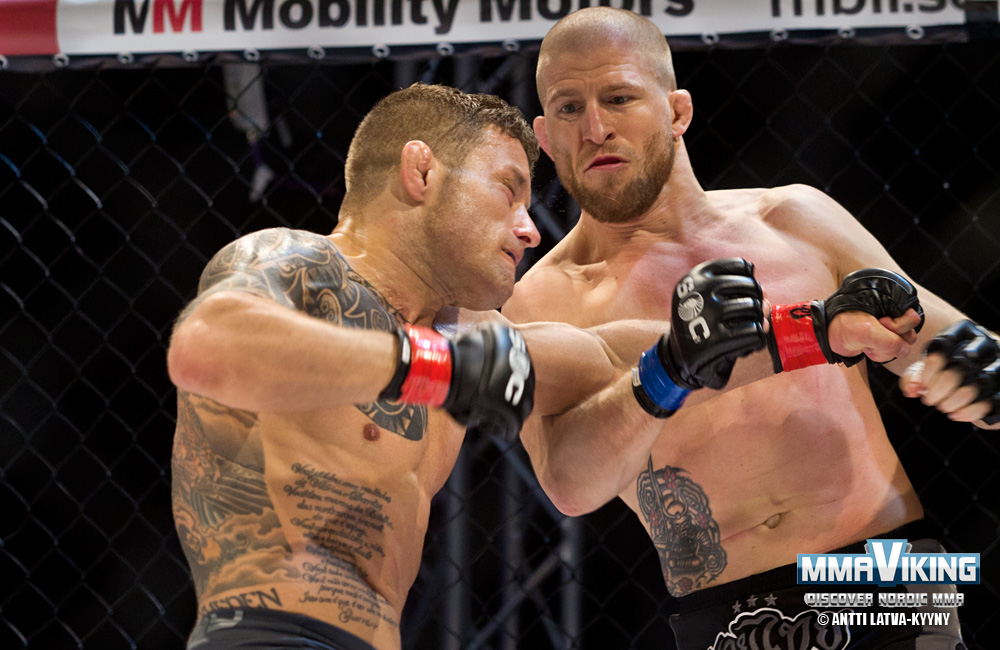 Round 3 – David comes out firing in round 3, and the Swede wants to show the local crowd that he deserves the win.  Morten is just tough to hit here.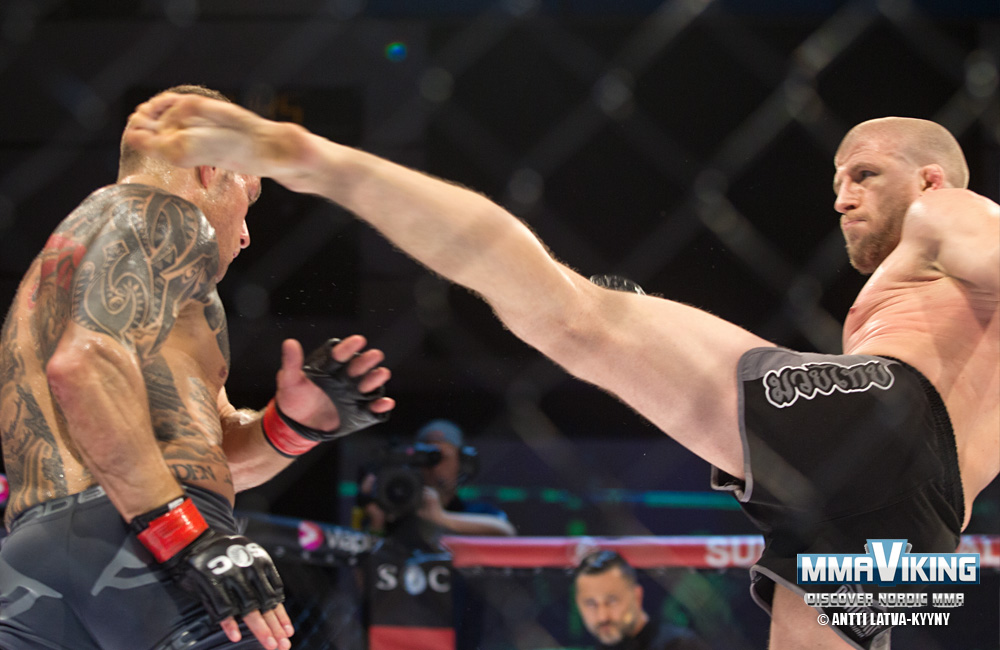 Oh, BIG left kick from Djursaa.  David is hurt!  Buster's jaw looks to be broken, as blood pours out if his mouth.  One minute left.  David gets up and wants to throw down, but no time left!  Big round for the Dane.
Bielkheden wins by unanimous decision.
PAPY ABEDI versus DYLAN ANDREWS – MIDDLEWEIGHT TITLE BOUT
Round 1 – Papy with big kicks to the leg early.  Andrews does not seem discouraged, and now talking to the Swede as he starts to land.  The New Zealand fighter looks to have taken control here and looking for his opening.
Round 2 – Papy keeping his guard high, but backing up against the cage.  Abedi with some take.down attempts, but nothing behinnd them.  Good left hand from Makambo.  One and half minutes in, and Papy gets poked in the eye.  Deep breath.
Papy getting some nice punches in here with his left, and another.  Andrews seems to be waiting and waiting.  BOOOOOM.  BIG LEFT KICK… and it is over!  Dylan Andrews with KO.